While an increasing number of people are choosing to follow a plant-based diet, the word "vegan" still has some myths surrounding it.  One of the most common is that vegans don't get enough protein in their diet.
The truth is that anyone can get enough protein from plant-based sources.  Vegan sources of protein are just as effective, plus they come with fiber, which is essential for gut health and helps to regulate blood sugar levels.  In this guide, you'll find out why protein is essential for health, learn how much protein people actually need, discover some of the most protein-rich plant-based foods, and see how you can easily meet your protein needs on a vegan diet.
Why is Protein Essential for Health? 
Protein is a macronutrient that's essential to our diet.  It's made up of amino acids, which are the building blocks of our cells.  Protein plays a role in almost every bodily function, from repairing tissue to creating enzymes and hormones.
There are 20 different amino acids, and they are classified as either essential or non-essential.  Our body can't produce nine essential amino acids, so we need to get them from our diet.  
Vegans get their amino acids from various sources, including beans, legumes, tofu, tempeh, seitan, and nuts.  Eating a wide variety of healthy plant-based foods is the best way to ensure that your body has all the building blocks it needs to perform at its best.
Can You Get Enough Protein on a Vegan Diet? 
The short answer is: yes.  You don't need to eat animal products to get all the protein you need for a healthy diet.  As protein foods break down into amino acids during digestion, the human body simply needs enough of all 20 amino acids to maintain good health.  
How Much Protein Do You Need Each Day? 
According to the 2020-2025 Dietary Guidelines for Americans, the recommended dietary allowance (RDA) of protein per day is 46 grams for women and 56 grams for men. 
However, the amount of protein you need depends on your weight and physical activity levels.  Healthy adults should get 10 to 35 percent of their daily calories from protein.  To work out your recommended daily protein intake, you can multiply your weight in pounds by 0.36.
If you're under 19, pregnant, or have other health conditions, seek professional advice to determine the amount of protein you need.
How Common is Protein Deficiency in Vegans? 
Contrary to the popular narrative about the vegan diet, many studies have shown that protein deficiency in vegans is effectively a myth.
One of the largest studies to date, published in the Journal of the Academy of Nutrition and Dietetics in 2013, compared the nutrient intake of over 71,000 vegans and non-vegans.  The study concluded that every day, on average, vegetarians and vegans get 70 percent more protein than they need.
In poorly-planned vegan diets, some essential nutrients, such as protein, vitamin B-12, iron, calcium, vitamin D, and omega-3 fatty acids can be deficient.  However, according to Heather Fields, M.D., at the Mayo Clinic College of Medicine and Science: "Vegans have not been shown to be deficient in protein intake or in any specific amino acids… a well-planned vegan diet can be adequate to achieve proper nutrition."

A study of British vegans, referenced in a 2016 report published by De Gruyter, showed that the total reported protein intake in vegan groups was below the national average.  However, it still met the Institute of Medicine's recommendations.  Provided that vegans vary the plant sources in their diet, they will achieve adequate essential amino acid and protein intake.
How to Get Enough Protein on a Vegan Diet 
Fortunately for those following a vegan diet, there are plenty of plant-based protein sources, including lentils, beans, peas, nuts, seeds, whole grains, and vegetables. Different foods contain different amounts and combinations of amino acids, so it's essential to eat a variety of plant-based foods throughout the day.  You can get all the essential amino acids and nutrition you need if you eat from various food groups during the day.
The Best Protein-Rich Foods for Vegans 
Below are some of the best plant-based protein sources and their protein content.
Beans and Legumes
These versatile ingredients are packed with protein, fiber, and other nutrients.  Try them in soups, stews, salads, or cooked on their own.
Cooked lentils 

(half a cup): 

9 

grams

Cooked black beans

 (half a cup): 

8

 grams

Cooked kidney beans 

(half a cup): 

8

 grams

Cooked chickpeas 

(half a cup): 

7

 grams 

Peanuts 

(30 nuts): 

7

 grams

Cooked green peas 

(half a cup): 

4

 grams 
Nuts and Seeds
These small but mighty foods are loaded with protein, healthy fats, and other nutrients.  Try them as a snack, or add them to your favorite recipes.
Brazil nuts

 (10 nuts): 

7

 grams

Cashew nuts

 (15 nuts): 

7

 grams 

Almonds

 (20 nuts): 

6

 grams

Walnuts

 (14 halves): 

5

 grams

Pumpkin seeds

 (4 tablespoons): 

6

 grams

Sesame seeds

 (4 tablespoons): 

6

 grams

Flaxseeds

 (3 tablespoons): 

6

 grams
Whole Grains
Quinoa, whole wheat pasta, and rice are all excellent sources of plant-based protein.
Cooked quinoa

 (one cup): 

8

 grams

Cooked whole wheat pasta

 (one cup): 

7

 grams

Wholegrain or wholemeal bread

 (two slices): 

7

 grams 

Cooked couscous

 (one cup): 

6

 grams

Cooked wild rice

 (one cup): 

6

 grams

Cooked brown rice

 (one cup): 

5

 grams 

Rolled oats

 (half a cup): 

5

 grams
Fruits and Vegetables 
While they may not be as high in protein as some of the other options on this list, fruits and veggies are still a great source of many nutrients, including protein.
Avocado

 (one fruit): 

4

 grams

Jackfruit

 (one cup): 

3

 grams

Apricot

 (one cup): 

2

 grams 

Blackberries

 (one cup): 

2

 grams

Kiwi

 (one cup): 

2

 grams

Spinach

 (one cup): 

5

 grams 

Brussels sprouts

 (8 sprouts): 

4

 grams 

Broccoli

 (one cup): 

4

 grams

Artichoke

 (one vegetable): 

4

 grams

Yams or sweet potatoes

 (one cup): 

4

 grams 

Asparagus

 (8 spears): 

3

 grams

Potatoes

 (one cup): 

3

 grams 
Other
Tempeh

 (half a cup): 

16

 grams

Tofu

 (half a cup): 

10

 grams

Nutritional yeast

 (2 tablespoons): 

8

 grams 

Pea milk

 (one cup): 

8

 grams 

Soy milk

 (one cup): 

6

 grams

Oat milk

 (one cup): 

4

 grams
Source:  USDA
The Bottom Line 
Around the world, an increasing number of consumers are considering reducing their intake of animal products or avoiding them entirely.  If this is you, and you're concerned that you might not be able to get enough protein in your diet, there's no need to stress about it.  Contrary to popular belief, various studies have shown that a plant-based diet can provide all the protein a person needs.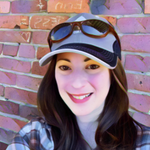 Nicole
Long time vegan living in upstate NY.  Web developer and founder of Vegan ShowOff.  She's addicted to ice cream and loves hiking, snowboarding, gardening, and travel.  Read more from Nicole!