Salad is one of the healthiest foods you can eat.  It's jam-packed with vitamins and nutrients, but it can also be boring if you don't add some variety.  Never fear!  It's easy to make a boring salad more creative and nutritious by adding new and nourishing ingredients or dressing it differently.  Below are some ideas for how to make your next salad more creative!
1.  Make a salad a blank canvas.
Think of salads as a blank canvas you can paint with nutrients.  Start with your favorite greens (lettuce, spinach, etc.).  Some greens are more nutritious than others; however, there are many creative ways to add additional nutrition.  Think variety.  The more types of greens, vegetables, and other toppings you can add to your salads, the more exciting they'll be!
Don't forget about edible flowers.  They can turn an ordinary salad into a visual masterpiece!  Plus, edible flowers are a source of antioxidants. 
2.  Keep salad dressing on the side, so other things don't get soggy.
A salad is best when it's kept simple and fresh.  Wait to add salad dressing until you're ready to eat your salad.  Otherwise, the dressing will soak into the lettuce and other ingredients, causing them to get soggy. 
3.  Add nuts.
Adding nuts to salad is a great way to add flavor, texture, and healthy fats.  When adding nuts to a salad, it's important to consider both the flavor and the texture of the nuts.  For example, almonds have a mild, nutty flavor that pairs well with most salad ingredients.  In contrast, pistachios have a bolder flavor that may be less complimentary. 
As for texture, some nuts are more crunchy than others.  This can be an asset or a liability, depending on the desired consistency of the salad.  Ultimately, there is no wrong way to add nuts to salad – it simply comes down to personal preference. 
So go ahead and experiment until you find your perfect nutty combination! 
Try walnuts, cashews, peanuts, almonds, and pecans!
Not only do they add a delicious crunch, but they are also packed with nutrients.  Nuts are an excellent source of healthy fats, protein, and fiber.  They also contain vitamins and minerals, including magnesium, phosphorus, and zinc.  Adding nuts to a salad can help to boost its nutritional value, making it more of a complete meal. 
When choosing nuts for a salad, look for dry-roasted or raw varieties.  Avoid nuts coated in sugar or salt, as these will add unnecessary calories and sodium to the dish.  Adding nuts to a salad is a great way to increase its flavor and nutrient content.
Studies show nuts lower markers of inflammation in the bloodstream.  In addition, they may lower the risk of cardiovascular disease, so you're doing something positive for your health along with making your salad more delicious! 
4.  Add seeds.
Seeds are a nutritious and versatile addition to any salad.  They are a good source of protein, fiber, and essential vitamins and minerals. 
Many different types of seeds can be used in salads, such as sunflower seeds, pumpkin seeds, sesame seeds, flax, hemp, and chia seeds.  Also, quinoa is technically a seed!

Each type of seed has its own unique flavor and nutritional profile.  When choosing seeds for a salad, it is important to consider the other ingredients in the salad and how the flavors will work together. 
For example, pumpkin seeds pair well with sweet fruits like raisins or dried cranberries, while sunflower seeds go well with savory ingredients like crumbled vegan feta cheese, roasted nuts, or plant-based mozzarella.  By adding healthy seeds to a salad, you can create a delicious and nutritious meal that is sure to please everyone at the table.
5.  Mix up the greens.
Salad greens are any leafy green vegetables suitable for use in salads, such as lettuce, spinach, arugula, kale, and endive.
Adding a variety of greens to a salad can increase the nutrient density, flavor, and visual appeal of the dish.  For example, adding both lettuce and spinach to a salad will provide a greater range of nutrients than using only one type of green. 
In addition, mixing greens with different textures and flavors can make for a more interesting salad.  So next time you're making a salad, try adding a variety of greens to boost its nutrition, flavor, and appearance!
6.  Add Microgreens
Microgreens are the tiny, tender leaves of plants.  They are harvested in their early stages of growth before they reach the mature vegetable or flower stage, which means they have a higher concentration of vitamins and minerals than their mature counterparts.
7.  Add your favorite fruit
.
Adding fruit to a salad is a great way to get an extra boost of nutrients.  Fruits are an excellent source of vitamins, minerals, and antioxidants, all of which are essential for good health. 
One cup of strawberries, for example, provides more than 100% of the recommended daily intake of vitamin C.
In addition to being a good source of nutrients, fruits are also rich in phytonutrients, which are plant-based compounds that have been shown to have anti-inflammatory activity. 
When it comes to salad, fruit can add a lovely sweetness and bright pop of color.  Some of the best fruit to add to salad include grapes, berries, apples, pears, and citrus fruits such as mandarin orange slices. 
Olives add a delicious salty flavor to any salad.  They are also a good source of healthy fats and antioxidants.  Olives come in many different varieties, so you can experiment to find the ones you like best.  Look for pre-sliced black olives in your grocery store's olive section.  This is a quick and easy way to add them to any salad. 
Try adding an olive tapenade to your salad, sprinkle as much as you like on top or mix in for a burst of salty flavor.
Depending on the type of salad you're making, you may want to choose fruit that is in season or that pairs well with the other ingredients. 
For example, a winter green salad might be enhanced by the addition of fresh cranberries.  Or, a spring fruit salad might include pear slices and strawberries.  Be creative and have fun experimenting with different fruit combinations in your salads!
How about adding a burst of color to your salad with pomegranate fruit?  Pomegranate is a powerhouse of B vitamins, vitamin E, vitamin C, and minerals such as calcium, magnesium, potassium, and polyphenols with antioxidant activity.  Throw in pomegranate seeds for extra crunch.  These little gems are easy-to-eat because they burst open when you bite into them.
8.  Include a source of protein
Adding plant-based protein to salad is a great way to make it more filling and satisfying. 
A variety of plant-based proteins can be used, such as beans, lentils, quinoa, and tofu.  Each of these proteins provides different nutrients and benefits, so you can choose the one that best fits your needs. 
9.  Add new flavors
Add spices or herbs to your salad dressing, or sprinkle them on top of your salad for added flavor.  Why not add grated ginger, garlic, or citrus zest for extra zing? 
You can also add some nutritional yeast for a touch of "cheesy" flavor and a nutrient boost!
The Recap
Salad is a great way to get more vegetables in your diet.  By adding some creativity and fun toppings, you can make salads even more enjoyable and nutritious.  There are endless possibilities for making delicious and healthy salads. Give it a try!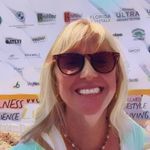 Sue
Sue's a lifelong horse lover living in beautiful South Florida.  She enjoys reading, cooking, shopping, and travel. Check out more from Sue!