Vegan Babybel Cheese Review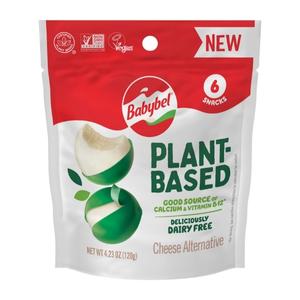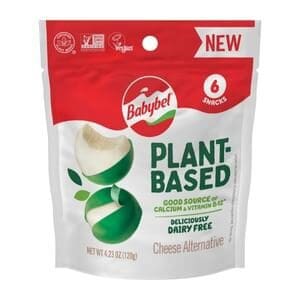 Product Name: Babybel Plant-Based Cheese Alternative
Product Description: Babybel Plant-Based Cheese Alternative is a delicious, dairy-free snack! This vegan snack is a good source of calcium and vitamin B-12. It's Certified Plant-Based, with a delightful flavor that mimics dairy cheese--without any of the downsides!
Brand: Bel Brands USA
Dietary Notes: Vegan, Dairy-Free, Non-GMO, Certified Plant-Based, Soy-Free
Summary
Babybel Plant-Based Cheese Alternative consists of 6 individually wrapped cheese bites with a creamy mozzarella-style texture.  The smooth & creamy texture is created using coconut oil, and each Babybel offers a good source of calcium and Vitamin B12.  The bag itself is made of 80% paper, and the wrappers inside are certified home-compostable!
Pros
Individually wrapped
Compostable wrapper
Convenient, healthy snack
Smooth & creamy texture
No palm oil
Cons
Hard to find (but hopefully that will change!)

Community Rating:
( reviews)
Babybel Plant-Based Vegan Cheese Review
This past week I found myself at Whole Foods Market, looking for my favorite Kite Hill yogurt, when I noticed a red and green package of vegan Babybel cheese in an adjacent refrigerator case.  My lucky day!  Not only did I find my favorite yogurt, but I've been thinking about trying Babybel's dairy-free cheese for a while now. 
It's been available in the UK for some time.  However, this past year Bel Brands made it available in the US.  Babybel Plant-Based is available at Whole Foods, Target, Sam's Club, and Costco.  The company states more retailers are anticipated to carry this product later this year.
Each package contains 6 snack-sized individually wrapped dairy-free cheese bites.  The coating on BabyBel's dairy-free cheese is green to differentiate it from the red coating on their dairy varieties.
For many people, the idea of a vegan lifestyle seems impossible.  They could never give up cheese! Luckily, some great plant-based, dairy-free cheese alternatives are on the market, such as BabyBel.  
The texture is similar to a creamy mozzarella.  I love peeling back the waxy wrapper, which means your fingers don't even need to touch the cheese.  You can eat it right out of the wrapper! 
This versatile and flavorful cheese is made from all-natural, plant-based ingredients, making it an excellent choice for anyone who avoids dairy or follows a vegan diet.  In addition, it is packed with beneficial nutrients like calcium and vitamin B-12!
What is plant-based cheese?
Plant-based cheese is made from a variety of ingredients, including nuts, seeds, coconuts, and soybeans.  The ingredients are combined and processed to create a cheese-like product that is dairy free and vegan.  
Babybel Plant Based is made with coconut oil.  Although you may think the coconut oil would be overpowering, it's not.  Instead, it lends itself to a creamy texture that's absolutely delicious!
Does plant-based cheese contain cholesterol?
Plant-based cheese does not contain cholesterol.  This is because cholesterol is only found in animal products.  Plant-based cheese is made from plants.  So if you're looking to reduce your cholesterol intake, plant-based cheese is a great alternative to traditional cheese.
If you're looking for a vegan cheese alternative that is low in fat and calories, nutritional yeast may be a good option for you.  Nutritional yeast is often used as a food additive due to its high protein and vitamin B content.  When sprinkled on foods, it has a cheesy flavor without adding dairy.  Try it in our Cheezy Sprinkle recipe if you're interested!
Serving Ideas
If you're like me, you love finding new and interesting ways to enjoy your favorite vegan foods.  And what could be more perfect than bite-sized pieces of delicious cheese?  This Babybel Plant-Based cheese is the perfect snack for when you're on the go or want something simple and tasty.  Below are some of my favorite ways to enjoy Babybel cheese.
On-the-go healthy snack all by itself 

(The company states when taken on the go, cheese is safe

unrefrigerated for 2-4 hours, and the remaining cheese, if there is

any can then be safely returned to the fridge.)

As part of an appetizer platter or charcuterie board.

Cut into chunks and sprinkled on a green salad.

Cheese and crackers are an ultimate favorite.
Where to Buy Vegan Babybel Cheese
Whole Foods, Target, Sam's Club, and Costco, with other retailers becoming available soon.  
How much does Babybel Vegan Cheese cost?
I purchased my package of 6 individually wrapped cheese wheels for $4.99 at Whole Foods.  
Babybel Vegan Cheese Ingredients & Nutrition Facts
The ingredients are water, modified food starch, coconut oil, calcium citrate, no more than 2% of each: salt, natural flavor, citric acid, beta-carotene (color), and cyanocobalamin (Vitamin B12).  Check out the photo of the back of the package below for complete nutrition information.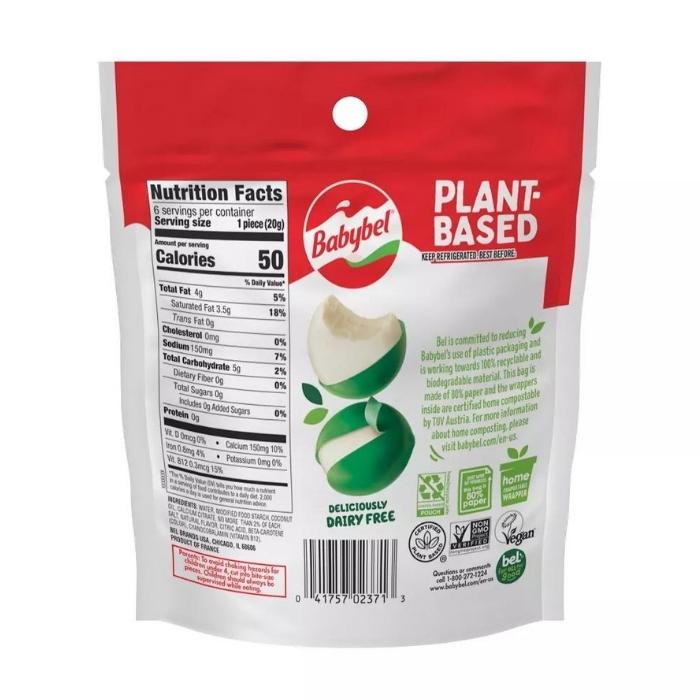 Would I buy it again?
Yes, I love how versatile and tasty this product is!  Plus, they're super convenient to carry around as a snack when I have a long day of running errands.  Have any of you tried this Babybel vegan cheese yet?  If so, let us know what you think of it below!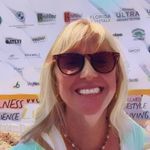 Sue
Sue's a lifelong horse lover living in beautiful South Florida.  She enjoys reading, cooking, shopping, and travel. Check out more from Sue!