Kite Hill Vanilla Almond Milk Yogurt Review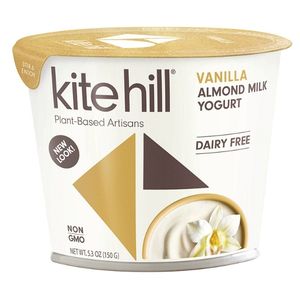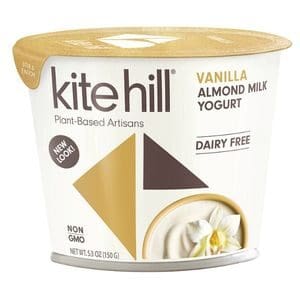 Product Name: Kite Hill Vanilla Almond Milk Yogurt
Product Description: Kite Hill vanilla almond milk yogurt is made with real vanilla beans, fresh almond milk, and live active cultures which creates a superb dairy free yogurt.
Brand: Kite Hill
Dietary Notes: Gluten Free, Soy Free, Non-GMO
Summary
Boasting live cultures and real vanilla bean, this Kite Hill almond milk yogurt is delicious all by itself or added to your favorite granola or cereal.  The creaminess and quality of ingredients make this a top-notch artisan vegan yogurt!
Community Rating:
( reviews)
Kite Hill Vanilla Almond Milk Yogurt Review
I must say that I've tried many yogurts over the years. I even tried making it myself using the active yogurt culture from a previously purchased yogurt, which for me personally didn't work out all that well 😕.  When I discovered Kite Hill, which the company states was founded by an artisan chef, I found the texture to be very creamy.  I have to say that vanilla is my go-to yogurt flavor.  Kite Hill has a variety of Almond Milk Yogurts from Plain, Sweetened and Unsweetened to Peach, Blueberry, Strawberry, Raspberry and Key Lime, just to name a few.  Their product line is quite extensive, including a cream cheese alternative, dips, kids tubes, ricotta alternative, sour cream alternative, butter alternative, and even filled pastas like ravioli and tortellini.  So why do I like the vanilla yogurt flavor so much?  I guess it's versatile and although it's really good all by itself, you can add toppings of your choice.  You can see tiny specks of vanilla beans in every container.  I like to add some crunch or fruit to make it super delicious.  One of my long-time go-to crunchy flavorings is Grape Nuts Cereal, which is healthy, low in calories, full of fiber, and vegan friendly.  Add a generous helping of Grape Nuts, give it a stir, then let it sit for a few minutes to absorb and munch away!
Making smoothies in my Vitamix is another fun way I like to add yogurt to my diet.  I usually start with almond or soy milk, but of course there are other vegan milk alternatives.  Some that come to mind are coconut milk, oat milk, rice milk, cashew milk, macadamia milk, and hemp milk!  Pick your favorite, then add Kite Hill yogurt to give your smoothie a bit more creaminess, along with fruits, either fresh or frozen, greens if that's what you like, and also a protein powder of your choice.  The possibilities are endless.  Yogurt may be eaten any time of day, right?  For me it's a quick and easy breakfast food, or midday snack.  I've even had it for dessert when craving something sweet!  Another fun idea is to pour real maple syrup over the top.  I was born in Quebec, Canada where maple syrup is a staple in every kitchen!  Super yummy indeed!  Why not add your favorite jam and make your own version of fruit on the bottom yogurt!
Kite Hill Vanilla Yogurt Ingredients and Nutrition Facts
Kite Hill yogurt comes in a single serving size container of 150g or 5.3oz, and a larger container that's 454g, or 16oz of deliciousness!  The containers are recyclable, the label indicates to tear, separate & recycle both the container and the paper wrapping which includes all the product information.  The 160z container has a plastic lid which is also recyclable and easy to replace if you don't want to finish it in one sitting.  An idea, why not keep the 16oz container to store other foods!
The 5.3oz single serve is 150 calories, total fat 8g, saturated fat 0.5g, cholesterol 0g, sodium 10mg, total carbohydrate 19g, dietary fiber 2g, total sugars 12g includes 11g added sugars, protein 3g.
Ingredients: Almond Milk (Water, Almonds), Cane Sugar, Starch, Citrus Fiber, Natural Flavors, Vanilla Extract, Locust Bean Gum, Citric Acid, Xanthan Gum, Vanilla Bean Seeds, Live Active Cultures: S.Thermophilus, L.Bulgaricus, L.Acidophilus, Bifidobacteria.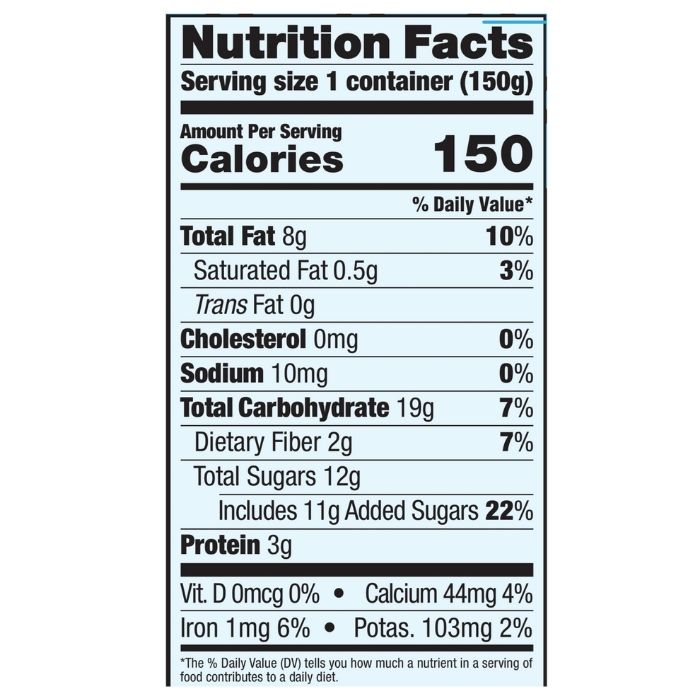 Would I buy this Kite Hill Vanilla Almond Milk Yogurt again?
Definitely!  I have purchased this product many times, and just love it!  For me it's all about quality, with clean healthy ingredients.  Price Range:  Publix $1.99 (5.3oz), $5.15 (16 oz) / Whole Foods $1.99 (5.3oz), $4.99 (16oz).  How do you feel about this Kite Hill non-dairy yogurt?  If you've tried it, let us know what you think below!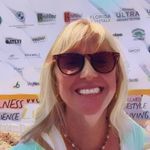 Sue
Sue's a lifelong horse lover living in beautiful South Florida.  She enjoys reading, cooking, shopping, and travel. Check out more from Sue!