Kite Hill Ricotta Cheese Review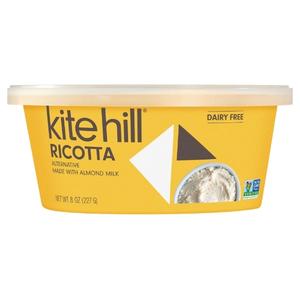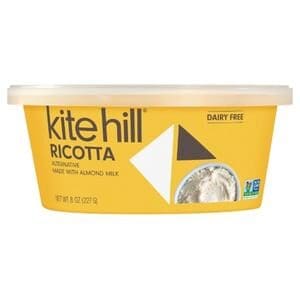 Product Name: Kite Hill Ricotta Alternative
Product Description: A ricotta cheese alternative made from almond milk and live cultures.
Brand: Kite Hill
Dietary Notes: Dairy-Free, Vegan, Soy Free, Non-GMO, Gluten-Free, Kosher
Summary
Kite Hill's vegan ricotta is a dairy-free alternative to regular ricotta cheese. It's made from almonds, has a creamy consistency, and tastes just like traditional ricotta. As a vegan, this is one of the only brands of vegan ricotta that I would eat with a spoon.
Pros
Tastes better than traditional ricotta and definitely better for your health, but maybe not for your wallet.
Clean, simple ingredients.
Contains live cultures, which are great for your gut biome.
Cons
Expensive for a small amount (8 oz.); not enough to make a big Italian meal of stuffed shells or lasagna mimicking a decent traditional ricotta layer.
Community Rating:
( reviews)
Kite Hill Vegan Ricotta Cheese Review
Kite Hill's ricotta is a tasty dairy-free alternative to ricotta cheese.  The texture is firm, and the consistency is creamy.  It tastes like ricotta in that it has a light, fresh flavor with just the right amount of tanginess.  I would not have been able to tell any difference between Kite Hill's ricotta and regular ricotta if I didn't know that it was vegan.  
This cheese would be great on pizza, pasta dishes, or even sandwiches.  Sometimes I just use it as a dip…a dip for my giant spoon, that is 😆!  This is the only vegan ricotta that I've found good enough to eat right off the spoon that wasn't my own homemade tofu ricotta.  Don't underestimate tofu ricotta, though.  My Italian grandmother loved tofu ricotta when I used to put it in my veganized eggplant parm and lasagna I'd bring her.  Unfortunately, I never got her thoughts on this Kite Hill Ricotta… although I'm sure she would've loved it since it's made from a base of almonds, and she loved almonds.
What is ricotta cheese?
Ricotta is a kind of cheese traditionally made from cow's milk that has been heated, run through a cheesecloth, and left to drain for about one day.  It is usually used as an ingredient in many Italian dishes, including lasagna, cannoli, and ravioli.
Serving Ideas for Kite Hill Ricotta Cheese
You can use this in place of dairy-based ricotta in any recipe that calls for it, such as stuffed shells, manicotti, ravioli, and lasagna.
Since this stuff is pricey, to save money, instead of making stuffed shells or lasagna with it, I'll just make regular pasta with marinara and put a scoop on top once it's on my plate. This tricks my mind into thinking I'm eating stuffed shells, and it's fast when you want the flavors but don't have the time to make them or homemade ravioli.

Dress up a can of minestrone soup by putting a dollop of this almond milk ricotta on top.

You can make it into a dip by adding herbs and spices and some roasted garlic.

Use it in sweet desserts to replace mascarpone.

Try it in one of Kite Hill's official recipes like their Creamy Lemon Ricotta Pasta (pictured above).

Eat it straight out of the container with a spoon, just like I do 😊!
Where to buy Kite Hill Ricotta Cheese
I've only been able to find this cheese at my local health food store (it's like a family-owned version of Whole Foods). But unfortunately, they don't carry this at my regular neighborhood grocery store like they do their yogurt and cream cheese.  Still, it's probably a good thing, or else I'd be allocating a disproportionate amount of my grocery budget to it.
You can also buy it directly from their website in 4 packs, but it looks to be an expensive way to get ahold of this product! Otherwise, Whole Foods, Publix, Sprouts, Shop Rite, and Fresh Market all carry it if you live close to one of those. I pay around $8.99 for this container (in Upstate NY), but prices will vary regionally. I've seen it as high as $11.99 online.
Kite Hill Ricotta Ingredients and Nutrition Facts
The ingredients are Almond Milk (Water, Almonds), Salt, Enzymes, Tartaric Acid, and Cultures.  See the package photo below for full nutritional details.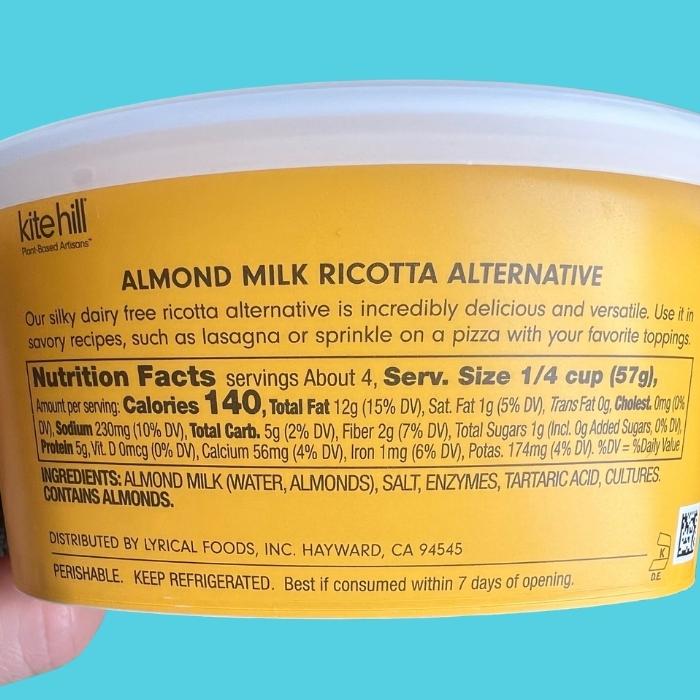 Would I buy this product again?
Yes, despite the price tag, I buy this often and just try to use it sparingly and cherish every bite 😊.  If any of you have tried this Kite Hill ricotta, let us know what you thought of it below!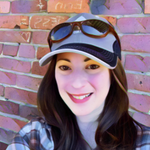 Nicole
Long time vegan living in upstate NY.  Web developer and founder of Vegan ShowOff.  She's addicted to ice cream and loves hiking, snowboarding, gardening, and travel.  Read more from Nicole!