It's hard not to be excited about pumpkin season. The thought of carving pumpkins for Halloween or baking them until they turn into a glowing orange dish is enough to make anyone giddy with excitement. But you can do more with pumpkin than make pumpkin pie. That's among the least healthy ways to enjoy this deep orange fruit due to the pie's high sugar content. Let's look at some healthier ways to enjoy the health and nutritional benefits of pumpkins. 
1.  Mashed Pumpkin
Mashed pumpkin is a more nutrient-dense alternative to mashed potatoes. Pumpkin is rich in compounds called carotenoids that are beneficial for immune and eye health, and they're an excellent source of potassium for heart and blood vessel health. Mashed pumpkin is a tasty and colorful alternative to mashed potatoes, and it has fewer calories than a traditional potato mash.
To make mashed pumpkin:
Peel the pumpkin and cut it into pieces.

Put the pieces in a pot with water and boil until soft.

Drain the water and allow the pumpkin to cool slightly before mashing it with a fork or potato masher until smooth.

Add your favorite plant-based butter and salt as desired, and serve.
Mashed pumpkin has a full-bodied flavor that makes a tasty and healthy side dish. 
2.  Roasted Pumpkin
Roasted pumpkin is the perfect accompaniment for autumn dinners you enjoy with family and friends. The easiest way to prepare a pumpkin for roasting is to cut off the top, remove all the seeds (save the seeds for roasting later), and peel away the skin. Then chop the pumpkin into chunks and drizzle with olive oil to help it caramelize under heat. It's the caramelization that gives roasted pumpkin its sweet and delicious flavor.  Before roasting, sprinkle lightly with salt, cinnamon powder, brown sugar, and nutmeg.  Then, roast in your oven until golden brown. Enjoy the aroma of the spices as they heat up.
3.  Grilled Pumpkin
The combination of heat and smoke makes grilled pumpkin a tasty side dish. In addition, grilling pumpkin brings out the pumpkin's natural sweetness, which makes it perfect for side dishes or appetizers during holidays and autumn cookouts. Ready to grill one?
The first step in grilling a whole pumpkin is cutting it down to size. Start by removing the stem. Then cut off the top of the pumpkin with a sharp knife. Next, slice the pumpkin vertically in half, cutting around where you removed the stem. Place each half on its side and cut off the very bottom portion.
Once you've prepared your pumpkin for the grill, place it over direct heat for about 20 minutes per side until most of the flesh has charred and separated from its skin. Season with your favorite spices. 
4.  Have Pureed Pumpkin for Breakfast
Pureed pumpkin is a tasty and nutrient-dense addition to your morning bowl of oatmeal. Simply add a tablespoon or two to your morning oats and stir until it's well-mixed.  
Here's another idea. Puree cooked pumpkin with almond milk or water to make a quick sauce for protein pancakes or waffles.  
Pureed pumpkin is also a delicious addition to smoothies.  It's a fruit that adds body, flavor, and nutrition without making the smoothie overly sweet.  Add one or two tablespoons of pureed pumpkin to your smoothie recipe before blending. You can even add some cinnamon and nutmeg for a pumpkin pie-inspired smoothie! Veganosity has a great pumpkin pie smoothie recipe if you want to get all fancy with your smoothie and follow an actual recipe! 😆

Here's how to puree pumpkin:
• Cut the pumpkin in half and remove the seeds with a spoon. Cut each half into slices about 1/2-inch thick, then chop the slices into cubes. Put the cubes in a pot with water to cover and boil gently until they're tender.
• Drain the water, then puree the pumpkin using an immersion blender, regular blender, or food processor until completely smooth. Add more liquid if necessary to get the desired consistency. It should be thick enough to hold its shape when spooned out but thin enough for you to see through when you hold it up to the light.
• Pour the pureed pumpkin into a strainer set over a bowl or saucepan and allow it to drain for 15 minutes. This will remove excess moisture from the puree, so it doesn't make whatever you add it to too watery.
5.  Save the Seeds
When you carve the pumpkin, save the seeds, and roast them. Then put them into jars for snacks for the whole family to munch on. Pumpkin seeds are a nutrient-dense and tasty snack. Roasted, they taste like crunchy popcorn. Raw, they have a somewhat nutty flavor and are delicious when sprinkled on salads or yogurt.
What you might not know is pumpkin seeds are a superfood. These crunchy orbs are high in plant-based protein and fiber and rich in minerals like magnesium, iron, and zinc. You need zinc for proper healing and immune system function, magnesium helps keep your muscles relaxed, and iron transports oxygen throughout the body to energize cells.
The Bottom Line
As you can see, pumpkin is nutritious and versatile, and there are many ways to enjoy it. So don't just think of pumpkin as something to carve for Halloween, but as something healthy to eat. We hope that the above tips have inspired you to incorporate pumpkin into more of your meals!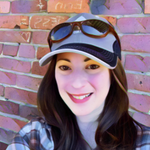 Nicole
Long time vegan living in upstate NY.  Web developer and founder of Vegan ShowOff.  She's addicted to ice cream and loves hiking, snowboarding, gardening, and travel.  Read more from Nicole!