Daiya Plant Based New York Style Vegan Cheezecake Review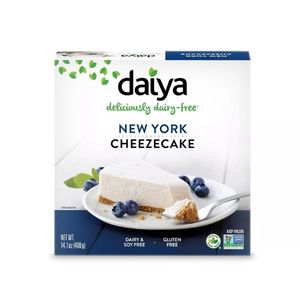 Product Name: Daiya Dairy-Free New York Cheezecake
Product Description: A rich and satisfying dairy-free New York style cheesecake infused with real vanilla.
Brand: Daiya Foods, Inc.
Dietary Notes: Non-GMO, Gluten Free, Soy Free, Peanut Free
Summary
Wonderful ready-made vegan cheesecake that has a nice creamy consistency and a delicious crust that complements the filling perfectly! Generous portion sizes and gluten/soy free. Find this dairy-free cheesecake in the freezer section of your local natural foods or grocery store!
Community Rating:
( reviews)
Daiya Vegan Cheesecake Review
I've had my eye out for these new Daiya vegan cheesecakes ever since I heard about their release. For a while I was actively looking for them every time I went shopping but didn't have much luck (things sometimes take a long time to hit the stores in upstate NY it seems!).  Then the other day I randomly came across them and got all excited and bought 2 out of the 4 flavors they make!  They only had Strawberry and NY Style but Daiya also makes a Chocolate and Key Lime version I'd love to get my hands on!  They come in the freezer section so you need to thaw them in the fridge or on the counter first.  I've only tried the NY Style one so far and the Strawberry is still in my freezer.  One girl can only eat so much cheesecake at once ya know!
The consistency was maybe a little creamier than the NY Style dairy cheesecakes I've tried, but I think that's a good thing.  There is a nice crust to filling ratio and the gluten-free crust taste-wise really impressed me!  It looks like it's brown rice flour/sorghum flour based and really complemented the flavor of the filling.  The filling itself did have that distinct Daiya cheese flavor, so if you don't like Daiya cheese, then this "cheezecake" probably won't be your favorite.  To be honest I'm not a huge Daiya cheese fanatic myself but this Daiya vegan cheesecake was still really tasty to me.  It tasted a lot like their plain cream cheese style spread so I'm wondering if the strawberry flavor will taste like their strawberry cream cheese (which is my fave Daiya product).  Also, I'd like to point out that a serving size is one quarter of the whole cheesecake which I think is a generous portion!
Daiya New York Style Cheesecake Ingredients and Nutrition Facts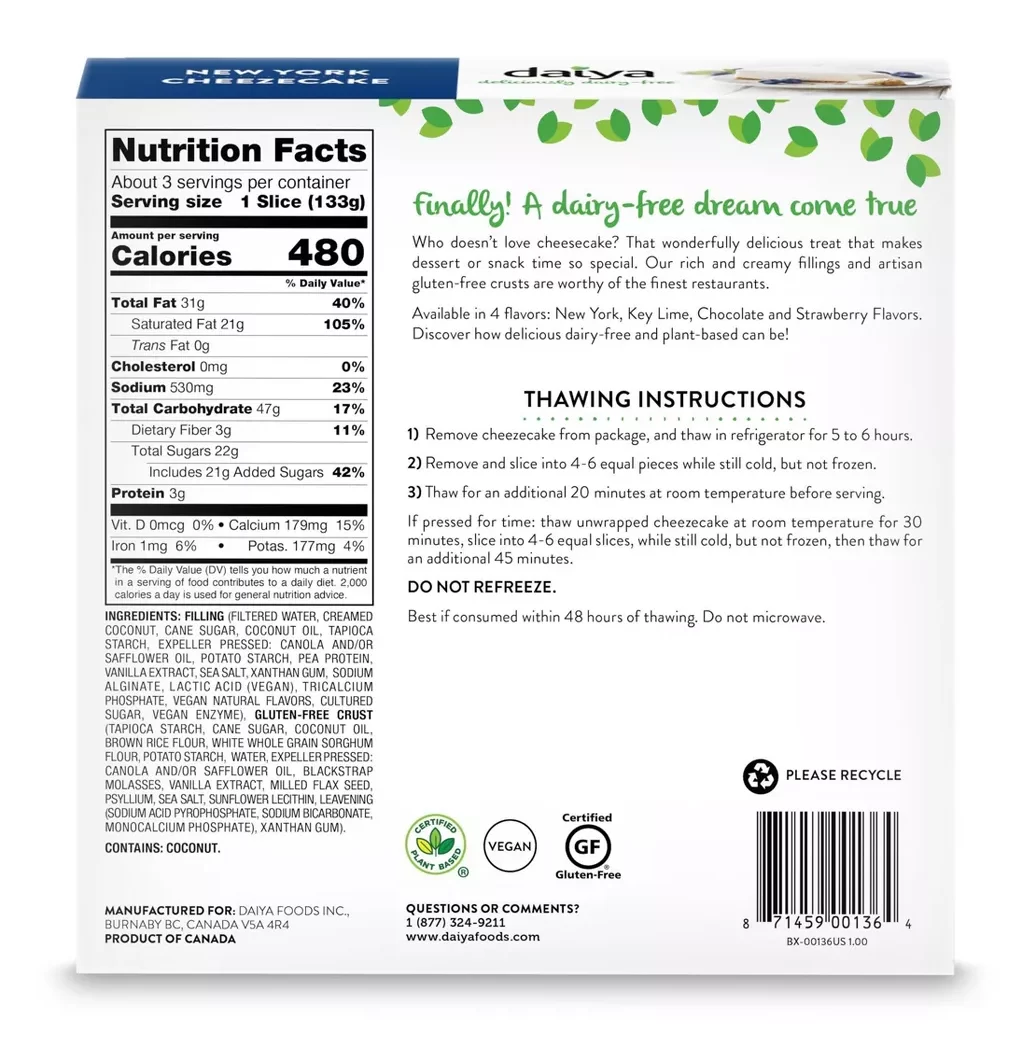 All in all, I think Daiya did a great job coming up with a tasty, ready-to-serve, vegan cheesecake that is also super allergen friendly!  I'm personally looking forward to trying the other flavors (especially the chocolate one if I can ever find it!).  Find it in the freezer section of your local grocery or natural foods store!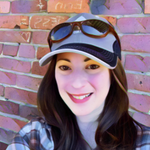 Nicole
Long time vegan living in upstate NY.  Web developer and founder of Vegan ShowOff.  She's addicted to ice cream and loves hiking, snowboarding, gardening, and travel.  Read more from Nicole!