I made these granola bars for a hike up a local mountain a few weeks ago and they came out great so I've been thinking of them ever since!  I individually wrapped them and put them in the freezer so I could grab one if I wanted a quick snack.  They froze perfect I'm happy to say!  The key to making these no-bake granola bars is to smash them down as hard as possible in the pan before refrigerating them so you get nice, compact bars!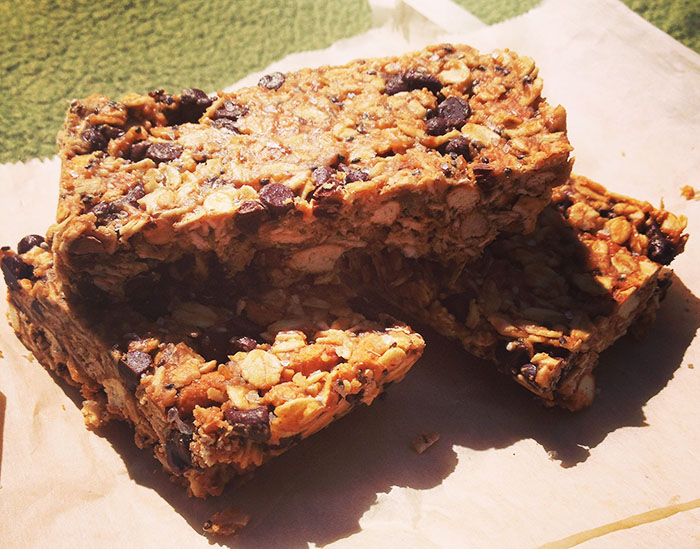 Ingredients:
2 cups rolled oats
1 cup crushed thin pretzels (crush them to chocolate chip size or a little larger is fine)
1/2 cup natural peanut butter (or other nut butter)
1/2 cup maple syrup (or brown rice syrup, agave syrup)
1/2 cup vegan mini chocolate chips
Optional add-in's or use your imagination:
1/4 cup chia seeds (I like the Trader Joe's chia seeds)
1 Teaspoon vanilla extract
1/2 Teaspoon sea salt
1  Teaspoon cinnamon
1/2 Teaspoon nutmeg
Directions:
Combine the maple syrup with the peanut butter and all other optional ingredients in a big bowl and then slowly add in the rolled oats and crushed pretzels until it's a big gooey mess!  If it seems a little too dry you can add in more maple syrup.  Taste the big gooey mess and make adjustments to suit your taste buds!
Line an 8×8 pan with parchment paper (or plastic wrap) and empty the mix into the pan and place another piece of parchment paper on top and evenly smash it all down with something heavy (I happen to use this potato masher, which I also used to crush the pretzels!).  Make sure to get the mix as flat and even as you can (put some muscle into it!) and then stick the bars in the freezer or fridge for a few hours. Cut them when they are solid and enjoy!  These granola bars freeze amazingly well!
Note:  I used an 8×8 glass pan and cut it into 8 bars.  You can cut them any size you want though!