Victoria Vegan White Bean Marinara Review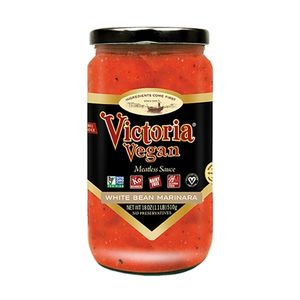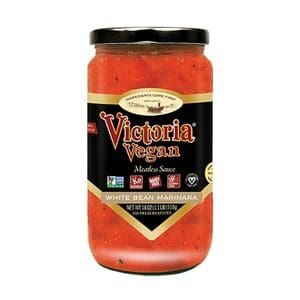 Product Name: Victoria Vegan White Bean Marinara Sauce
Product Description: A classic pasta fagioli inspired marinara sauce with canellini beans, imported Italian tomatoes, and a pinch of red pepper flakes.
Brand: Victoria Fine Foods
Dietary Notes: Soy Free, Nut Free, Gluten Free
Summary
This vegan white bean sauce is an authentic tasting Italian sauce with a clean ingredient list. The depth of flavor is impressive and works well in a delicious vegan baked ziti dish! Very tasty for a "jar sauce" and great value. Find it at your local grocery or natural foods store!
Community Rating:
( reviews)
Victoria Vegan White Bean Marinara Sauce Review
Walking down the aisle of my local grocery store this sauce certainly caught my eye with the label "Victoria Vegan".  Although I was in the natural foods section, seeing something labeled as vegan in the actual brand name made me impressed by my local Hannaford.  I've learned since then that Victoria Fine Foods is a Brooklyn, NY based brand and I am in northern NY (really Northern!), but that may be why our regular grocery store is privy to this line of vegan sauces!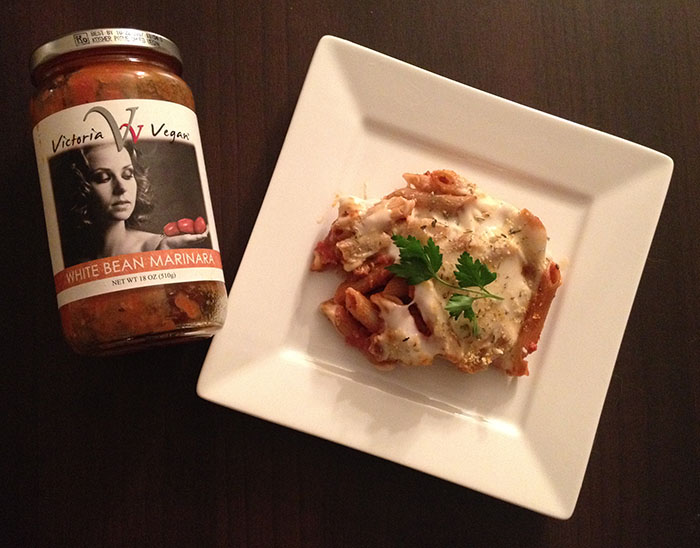 Now I must admit,  growing up with an Italian grandmother cooking for me has kind of spoiled me a bit as far as pasta sauces go!  Nothing really compares to her homemade marinara and I can't even make it exactly like she used to.  Since I went vegetarian when I was pretty young (14), she always made me a separate batch of sauce with no meat in it.  Recently when we got together and told stories she reminded me of one time when I was a kid she made some sauce or something for me and served it to me and I was like "ewww grandma, it tastes like there's meat in this!" and she swore up and down that there wasn't any.  She said she had cooked meat in the pan before but there was no way I could taste that!  Well I truly think I did taste the residual meat in the pan and to this day, maybe since I haven't had meat in 25 years, I swear I can taste it in restaurant foods that have been tainted when supposedly there's "no meat" involved.  I don't know, maybe I was just being a suspicious brat back then thinking my grandma was trying slip some meat into my food.  I think she might have thought it was going to be a phase and when she realized it wasn't, she became scared I was going to get too thin and not have enough to eat (yes this a a real fear for Italian grandmother's!).
Not long after I turned vegetarian I actually became vegan for around 4 years.  Well, my Italian meat-centric grandmother was actually super supportive (cause she loves me I guess : ) of this lifestyle change and ALWAYS made sure I had my own separate vegan meal for our dinners and also had snacks around.  She even invented some vegan cake recipe for my birthday (way back before there were vegan cake recipe's online, hmmm I guess this was even back before there was an online).  I think she would just make the cake with soymilk and leave out the eggs, so I remember it being super flat but it still tasted awesome! Then she added non-dairy "whipped topping" as the frosting and I was a happy vegan teen!
Okay, so I digressed from the review a bit and got a little nostalgic!  Sorry about that, now I'm going to get serious!  I decided to test out this sauce by whipping up a quick batch of baked ziti (only I think I used a whole wheat organic penne and not ziti noodles, but close enough).  I actually was too hungry to bake it so I just stuck it in the toaster oven under broil for a few minutes and it actually worked awesome!  So I cooked up the noodles (al dente of course!) and warmed up the sauce in a separate pan and then tossed them together.  I quickly made a batch of life changing moxarella and drizzled it over the top and proceeded to broil it in my toaster oven in a casserole dish.  Yes, I did taste the sauce plain while it was warming up and I was delightfully impressed!  It really had a lot of flavor depth and although there weren't a huge amount of white bean chunks, the beans did lend to an overall thicker, heartier consistency.  I was actually pleasantly surprised by this sauce since I think I have high "jar sauce" standards!  The ingredients list is super clean too, which is a major bonus!
Victoria Vegan White Bean Marinara Ingredients and Nutrition Facts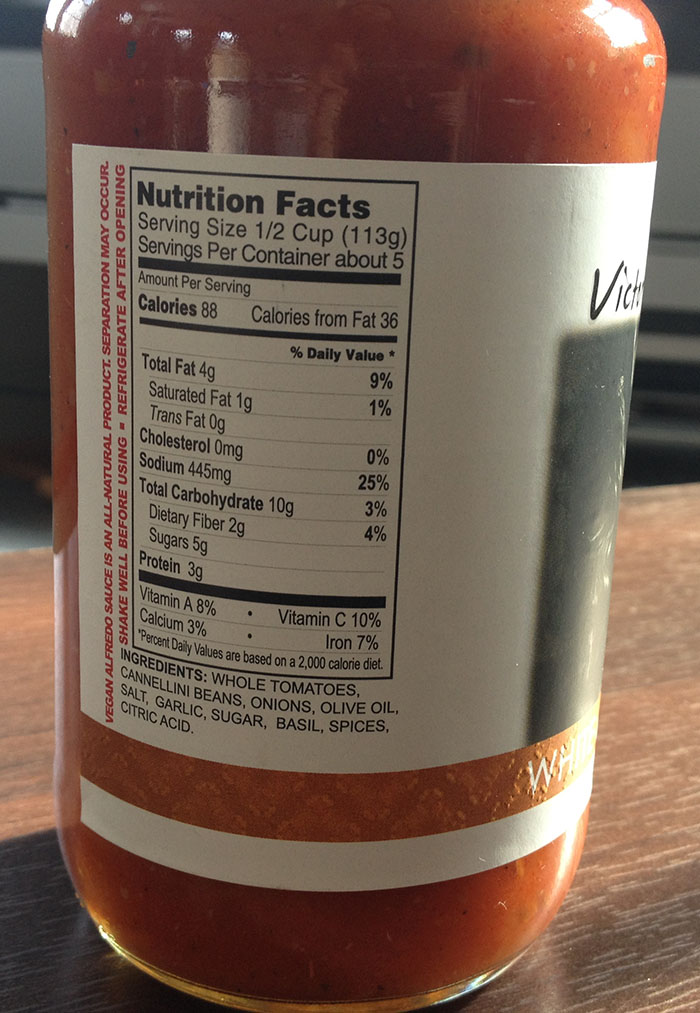 When I tried this sauce after my dish came together, it got even better!  I was definitely impressed and believe this sauce is well worth the money.  I can't wait to try their other flavors!  Has anyone else tried this sauce?  If so, that would be awesome if you left your rating below!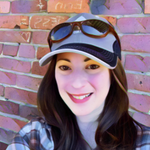 Nicole
Long time vegan living in upstate NY.  Web developer and founder of Vegan ShowOff.  She's addicted to ice cream and loves hiking, snowboarding, gardening, and travel.  Read more from Nicole!