As winter approaches, the days become shorter, the temperatures chillier, and the layers of clothing thicker.  Eating certain foods and ingredients can help your body warm up or at least give the illusion of doing so.  The best way to think of it is by looking at how these types of foods make you feel.  If you eat them and feel like your body temperature went up a few degrees, then that food is considered "warming."

Let's look at some of the best warming foods to enjoy as the temperatures drop.
1.  A Cup of Spicy Hot Chocolate
A cup of spicy hot chocolate is one of the best warm winter treats.  Rich and creamy hot chocolate, flavored with a spicy kick, is a delicious way to warm up while treating your taste buds to a rich and satisfying experience.  In addition, cacao powder is rich in catechins, a type of antioxidant that may have heart-health benefits.
Ready to make one?  To make a cup of hot chocolate with spices:
Heat almond, soy, oat, or coconut milk in a saucepan until steaming.

Add your choice of spices, such as cinnamon, nutmeg, cardamom, and/or turmeric, and bring to a simmer.

Stir in a heaping tablespoon of unsweetened cacao powder and a teaspoon of organic sugar or stevia for sweetness.

Drop in a splash of vanilla extract for a hint of flavor.
Serve with a sprinkle of cinnamon and top with a dollop of coconut whipped cream. 
Perfect for sipping by the fireplace!
2.  Oatmeal
Oatmeal is an excellent source of fiber, protein, B vitamins, and minerals, like zinc, that support immune health.  Beta-glucan, a fiber-like carbohydrate in oatmeal, also helps optimize immune health based on research.  Plus, it helps lower LDL-cholesterol, the type linked with cardiovascular disease.  Best of all, oatmeal is a food that warms your tummy from the first bite. 
It is easy to customize oatmeal to suit individual tastes, nuts, fruits, spices, or even savory additions like nutritional yeast.  A bowl of oatmeal is a simple and satisfying way to start the day with a nutrient-dense, warming meal.
3.  Stews and Soups
Stews and soups are comforting options if you want to keep things warm, filling, and easy on the stomach.  They're perfect for busy people who want to eat healthy without much fuss.  You can whip up a pot of stew in just 30 minutes, then freeze the leftovers for easy meals later in the week.
Soups and stews offer an excellent opportunity to experiment with flavor combinations, as they are easy to customize to individual tastes and dietary preferences.
4.  Ginger Tea
Ginger tea is one of the best warming foods for winter, and it's also a quick way to soothe an upset stomach.  Ginger can help reduce nausea, settle queasy stomachs, and reduce gas.  It's also an anti-inflammatory that helps relieve pain caused by arthritis or other inflammatory conditions. 
The warming sensation is primarily attributed to gingerol, a compound in ginger root that also accounts for its anti-inflammatory benefits.  But talk to your doctor before consuming large quantities of ginger.  It may interfere with some medications.
Here's how to make ginger tea:
Boil 1 cup of water in a pot.

Add 1 teaspoon of freshly grated ginger to the pot and reduce to a simmer.

Allow the tea to steep for 5 to 10 minutes, then strain it into a cup.
If desired, add a little sugar, stevia, or lemon for flavor.  For a more intense flavor, you can use more ginger or steep it for longer.  Enjoy your homemade ginger tea, either hot or cold!
5.  Casseroles
Casseroles are a comfort food that warms the body and a great way to use leftovers.  They can be made ahead of time and frozen, making them a delightful option during the busy holiday season when there are many meals to plan and prepare.
You can make casseroles with pantry staples like spaghetti sauce, dried beans, and canned tomatoes.  These ingredients will help you stretch your dollars further in the winter when produce prices tend to fluctuate more than usual.  Try this vegan spaghetti casserole for a comforting meal!
6.  Nut Butter on Toast
A sandwich of nut butter on toast is a great option for those extra chilly days, especially when you're feeling under the weather.  Nut butter is a highly nutritious and warming food.  It is full of healthy fats, proteins, and carbohydrates for energy.  This makes nut butter an excellent choice for a snack or meal that supplies your body with the fuel it can burn to keep you warm. 
Nut butter is also an excellent source of vitamin E, an antioxidant that fights free radicals.  Additionally, the high fiber content of nut butter helps promote gut health.  Best of all, nut butter is warming comfort food.  So whether you choose peanut butter, almond butter, cashew butter, or another nut butter variety, you're feeding your body warmth and good nutrition.
7.  Spicy Chili
Chili is one of the most warming comfort foods in the world and a perfect dish for cold weather.  It's a simple yet flavorful meal you can get on the table fast.  You can prepare chili using a variety of spices and ingredients, giving it a unique and enjoyable flavor.  The heat from the chili will quickly warm you up and keep you cozy.  Additionally, it is a great dish to serve when hosting a gathering of friends or family.
With its simple ingredients, you can easily customize the chili to suit everyone's taste.  The hearty combination of vegetables, beans, and spices will have everyone coming back for more.  
There are also some delicious vegan canned chilis available if you're low on time or feeling lazy!  
The Recap
Winter is the perfect time to indulge in comfort foods and warm drinks.  From soups and stews to hot cocoa and warm teas, there is something to satisfy everyone's tastes and preferences.  Incorporating warming spices like cinnamon, nutmeg, and ginger can bring out the flavors of these dishes while adding health benefits.  So enjoy some of your favorite foods and drinks this winter to stay cozy and warm!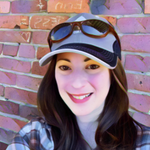 Nicole
Long time vegan living in upstate NY.  Web developer and founder of Vegan ShowOff.  She's addicted to ice cream and loves hiking, snowboarding, gardening, and travel.  Read more from Nicole!