Amy's Vegan Organic Spicy Chili Review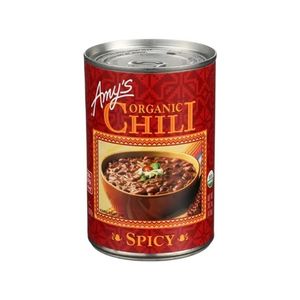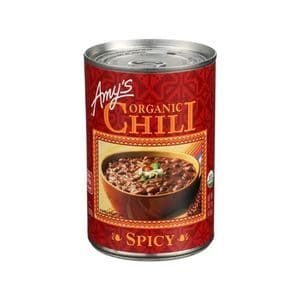 Product Name: Amy's Kitchen Organic Spicy Chili
Product Description: An easy to prepare chili made from organic red beans and simmered in a Mexican style broth.
Brand: Amy's Kitchen
Dietary Notes: Gluten Free, Kosher, Organic, Non-GMO
Summary
Amy's Vegan Chili is a delicious alternative to making chili from scratch! It's organic, gluten-free, and comes in a BPA-free can. I recommend this chili if you're looking for a quick nacho topping or taco filling on a busy night when you don't have time to cook from scratch!
Community Rating:
( reviews)
Amy's Organic Spicy Vegan Chili Review
I have to confess I'm not a huge chili eater.  I like it and I've made it from scratch a few times but it's not something I crave.  The only time I want chili is to put on top of nachos!  It's the perfect easy addition to make a quick plate of loaded nachos for a snack, a meal, or just to share with friends.  I decided to buy a can of this Amy's Organic Chili for just this purpose!  My sister recommended it to me but I believe she buys the "medium" heat version, while I went for the "spicy" version because I love spicy!
Yup, she was right!  This is really, really good chili considering it comes out of a can.  It's ready to serve and you don't even have to add water, just heat and eat!  I just heated it up in a small pot on the stove (or you could obviously microwave it if you use microwaves), dumped it on top of some blue corn tortilla chips, and topped it with some cashew sour cream and homemade nacho cheese sauce!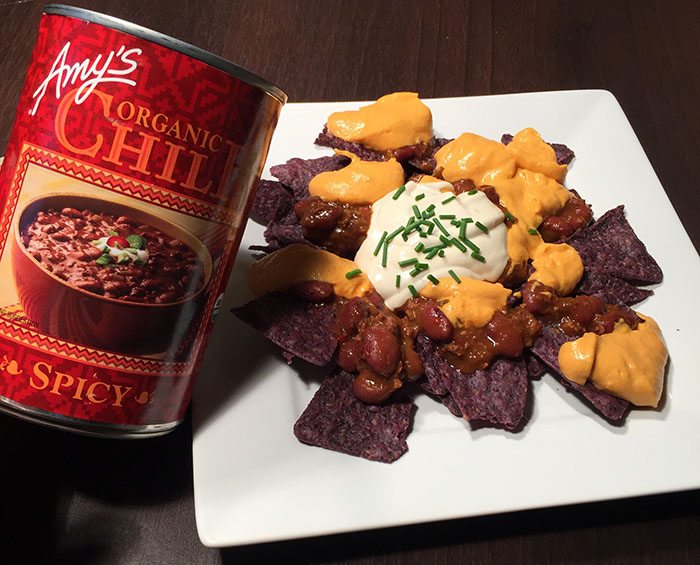 I must admit that this "Spicy" version just wasn't that spicy to me so I'd imagine that the "medium" version would pretty much have no detectable spiciness (for me anyway!).  I love that this chili is USDA Organic and has no preservatives.  It's also gluten-free and the can has a BPA-free liner (a huge plus in my eyes!).
Amy's Organic Vegan Chili (Spicy) Ingredients and Nutrition Facts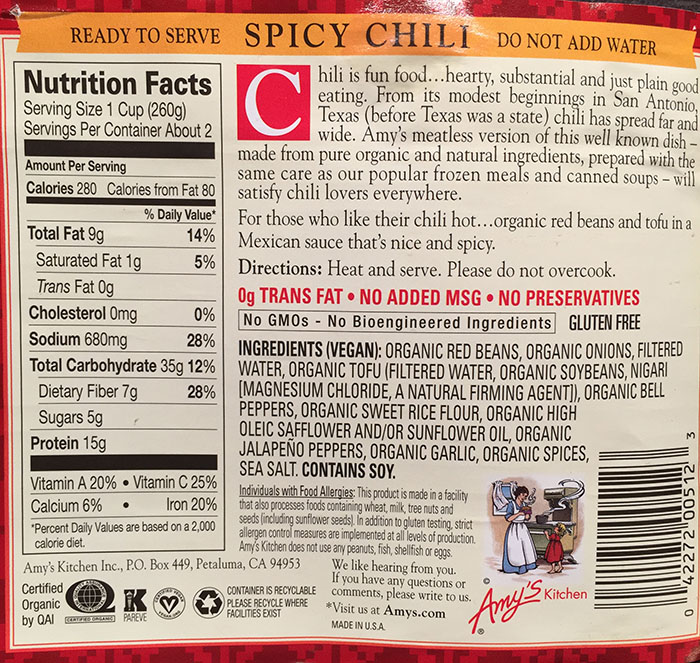 So I was pretty impressed with this simple can of pre-made chili!  Amy's Kitchen has not disappointed me yet with any of their vegan products, plus they are widely available so that's huge too!  Let me know below if you've tried any of the Amy's Kitchen Organic Chili's and what you've thought about them if you have!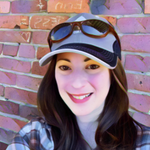 Nicole
Long time vegan living in upstate NY.  Web developer and founder of Vegan ShowOff.  She's addicted to ice cream and loves hiking, snowboarding, gardening, and travel.  Read more from Nicole!