Trader Joe's Tofu Scramble Review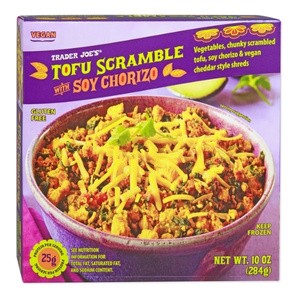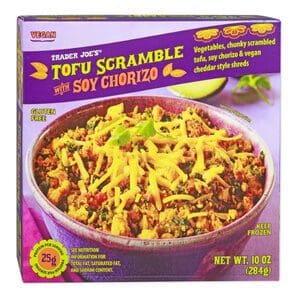 Product Name: Trader Joe's Tofu Scramble with Soy Chorizo
Product Description: Vegetables, chunky scrambled tofu, soy chorizo & vegan cheddar style shreds. It comes in a microwaveable bowl, simply remove the plastic wrapping then place it in the microwave to heat for 3-4 minutes.
Brand: Trader Joe's
Dietary Notes: Gluten Free
Summary
Trader Joe's Tofu Scramble is a hearty, tasty meal.  It's loaded with chunky tofu, various vegetables, an interesting array of spices, soy chorizo, and topped off with vegan shredded cheese.  Right out of the freezer, after removing the plastic wrapping it can be placed in the microwave, then heated 3-4 minutes to a delicious tofu scramble without all the fuss.
Community Rating:
( reviews)
Trader Joe's Tofu Scramble Review
This Trader Joe's Tofu Scramble with Soy Chorizo not only includes of course tofu, but also soy chorizo, which gives it an extra zip along with paprika, red and green bell peppers, and onions.  It's topped off with a tasty vegan shredded cheese.
Tofu originated in China 2,000 years ago, and there are many legends as to who exactly was responsible.  Regardless, we're eternally grateful for this incredibly versatile vegan food option!
Tofu is made from soybeans that are ground in water, heated, and coagulated with minerals like calcium or magnesium salt.  The curds are then pressed into a block, which is then sold as tofu.  You can buy several different types of tofu, but most regular grocery stores just have silken, soft, medium, firm,   and extra firm.
The benefit of cooking with tofu is that tofu is a very mild somewhat flavorless protein that takes on whatever flavors it's paired with.  This makes it a very versatile food that can be used in many ways.  Why is tofu packed in water, you may ask?  Because tofu itself contains water, storing it in water prevents it from drying and changing its texture.
I have made my own tofu scramble, which is an easy process.  The important thing is to remove as much of the excess water as possible by placing the block in a kitchen towel which will quickly absorb the excess water.  The next process is to crumble the tofu block in a bowl using a fork to break it into smaller bits.  I normally use extra firm tofu for my scrambles.  Based on how you like the texture determines how much you need to break it down.
I wasn't familiar with black salt (Kala Namak), however after hearing family members rave about how it will elevate the taste of your tofu scramble to be more like eggs, I thought that's all the encouragement I need, so I purchased a small packet on Amazon.  That, along with Braggs Nutritional Yeast, garlic powder, turmeric, and diced sautéed onions.  It cooks up rather quickly and was pretty darned good if I may say so!
If you're in a time crunch or just don't feel like cooking tofu scramble from scratch, this Trader Joe's vegan tofu scramble with chorizo is great to have on hand in your freezer!  The package is 10oz, and while that may not sound like a lot, I could only eat half of it before feeling quite full.  So for me personally this would stretch into two breakfast meals.
Having some leftover taco shells from a few nights before gave me the idea of a breakfast taco.  It was really good and the taco shell added a nice crunch.  You could also make a breakfast burrito using a tortilla wrap.  You can be as creative as you want as it's quite a versatile product.  Or just eat it warmed up all by itself.  Quite delicious!
Trader Joe's Tofu Scramble is found in the freezer section.  The instructions on the package state "cook from frozen".  How easy is that!  You may also heat it in a conventional oven, however, it will need to be transferred to an oven-safe container as the bowl it comes in is not suitable for a conventional oven.
Trader Joe's Tofu Scramble Ingredients and Nutrition Facts
The sodium is a whopping 43%, which needs to be considered if you happen to be on a salt-restricted diet.  Each container is 370 calories.  Total Fat and Saturated Fat are 27% and 35% respectively.  Total Carbohydrate is 9% and dietary fiber is 18%.  It packs a punch with the total protein at 48%.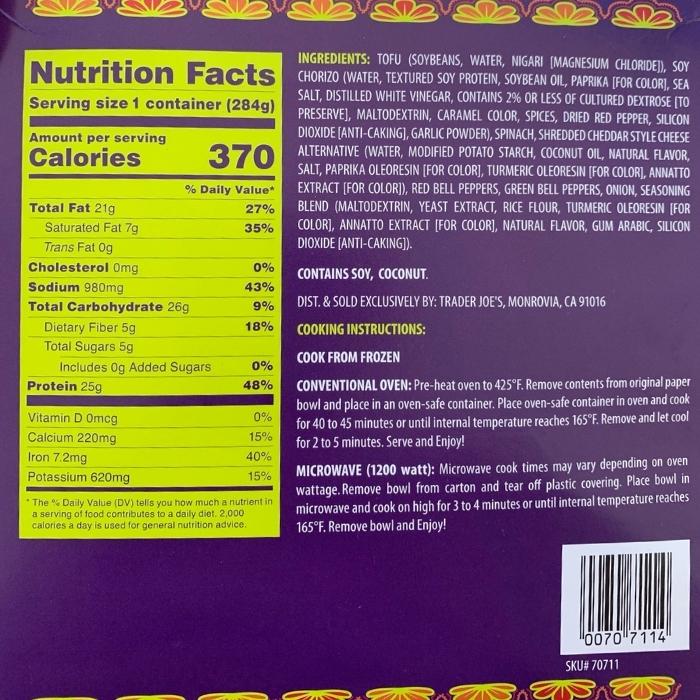 Would I buy Trader Joe's Tofu Scramble again?
I would definitely buy this again.  It's a quick, satisfying meal.  Trader's Joe's sells this product for $3.99 which is a value when you consider all the components that make it so tasty.  Let us know what you think of this Trader Joe's vegan tofu scramble below!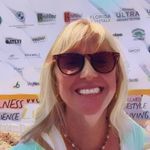 Sue
Sue's a lifelong horse lover living in beautiful South Florida.  She enjoys reading, cooking, shopping, and travel. Check out more from Sue!