Gone are the days when vegans had to compromise on taste and variety. Today, innovative food companies and creative home chefs have made it possible to enjoy the flavors you love without the guilt or environmental impact. From store-bought options to DIY recipes, our guide will cover all things plant-based pepperoni, helping you satisfy your cravings while staying true to your values.
In this guide, we'll cover the following:
What plant-based pepperoni is made from

Whether or not it's healthy 

The best vegan pepperoni brands currently on the market

Our favorite recipes for making vegan pepperoni
Let's dive in!
What Is Plant-Based Pepperoni Made Of?
Exact ingredients will vary based on brand or recipe, but you'll commonly find the following ingredients in vegan pepperoni:
Soy proteins – 

Often textured from soybean meal.

Wheat gluten – 

Such as vital wheat gluten, which is used in seitan.

Tofu – 

Coagulated soy milk protein, ubiquitous in vegan cuisine, versatile, and delicious, to boot!

Legumes and vegetables – 

Such as beans, chickpeas, peas, and beets.

Seasonings – 

These often include cayenne, paprika, and smoke substitutes.

Tomato paste – 

For the red color as well as flavor.
Is Plant-Based Pepperoni Healthy?
While traditional pepperoni isn't the healthiest choice at the grocery store (another reason to stay away!), one awesome added benefit of choosing plant-based pepperoni is that it's much better for you!
It's Nutrient-Dense
Vegan pepperoni packs a protein punch and makes a great addition to any meal to round out your nutrients. Many versions also contain vegetables and legumes, getting you some essential vitamins and fiber. 
It's Lighter
You can indulge as much as you like and not be left feeling heavy and bloated, as vegan pepperoni is both cholesterol-free and has fewer calories than meat pepperoni.  Plus, you won't have animal harm weighing on your conscience while eating!
It's Dairy-Free
There's no need for dairy products in the production of any type of pepperoni, so you don't have to worry about dairy products sneaking in there.  There are many varieties of gluten-free, vegan pepperoni available as well. 
It's Delicious!
Pepperoni gets its iconic flavor from the blend of spices used, so you're not losing any of the taste when you cut out the meat! Plant-based pepperoni gives you all of the complex umami taste with none of the meaty gristle. 
The Best Vegan Pepperoni Brands of 2023
Below are some of our favorite plant-based pepperoni brands currently on the market!
The BE-Hive Plant-Based Pepperoni 
The BE-Hive Plant-Based Pepperoni is made from vital wheat gluten, beans, sundried tomatoes, spices, and flavorings. It's only 90 calories for a serving of 13 generous slices and packs in 14 grams of protein as well!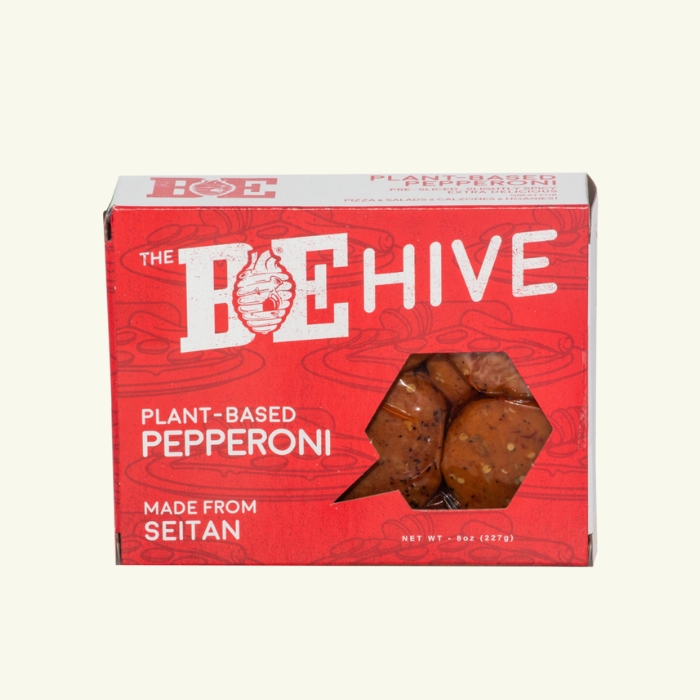 Field Roast Classic Pizzeria Plant-Based Pepperoni Slices 
If you're really craving a classic greasy slice of pepperoni pizza, Field Roast Classic Pizzeria Plant-Based Pepperoni Slices might be the perfect pizza topping for you. 
By infusing wheat gluten, potato, and pea protein with canola oil, as well as cayenne, fennel, and paprika, Field Roast pepperoni gives you that indulgent bite you've been searching for with none of the guilt! It's still pretty light and nutritious, sitting at 140 calories per 18 slices and 7 grams of protein.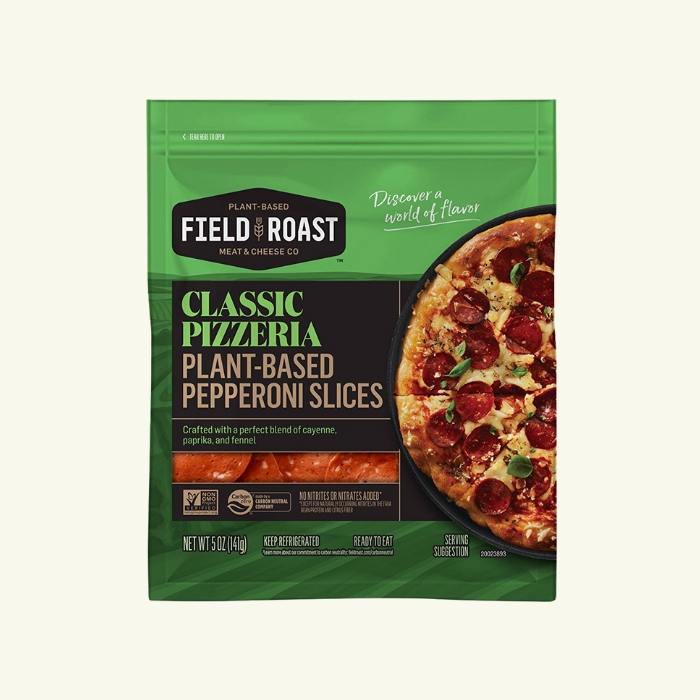 Louisville Vegan Jerky — Perfect Pepperoni Flavor 
This Louisville Vegan Jerky is ideal for snacking on, though it would still be fantastic for pizzas or other meals! Made from textured soy protein, this is an excellent choice if you're after a gluten-free product. It comes in at 80 calories per serving, with 7 grams of protein.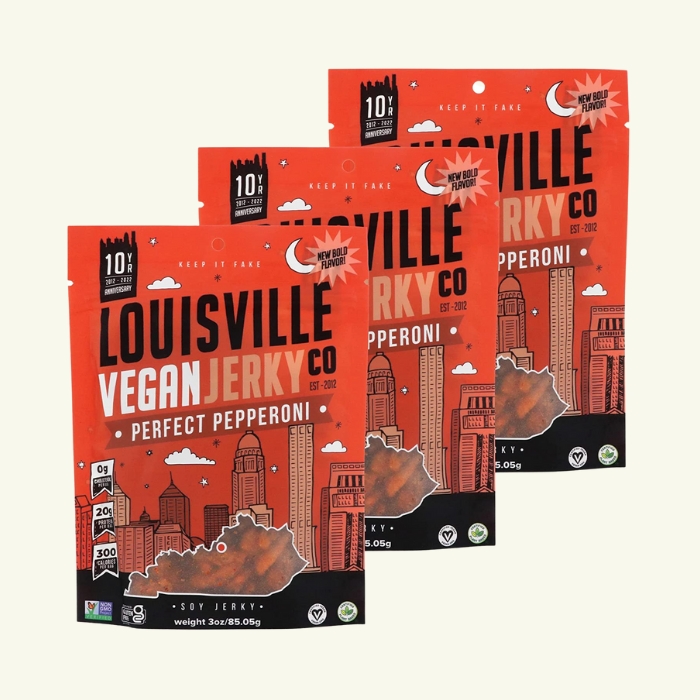 Sweet Earth Italian-Style Vegan Pepperoni Slices 
After more of a deli-style slice? The Sweet Earth Italian-Style Vegan Pepperoni Slices are sure to hit the spot on any sandwich or charcuterie board. Made from vital wheat gluten and chickpeas, this delicious meat alternative is only 110 calories per serving and packs a whopping 15 grams of protein!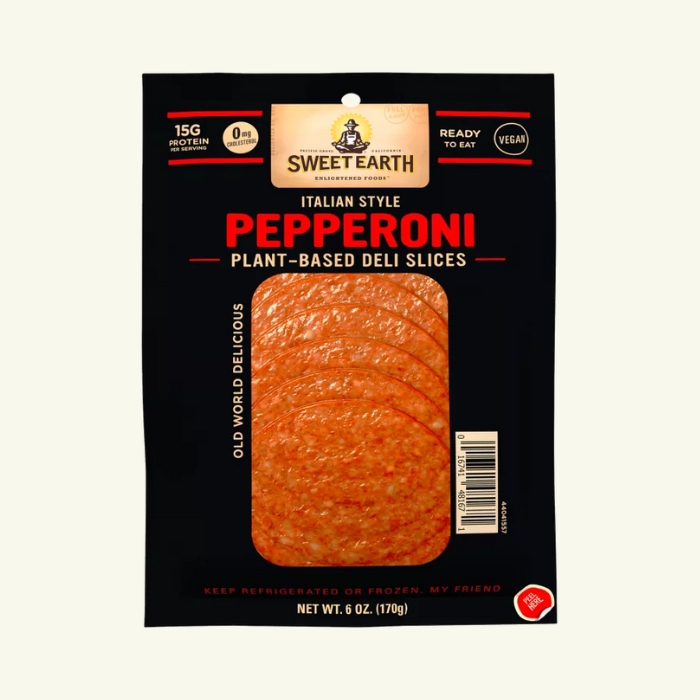 Yves Veggie Pepperoni
Yves Veggie Pepperoni is a classic-style pepperoni made from soy protein, wheat gluten, and tofu. It comes in at only 45 calories, with 7 grams of protein. It's an excellent choice for the budget-conscious shopper, too, coming in at under five dollars for several servings!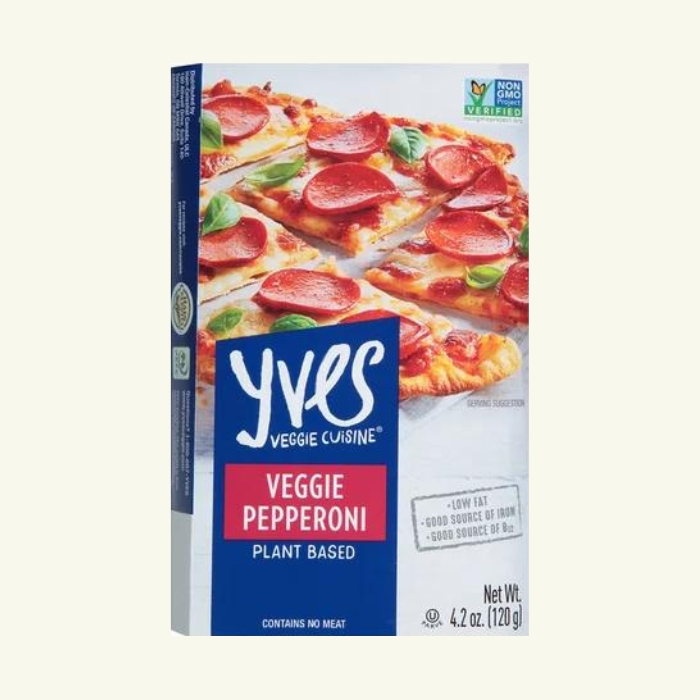 Mia Green Food Pepperoni Style Deli Slices
Mia Green Food Pepperoni Style Deli Slices are made in Italy, and you can tell by their dedication to the process! Made with sourdough culture, wheat, and chickpea flour, as well as extra virgin olive oil, it's then cured just like the meat version would be. 
Coming in at 140 calories (for a very decadent 24-slice serving), with 18 grams of protein, this spicy plant-based pepperoni is sure to taste great and make you feel great too!
Popular Vegan Pepperoni Recipes 
Feeling ambitious?  You can try your hand at making your own plant-based pepperoni! Here are a few of our favorite recipes to get you started.
Zardy Plants
The Zardy Plants smoky and hearty pepperoni is made from homemade seitan (from vital wheat gluten), tomato paste for flavor and color, beets, soy sauce, and a hand-picked blend of spices. It gets shaped into a classic log as well, so you can slice it however you like. 
You'll need a food processor or blender to combine the ingredients thoroughly and a steamer (or pot with a steamer basket) to pre-cook your dough once formed. 
Vegan Richa (this one is gluten-free!) 
This Vegan Richa recipe is naturally gluten and nut-free and can be made soy-free easily as well. It's an excellent choice for those with allergies or other restrictions! It uses chickpea flour and a range of spices and flavorings to make a delicious and versatile pepperoni. 
It's so easy to make as well! 
Mix all ingredients together (excluding the red pepper flakes, which you add later for texture/appearance) in a blender, and pop it into your instant pot or pressure cooker. Then roll it out and cut it into any shape you like (cookie cutters work well), pop it in the fridge to set, and you're good to go. You can even make it on the stove instead if you don't have an instant pot!
SauceStache
If you're up for a challenge and want some really authentic and delicious pepperoni, try this SauceStache recipe! 
The masterful process involves making your own "fat" pieces, as you would see in meat-based pepperoni, slicing them to size, and combining them with your wheat gluten mixture. Before trying this one out, ensure you're comfortable with a steamer pot. You'll have to use it for two steps while forming your sheets of pepperoni. When cooked, these are coated in alternating layers of starch and coconut oil to get the "greasy" effect! 
Believe us, the result is well worth the effort. This recipe rivals even some store-bought options for "realistic" looking, great-tasting pepperoni!
The Recap
You don't have to miss out on pepperoni if you're following a plant-based lifestyle. There are so many amazing alternatives on the market and recipes you can try to make at home. Plus, vegan pepperoni is much healthier than the animal-based alternative and tastes just as good, if not even better 😊!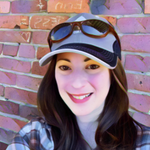 Nicole
Long time vegan living in upstate NY.  Web developer and founder of Vegan ShowOff.  She's addicted to ice cream and loves hiking, snowboarding, gardening, and travel.  Read more from Nicole!