There are an estimated 79 million vegans worldwide, and more people are switching to a plant-based lifestyle every day.  Even non-vegans are choosing to go without meat for at least a few days per week. 
Many people think that vegans can't possibly eat enough protein, but this isn't true.  There are plenty of high-protein vegan snacks and meals that are easy to find and make.  Here are a few of our favorite vegan snacks that pack a protein punch.
Natural and Homemade Vegan Snack Ideas
If you're trying to stick primarily with whole foods on your vegan diet, there are plenty of ways to get protein!  You don't have to load up on protein shakes and bars (though we love those too).  Instead, here are a few of our favorite vegan high-protein snack ideas you can make at home from natural ingredients or eat as-is. 
Peanut Butter With Apple or Celery
This is a classic snack for vegans and non-vegans alike.  Peanut butter is a high-protein food that's available in any grocery store (or, if you're truly committed, you can make it at home with a bag of roasted peanuts). 
You could snack on peanut butter alone, but you'll likely need a lot of it to feel full!  That's not a problem for most people.  Still, if you're eating at a calorie deficit, you may want to stick to a single serving (which can still have 8-9 grams of protein, more if you choose a high-protein peanut butter).
Apples and celery go great with peanut butter and have plenty of fiber to keep you full.  This healthy mid-day snack will keep you satisfied until it's time to eat dinner.  It also makes a great dessert. 
Roasted Chickpeas
Chickpeas are a fantastic source of protein for vegans, and when you roast them, they make a great snack. 
Simply drain a can of chickpeas, coat them in a small amount of olive oil, and dust on some of your favorite spices.  We love chickpeas with salt, but you can add chili powder, soy sauce, vinegar, or anything that sounds tasty.  Think of them like chips and try to emulate your favorite flavor.
Heat up your oven to 350 degrees Fahrenheit and cover a baking sheet with parchment paper.  Spread out the chickpeas and put them in the oven for 45 minutes, checking every 15 minutes to jostle them. 
After they cool off, you'll have a crunchy and high-protein snack! 
High-Protein Banana and Greens Smoothie
Smoothies are a must-have, especially during the warm summer months or after a challenging workout.  Make your smoothie even better by making it high-protein. 
We recommend starting with a frozen banana which will make the smoothie creamier without the need for dairy.  Next, add your favorite plant milk, a handful of spinach (or greens powder), a dash of vanilla, sweetener, and your protein of choice. 
You have options. Protein powder is, of course, a valid option, but there are natural options as well.  For example, adding nutritional yeast will give the smoothie a slightly savory flavor, but it will add plenty of protein and vitamin b12. 
PB2 is an excellent choice for protein.  You can add a lot of it without adding too much fat or too many calories, so the smoothie stays light and refreshing.  It's just as high in protein as peanut butter, and it tastes great even with the greens. 
Edamame
Edamame is one of our favorite vegan snacks for lazy days.  You don't have to put anything together. 
Buy a bag of frozen edamame at your local supermarket, put it in a microwave-safe bowl with a spoonful of water, cover it and put it in the microwave for up to three minutes (or follow package instructions).
Sprinkle it with salt or soy sauce when it's cool enough to eat.  A cup of edamame has over 18 grams of protein!
Hummus 
We already talked about roasted chickpeas, but hummus is another great use for those versatile beans!  It goes well with pita bread, crackers, and even veggies. 
You can buy hummus from the store, but you have more control over it when you make it at home.  It's super easy, so give it a try.
In a food processor, whip a quarter-cup of tahini with a tablespoon of lemon juice until it has a fluffy texture.  Add your preferred amount of garlic (one clove is standard, but this is up to you), two tablespoons of olive oil, a can of chickpeas, and salt to taste. 

Blend everything together until the mixture is smooth.  You can add other seasonings such as cumin or chili powder, but this basic hummus is also fantastic as-is. 
Black Bean Dip
Hummus is technically bean dip, but black bean dip is a great alternative if you're craving something different.  Eat it with your favorite tortilla chips for a protein-packed snack. 
In a food processor, blend a can of black beans, a quarter-cup of nutritional yeast, a tablespoon of lime, your favorite spices (chili powder, cumin, and garlic powder are ideal), and a third of a cup of your favorite salsa.  

If the mixture is too chunky, add more salsa to water it down. 

Add salt to taste and top with cilantro to serve. 
Store Bought High-Protein Vegan Snacks
So what if you just want a quick protein boost without having to make anything?  You might want a tasty high-protein treat from the grocery store.  There are plenty of vegan options, and more are popping up every day.  You should be able to find all of these items at the average supermarket or, if necessary, on Amazon.  Here are some of our favorites. 
CLIF Builders Protein Bars
CLIF Builder's Protein Bars are a great choice whether you're looking for a pre-workout snack or a post-workout meal.  Most CLIF bars are vegan.  While they have one whey variety and one standard bar with honey, everything else is plant-based.
The standard CLIF bars have under 10 grams of protein (though that's still a good amount for a snack).  The CLIF Builders bars have 20 grams of protein per bar.  And with a variety of flavors to choose from, there's a CLIF Builder's Protein Bar for everyone!  These are perfect for staying in your purse or backpack for a filling snack on the go. 
Vegan Jerky 
Vegan jerky is becoming more and more accessible.  While it's not yet available at every grocery store, you can likely find it somewhere nearby.
Several brands are making vegan jerky, and many of them are high-protein.  Beyond and Gardein are the most popular players in the game, and you're more likely to find their products at standard grocery stores. 
One of our favorite vegan jerky brands is Louisville Vegan Jerky!  They have 15-21 grams of protein per bag.  This brand can be hard to find at your average store, but Amazon sells variety packs that are a pretty good deal!
Dairy-Free Halo Top Frozen Dessert 
You might not consider ice cream a snack, but we do 😊.  You can add it to your smoothie for an extra creamy punch or eat it alone.
Halo Top has been famous for its high-protein and low-calorie ice cream for a while, but did you know they also have vegan varieties?  They come in several flavors, including cookie dough and peanut butter cup, and they have about 8-10 grams of protein per pint.
You might think that a pint of ice cream sounds like a lot, but that's not true when it's Halo Top.  Their non-dairy varieties are made with coconut milk and range from 280-380 calories for the entire pint!
Silk Greek Yogurt Alternative
Greek yogurt is notorious for its high protein content; fortunately, there are now some vegan options on the market.  It makes an excellent substitute for sour cream in a variety of dishes, and it's tasty on its own.
There is a good greek yogurt alternative from Silk that is widely available.  It's coconut-based, and a single serving has 10 grams of protein.  Kite Hill also has a Greek-style yogurt on the market made from almond milk and soy.  Their unsweetened vanilla flavor boasts 17 grams of plant-based protein!
You can make this an even higher-protein vegan snack by adding some PB2 and your sweetener of choice.  This makes the yogurt taste like peanut butter frosting!
What Are Your Favorite High-Protein Vegan Snacks? 
These high-protein vegan snacks will keep you full and energized all day long.  So whether you buy snacks from the store or make them at home, you'll stay satisfied.
Are you looking for more vegan products to add to your diet?  Check out some of our favorites here!  Check out the rest of our blog for more vegan tips.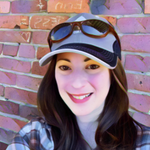 Nicole
Long time vegan living in upstate NY.  Web developer and founder of Vegan ShowOff.  She's addicted to ice cream and loves hiking, snowboarding, gardening, and travel.  Read more from Nicole!