Vegan cooking can be a rewarding and delicious way to eat, but it can also be intimidating for those who are new to it.  Below are some tips to help you get started on your vegan cooking journey.
1. Start with familiar recipes and ingredients. 
If you're used to cooking with meat and dairy, try replacing those ingredients with vegan alternatives in your favorite recipes.  For example, try crumbled tofu or tempeh instead of using ground beef in your chili.  Instead of using milk in your mashed potatoes, try unsweetened almond or soy milk.
Don't be afraid to improvise.  Vegan cooking can be an excellent opportunity to be creative and experiment with new flavors and ingredients.  If a recipe calls for an ingredient that you don't have on hand, try substituting it with something similar that you do have.  For example, if a recipe calls for cashew butter but you only have almond butter, try using the almond butter instead.
2. Stock up on spices.
Spices are key in creating flavorful dishes without meat or dairy products.  From smoked paprika to turmeric and everything in between, having an array of spices will allow you to experiment with different flavors and build depth in your dishes.
3. Get creative with sauces. 
The possibilities for vegan cooking are nearly endless, especially when it comes to sauces!  From basic olive oil and parsley mixtures to more unusual combinations made from cashews and avocado, getting creative with vegan sauces can add a unique spin to your cooking.  
Spicy peanut sauces, creamy tahini, and sweet coconut curries are all excellent additions that can take your vegan meals from ordinary to extraordinary.  No matter what flavors you prefer, the secret to a perfect vegan sauce lies in harnessing the power of fresh herbs and spices.  Experimenting with new combinations will ensure that every dish has its own delicious flavor profile and prevent you from getting bored with your favorite recipes!
If you find yourself in a pinch, there are also lots of store-bought vegan sauces available that don't compromise flavor or nutrition. 
4. Roast your vegetables.
Veggies are a crucial ingredient in any vegan dish.  Not only do they add flavor and texture, but they also provide essential nutrients that your body needs.  Roasting vegetables is an easy way to bring out their natural sweetness and enhance their flavor profile without adding too much fat or calories.  Plus, it's an easy way to make a delicious side dish that pairs nicely with any main course!
5. Don't skimp on salt or fats.
When preparing vegan meals, don't be tempted to skimp on the salt or fats – especially if you are trying to replicate an animal-based dish.  Salt and fat can add texture and flavor to your vegan meal and make it more satisfying.  Adding fats can also help improve the absorption of some nutrients, such as beta-carotene from leafy greens like spinach, by increasing the availability of fat-soluble vitamins.  Just remember that not all fats are created equal.  Go for healthy saturated and unsaturated fats such as olive oil, coconut butter, nuts, and avocados.  This will help ensure your vegan meals are balanced and nutritious.
6. Use vegetable broth instead of water.
Water is fine if you're making a simple dish like pasta or rice, but if you want your dish to have more flavor, use vegetable broth instead.  Vegetable broth is full of flavor and will help to enhance the flavors of your other ingredients.
7. Add some acidity.
Acidity is another critical element in any dish.  It's especially important in vegan dishes since they sometimes lack the richness of the meat and dairy-filled meals that people are accustomed to.  Adding a bit of acidity will help brighten up the flavors of your dish and help balance out rich or fatty flavors.  Some great options for adding acidity include lemon juice, vinegar, and tomato sauce.
8. Use fresh herbs whenever possible.
Fresh herbs are always a great addition to any dish.  Still, they're delicious in vegan dishes since they can help liven up the flavor of a recipe.  So if you have some fresh herbs on hand, add them to your dish for an extra boost of flavor.
9. Experiment with new ingredients. 
Vegan cooking opens up a new world of ingredients you may not be familiar with.  Try incorporating new ingredients like quinoa, tempeh, nutritional yeast, and miso paste into your cooking.  These ingredients can add new umami flavors and textures to your dishes.
10. Have fun with it.
Above all else, remember that cooking should be fun!  Experiment with different recipes until you find something that works for you.  Don't be afraid to try new things or switch up traditional recipes by using plant-based ingredients instead of animal products (like replacing beef with mushrooms!).
The Recap
By following these tips and experimenting with new ingredients and flavors, you can learn to create delicious and satisfying vegan meals that will nourish your body and taste great.  You might even discover some new favorites along the way.  So have fun experimenting and happy cooking!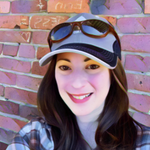 Nicole
Long time vegan living in upstate NY.  Web developer and founder of Vegan ShowOff.  She's addicted to ice cream and loves hiking, snowboarding, gardening, and travel.  Read more from Nicole!