Just Egg Vegan Liquid Egg Review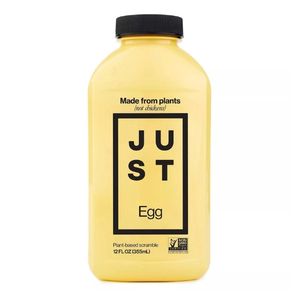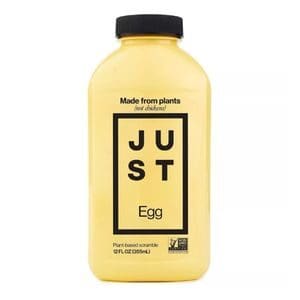 Product Name: Just Egg Plant Based Scramble
Product Description: Just Egg vegan egg is a versatile plant-based egg substitute made from mung beans. It's cholesterol-free and made to mimic traditional scrambled eggs but it can also be used as an egg replacer in baking.
Brand: Eat Just, Inc.
Dietary Notes: Gluten Free, Non-GMO
Summary
This JUST vegan egg is a game-changer for people wanting to go plant-based.  Made from mung beans, it not only scrambles up like fluffy eggs, but you can also use it in French toast, omelettes, quiches, and other baked goods.
Community Rating:
( reviews)
Just Egg Review
Eggs were actually the last thing I gave up before going fully vegan.  Back in the day, I used to pour liquid egg (like Egg Beaters or whatever brand that comes in a carton) into a mug with a little "spray butter", salt and pepper, and then microwave it and call it a meal.  A lot has changed since then…for starters, I need a bit more food than that for something to qualify as a meal 😆.  Also, the microwave went down into the basement years ago because I never used it, and of course, I haven't eaten eggs since 2013.  I'm more of a tofu scramble kind of girl these days, so I was excited to take on this Just Egg review to see what all the hype is about!
The first time I cooked this plant-based egg I was amazed at how it cooked up and scrambled just like traditional eggs.  These JUST eggs may not be a dead ringer taste-wise for chicken eggs but the texture is spot-on in my opinion.  To me, it seems like you have to cook them a bit longer than chicken eggs.  I've always liked my scrambled eggs a little bit more on the dry side and not runny at all, but you can obviously cook them to your personal preference.  The flavor isn't super "eggy" but to me, it has an almost buttery aftertaste…delicious in its own unique way!
The fact that it isn't so eggy tasting is actually a benefit to its versatility since for some baked goods you want a more neutral flavor profile (like when you want it to act more as a binder and you're not using it for the specific taste of eggs).  If you do find yourself looking for a more eggy flavor in your scramble then I'd recommend sprinkling on some Kala Namak.  Kala Namak, (Himalayan black salt) is a mineral salt that's used a lot in vegan cooking to give tofu scrambles a more authentic eggy flavor (aka that sulfur taste).  I'd sprinkle it on at the end as you would a finishing salt since I personally find that the Kala Namak eggy taste dissipates with heat.
Can you bake with Just Egg?
Yes, baking with Just Egg is super easy and it gives baked goods like muffins, cakes, and cookies the structure they need.  You can even use it as a binder in veggie burgers, vegan meatballs, etc.
There are a lot of Just egg recipes floating around the web…but the JUST website has a great online cookbook with recipes for scrambles, mini quiches, omelettes, mug meals, and frittata bites (these I want to try ASAP).  I've made their recipe for crêpes many times and it's the only vegan crêpes recipe I've made that even comes close to the real thing.  They are thin and delicate and melt in your mouth, with just a little vegan butter and a dusting of powdered sugar.
How much Just egg equals one egg?
Three tablespoons of liquid JUST egg is equal to one chicken egg as a baking substitute.
What sets JUST egg apart from chicken eggs?
For starters, according to their factsheet, Just Egg uses 98% less water, 86% less land, and produces 93% fewer CO2 emissions compared to factory-farmed eggs.  Of course, since it's vegan there's also zero cholesterol!  This liquid egg also boasts 67% less saturated fat and a similar amount of protein as a chicken's egg.
We separated the egg from the chicken because the industrialized egg system sucks for the planet, for us and, let's be honest, it's not a party for the birds either. -Eat JUST, Inc.
While the plastic bottle is BPA-free and recyclable, I do wish it came in a cardboard carton like other liquid eggs.  I know this is a popular complaint about their product and word is out that they're working on it so I wouldn't be surprised to see a change of packaging in the future.
They also have a Just Egg Folded product which is a frozen egg patty that you can pop into the toaster and make a super quick and easy breakfast sandwich from.   I do buy these a lot just because you can keep them in the freezer for a long time without worrying about them going bad.  You definitely need to pay attention to the expiration date on the liquid scramble, keep it refrigerated, and also consume it within 7 days of opening.  They've recently added Just Sous Vide Eggs to their product line, which also comes frozen, but I can't find them in stores by me yet.  I've never had sous vide eggs before but apparently they are little airy, eggy souffle bites that come in 4 different flavors, which sounds divine to me!
Another thing that's awesome about any Just Egg product is that people with egg allergies can actually eat it.  I'm fortunate not to have any food allergies (that I'm aware of) but my good friend's daughter has a myriad of different food allergies and it's really opened up my eyes to how difficult that can be.  I find myself looking at ingredients and foods differently and thinking "Can Estelle have this?".  She has an egg allergy and is also gluten-sensitive so thankfully the Just Egg products are a green light for her!  Trader Joe's Tofu Scramble is also a good vegan scramble option if you're gluten-free.
Just Egg Ingredients and Nutrition Facts
Just Egg Ingredients: Water, Mung Bean Protein Isolate, Expeller-Pressed Canola Oil, Contains less than 2% of Dehydrated Onion, Gellan Gum, Natural Carrot Extractives (color), Natural Flavors, Natural Turmeric Extractives (color), Potassium Citrate, Salt, Soy Lecithin, Sugar, Tapioca Syrup, Tetrasodium Pyrophosphate, Transglutaminase, Nisin (preservative). (Contains soy.)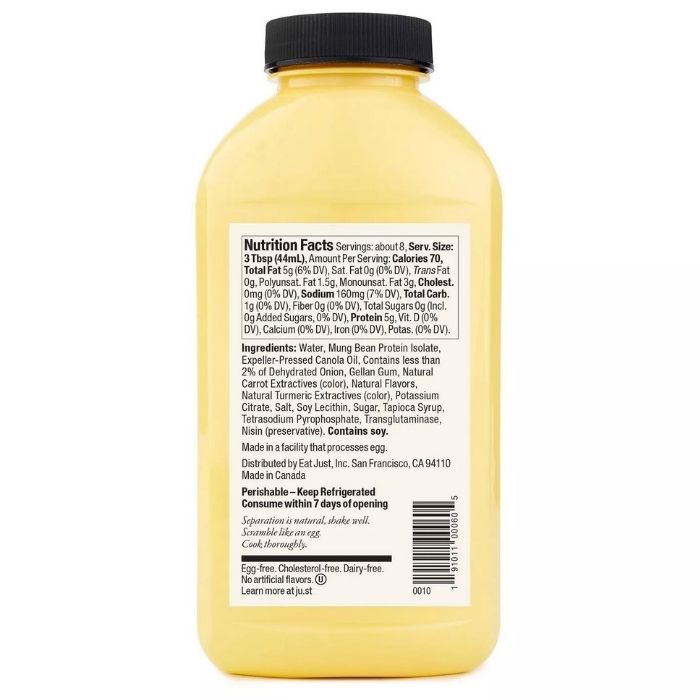 Where to buy Just Egg
You can find Just Egg Plant Based Scramble in the egg aisle at major grocery retailers, natural food stores, Target, Walmart, and online vegan specialty stores such as PlantX or Vegan Essentials.   It's definitely becoming easier to find and the price has come down significantly since it first came out.  I've seen the price as low as $3.94 and as high at $7.99, depending on the store.  I've also been seeing a lot of $1.00 off printable coupons floating around and I've been getting them regularly from my local grocery store, Hannaford, along with my printed receipt.  If I could only remember to bring the actual coupon back to the store with me the next time I go shopping it'd be a little more useful 😆.  It can't hurt to check around the web or check JUST's website for promos before heading out though!
Would I buy Just Egg vegan egg again?
Yes, I'd buy this Just Egg vegan egg substitute again and I actually purchase it regularly, especially since the price has gotten a little more reasonable than when it first came out.  Even though I still crave and mostly make tofu scrambles, I like this as a change of pace and it's super easy for a quick, filling protein to cook up in about 5 minutes when I'm feeling lazy.  Also, I love experimenting with it in new recipes and I've recently created a vegan cheesecake recipe using it (coming soon 😊).  What do you think about this vegan Just Egg liquid scramble?  Leave your review below!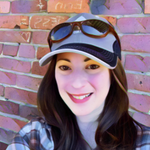 Nicole
Long time vegan living in upstate NY.  Web developer and founder of Vegan ShowOff.  She's addicted to ice cream and loves hiking, snowboarding, gardening, and travel.  Read more from Nicole!