Eating a nutritious diet is a key part of maintaining good health, and fruits and vegetables are a health-promoting part of any diet.  Yet most people aren't reaping the health rewards that eating produce offers.  According to the Centers for Disease Control and Prevention, only 10% of people get the recommended amount of produce daily, at least 5 servings.
Yet there are many ways to add more fruits and vegetables to your diet, some of which you may not have considered.  Need ideas?  Here are 11 ways to boost the number of daily fruits and vegetables you consume.
1.  Make a Smoothie
Whipping up a smoothie is a tasty way to add more fruits and vegetables to your diet, and they're a great way to hide vegetables from your kids!  Avoid adding sugar or sweetened yogurt to your smoothies to get the most benefits.  And be sure to add leafy greens, like kale, for more nutritional goodness.  Berries are an excellent choice since they're naturally low in sugar.  If you use a 3 to 1 ratio of fruit to greens, the fruit will mask the grassiness of the greens and you'll just taste fruity goodness!
2.  Sip Fruit-Infused Water
It's not the equivalent of eating a serving of fruit but infusing your water with fruit will add extra vitamin C and antioxidants.  Plus, it'll make your water taste delicious, so you'll drink more of it.  You can infuse water with almost any fruit.  The process is simple: just place sliced or chopped fruit in a container with water and allow it to sit for a few hours in the refrigerator.  This will give you naturally sweetened, flavored water.  So much healthier than beverages with added sugar!
3.  Pack a Salad for Lunch
One of the easiest ways to get more fruits and vegetables in your diet is to pack a salad for lunch.  Salads are easy to make, affordable, and portable.  They don't require much preparation or clean-up, and you can prepare enough salad for several days to save time.
Make them ahead of time and take them to work with you in a container or bag.  Just add dressing when you're ready to eat it!  Vary the vegetables in your salad, and don't be afraid to add fruit for sweetness.  Strawberries are the perfect addition to a light summer salad, and how about slices of avocado?  Add nuts and seeds for more crunch too.  The more veggies and fruits you add, the more nutrient-dense your salad will be.
4.  Prepare an Herb Dip
Mix up a dip to go with your favorite veggies.  Combine your favorite non-dairy unsweetened yogurt, olive oil, salt, and pepper in a bowl and blend until smooth.  Add garlic, lemon juice, onion, and red pepper to the mix for more flavor.  Then pour into containers for easy storage.  This dip is light and delicious with carrots or cucumbers but also tasty on sliced bell peppers or broccoli florets.  You can also buy pre-packaged hummus to dip raw veggies into.
5.  Puree Veggies for a Sauce
Pureeing vegetables is one of the easiest ways to add more veggies to your diet.  Simply throw cooked frozen or fresh vegetables in a blender or food processor, and blend them until smooth with a bit of water or veggie broth.  Add spices, and you have a sauce.  You can also throw in a handful of raw cashews to make a creamier sauce.
Vegetables that work well for this are:
Carrots (for color).

Spinach (for texture and good nutrition).

Broccoli florets (for consistency).

Cauliflower florets (also for consistency).

Zucchini (for water content).
6.  Grill Your Veggies
If you're looking to add more fruits and vegetables to your diet, grilling is a tasty way.  It's easy (and fun) to grill most vegetables and some fruit, which means you can use up all the veggies in your fridge.  Grilling also caramelizes vegetables and brings out their natural sweetness, so you'll eat more of them!
7.  Use a Spiralizer to Make Veggie Noodles
A spiralizer is a kitchen gadget that allows you to turn vegetables into noodles.  It's a great way to get your recommended daily intake of vegetables while still enjoying a delicious pasta dish.  It's also a great way to get kids interested in eating their vegetables.  All you need to do is select the vegetable you want to use, and then the spiralizer will do the rest.  You can even experiment with different vegetables to find your perfect combination.
8.  Switch Starchy Side Dishes for Veggies
One way to eat more veggies is to swap out some of your usual side dishes for sides of vegetables.  Do you load up your plate with rice or pasta every night?  Switch out those less nutritious carbohydrate sources for colorful vegetables.
Instead of rice, try cauliflower rice.  Some other great options include roasted Brussels sprouts, roasted sweet potatoes, and sautéed kale.  By making this switch, you'll up the nutrient content of your meal and cut down on empty calories.
9.  Start a Meal with Soup or Salad
A great way to add more fruits and vegetables to your diet is to start your meal with a soup or salad.  This way, you'll get some of your daily recommended servings of fruits and vegetables right from the start.  Salads are also a great way to eat a variety of vegetables, and there's no limit to the veggies you can add to soup. 
10.  Make Produce More Accessible
One way to ensure you're eating enough fruits and vegetables is to make them more accessible.  Keep a bowl of fruit on the counter or cut up veggies and store them in the fridge, so they're easy to grab when you're hungry.  Place fresh fruits and vegetables in clear containers at the front of your refrigerator.  This will make them easier to see, and you'll be more likely to eat them when they're the first thing you see.  Keeping them visible also helps other family members know they're there and will help get everyone on board!
11.  Visit A Farmer's Market
A great way to add more fruits and vegetables to your diet is by visiting a farmer's market.  You'll be able to find a wide variety of fresh, local produce that you can't find at a regular grocery store.  Plus, you'll be supporting local farmers.  Talking with farmers about how they grow their crops can be fun and educational and will make you more motivated to eat fruits and veggies.  
The Bottom Line
Here's hoping you feel inspired to add more fruits and vegetables to your diet!  Start with one or two of these ideas and add more over time – and be sure everyone else in your family gets a taste!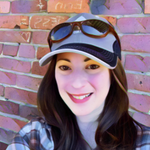 Nicole
Long time vegan living in upstate NY.  Web developer and founder of Vegan ShowOff.  She's addicted to ice cream and loves hiking, snowboarding, gardening, and travel.  Read more from Nicole!