Trader Joe's Vegan Pesto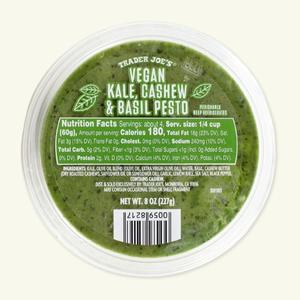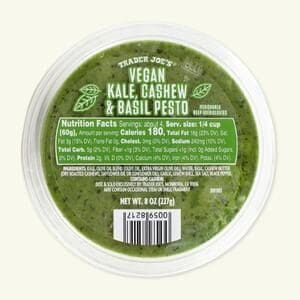 Product Name: Trader Joe's Vegan Kale, Cashew, & Basil Pesto
Product Description: A fragrant pesto blend of kale, cashew butter, basil, olive oil, lemon, salt, and pepper.
Brand: Trader Joe's
Dietary Notes: Vegan, Dairy-Free, Egg-Free
Summary
When it comes to taste, Trader Joe's Vegan Pesto certainly delivers.  The combination of kale, cashews, basil, and garlic creates a flavorful base that pairs well with many dishes.  The cashew butter gives the pesto an extra bit of richness without being overwhelming.  And the hint of lemon juice adds a bright note that helps bring all the flavors together.
Pros
Excellent price point ($3.99 per 8 oz. container)

The kale gives it a nutritional boost.

A healthier alternative to traditional pesto

Simple, recognizable ingredients

Dairy-free and vegan
Cons
Not as widely available as traditional pesto
Community Rating:
( reviews)
Trader Joe's Vegan Pesto Review
I recently tried Trader Joe's vegan pesto and was so impressed. I had heard great things about it, so I was excited to try it out. I made a dish of farfalle pasta with pesto and a side of vegan cheesy garlic bread 😋.  
The second I opened the container, I was hit with a strong kale fragrance, but that went away the longer I had the tub open. 
The kale, cashew & basil pesto is thick, flavorful, and has a great texture. I like that it's mostly made of kale, which makes it healthier than your average pesto.  
I boiled the farfalle, added the pesto, and stirred it together. The pesto had such a rich flavor, and I honestly couldn't tell there wasn't any Parmesan cheese. The cashew butter gives it a depth of flavor that makes up for the missing cheese.   
Besides the convenience factor, I love that it's made with simple ingredients. The taste of the kale wasn't super prominent, so even if you don't usually like kale, I think you'd like this pesto. It was absolutely delicious and paired with the vegan cheesy garlic bread, it was a perfect meal.  
If you can't finish the whole tub of pesto, you can always freeze it. When making homemade pesto, I freeze it in ice cube trays, pop them out, and then store the individual cubes in a freezer bag!
What is pesto?
Pesto is an Italian sauce that traditionally consists of crushed garlic, basil, pine nuts, Parmesan cheese, and olive oil. Its versatility makes it an attractive choice for chefs to craft creative pasta dishes, top toast, or even use in fried rice! For at-home chefs, pesto is a delightful way to add a vibrant new flavor to your table while still keeping it relatively simple and quick to prepare. 
Why is all pesto not vegan?
Pesto isn't traditionally vegan because it's usually made with parmesan cheese.  
Serving Ideas
I topped some farfalle (bowtie) pasta with this delicious vegan pesto and served it with a side of vegan cheezy garlic bread, which was super yummy! Below are some serving suggestions, but as always, use your imagination.
Use it as a topping for roasted or baked potatoes.

Spread it on sandwiches. Pesto's creamy texture and earthy taste make it the perfect condiment for your favorite panini or a vegan grilled cheese sandwich made with 

Trader Joe's Vegan Brioche

.

Drizzle it on pizza. The pesto adds a bright, fresh flavor to your favorite homemade or 

store-bought vegan pizza

 for an easy and delicious meal.

Toss it with pasta. One of the most popular uses for pesto is as a sauce for pasta dishes like spaghetti and ravioli.

Use it as a dip. Pesto makes an excellent dip for bread, chips, and veggies. Try making some crostini with pesto and 

ricotta cheese

 for the perfect appetizer.

Add it to soups and stews. Pesto can be stirred into your favorite soup or stew recipes for a delicious flavor boost. 

Roast vegetables with it. Toss vegetables like potatoes, carrots, and peppers with a bit of pesto before roasting in the oven for an easy side dish. 
Where to Buy Trader Joe's Vegan Pesto
You can buy this Trader Joe's Vegan Pesto at your local Trader Joe's store. 
How much does it cost?
One tub of Trader Joe's Vegan Pesto costs $3.99 (for 8 oz.).
Trader Joe's Vegan Pesto
Ingredients & Nutrition Facts
The ingredients are kale, olive oil blend (olive oil, extra virgin olive oil), water, basil, cashew butter (dry roasted cashews, safflower oil, or sunflower oil), garlic, lemon juice, sea salt, and black pepper.  See the package photo below for the complete nutrition information.

Would I buy it again?
Yes, if I'm too lazy to make my own vegan pesto, picking up a tub of this Trader Joe's vegan pesto is my easy shortcut 😆.  If you've tried this vegan pesto, let us know what you thought of it below!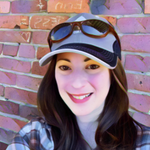 Nicole
Long time vegan living in upstate NY.  Web developer and founder of Vegan ShowOff.  She's addicted to ice cream and loves hiking, snowboarding, gardening, and travel.  Read more from Nicole!