Gardein Plant-Based Meatballs Review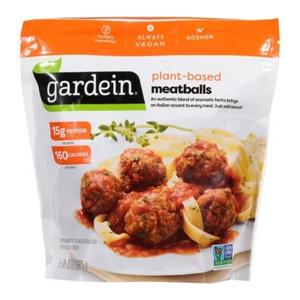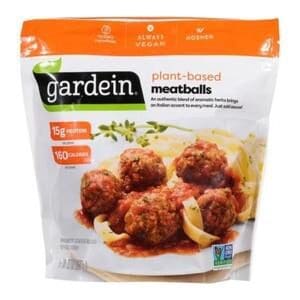 Product Name: Gardein Plant-Based Meatballs
Product Description: Gardein's plant-based meatballs are made with an authentic blend of aromatic herbs that brings an Italian accent to every meal.
Brand: Gardein
Dietary Notes: Vegan, Kosher
Summary
Gardein's vegan meatballs have a great texture – they're firm but not too dry, plus they hold together well. With just a hint of crushed red pepper, oregano, and fennel, they are flavor-packed without being too spicy. These are an excellent option for anyone looking for a delicious, plant-based alternative to traditional meatballs.
Pros
Healthier than traditional meatballs with zero cholesterol and less fat and calories.

Easy to find.

Hold up well in sauce, and don't fall apart easily.
Cons
Not suitable for people with a soy or gluten allergy.
Community Rating:
( reviews)
Gardein Meatballs Review
Recently while perusing the frozen section of my local Whole Foods Market, looking for an easy yet healthy dinner option, I spotted Gardein's plant-based meatballs!  I thought, wow, this would be perfect in a marinara sauce over pasta tonight! 
Like many of you, I've dabbled in the world of homemade plant-based meatballs.  There are so many wonderful recipes to choose from (including one of my favorites from Sam Turnbull's Fuss-Free Vegan cookbook, page 126, Scrumptious Sun-Dried Tomato & Walnut Bean Balls).  However, that particular evening I was feeling rather lazy and didn't want to take the time to make my own or purchase the ingredients that I may or may not have in my pantry.  So Gardein to the rescue! 
I decided to simmer the entire package in one of our favorite jarred marinara sauces using the stovetop method below.  We definitely had leftovers because even though 3 meatballs doesn't sound like much, we found them to be quite filling!
My husband grew up in an Italian family.  His mom was the best Italian cook.  We would always look forward to our Sunday dinners and what delicious meals she would be preparing.  Her homemade meatballs were a family favorite.  Since he is not vegan but is always willing to try new food products, I was so pleased that he thought Gardein's plant-based meatballs to be really tasty, and yes, he would definitely eat them again!  
 

 

View this post on Instagram

 
He sliced a few and put them on a ciabatta roll, making a vegan meatball sub.  I was going to eat mine over pasta but then decided to forget the pasta and serve them as a side with my green salad with Italian dressing.  We both found them to be really tasty! 
We've also tried and reviewed Gardein's Ultimate Falafel Burger, and various other plant-based brands. 
Gardein's Plant-Based Meatballs are made with a blend of soy and wheat protein.  They are really flavorful with just a hint of added crushed red pepper, fennel, and spices, including garlic powder.  They're also low in fat and calories and a good source of fiber and protein (15g), making them a healthier option than their traditional counterparts.
Plant-based meatballs are becoming increasingly popular, as they offer all the flavor and satisfaction of traditional meatballs without the health concerns or environmental footprint associated with red meat. 
How to cook Gardein meatballs
Gardein recommends the following cooking methods.
Stovetop: Best In Sauce
Bring your favorite sauce to a simmer over medium heat in a saucepan.  Add frozen plant-based meatballs to the simmering sauce and cook over low to medium-low heat for 12-17 minutes, covered, stirring frequently.
Stovetop
Heat 2 teaspoons vegetable oil in a nonstick skillet over medium heat. Cook frozen plant-based meatballs, covered for 5 minutes, stirring frequently.  Carefully add 1/2 cup of water and continue cooking, covered for 9 to 12 minutes, stirring frequently. 
Conventional Oven
Preheat the oven to 450 Degrees Fahrenheit.  Place 6 frozen plant-based meatballs (2 servings) on a nonstick baking sheet and bake for 15 to 18 minutes.  Add to your favorite sauce.
Microwave
In a microwave-safe bowl, add 3 frozen plant-based meatballs (1 Serving) and 1/2 cup of your favorite sauce, and cover with a microwave-safe lid.  Cook 4-1/2 to 5 minutes. 
Serving Ideas
They're so versatile you can eat them with pasta, in a sandwich, or even on their own as an appetizer.  The Gardein package is quite inspiring in itself.  The back of the package reads: BE INSPIRED. EAT WELL.
Simmer them in your favorite marinara sauce and serve over pasta.

Make a plant-based meatball sub with your favorite vegan cheese.

Cook them and serve them as an appetizer with a variety of dipping sauces.
Where to buy Gardein Meatballs
They are readily available at most major US grocery stores, including Target, Walmart, and Whole Foods.
How much do they cost?
My local grocery store has them for $3.95, although I usually find them in the $5-$6 range.  I paid $6.49 at Whole Foods for one bag (which is 4 servings of 3 meatballs).
Gardein Plant-Based Meatballs 
Ingredients & Nutrition Facts
The ingredients are Water, Textured Soy Protein Concentrate, Canola Oil, Vital Wheat Gluten, Soy Protein Isolate, Enriched Wheat Flour (Wheat Flour, Niacin, Reduced Iron, Thiamine Mononitrate, Riboflavin, Folic Acid), 2% or less of: Methylcellulose, yeast extract, onion powder, salt, barley malt extract, spices, garlic powder, sugar, fennel, natural flavors, crushed red pepper, yeast.   Check out the package photo below for the full nutrition information.​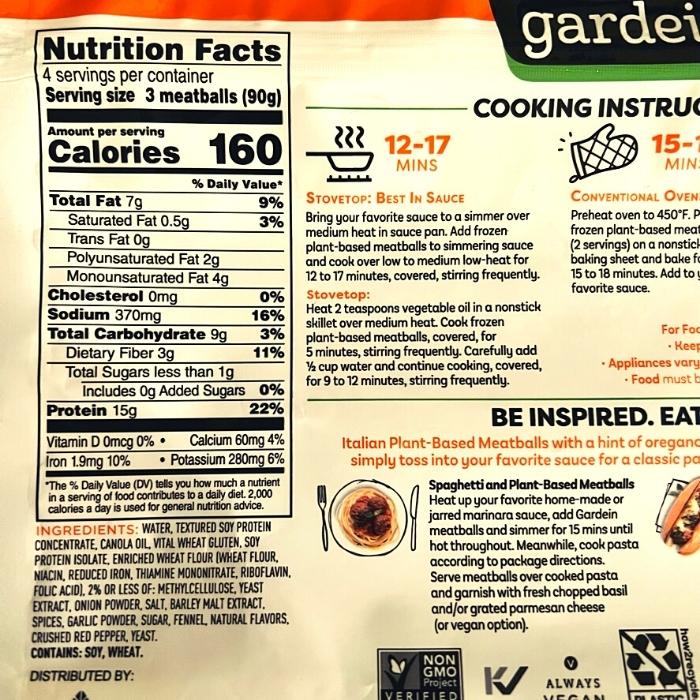 Would I buy them again?
Yes, I love how fast and easy these are to cook, plus there are endless possibilities for serving.  If you've tried these Gardein meatballs, let us know what you thought of them below!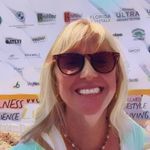 Sue
Sue's a lifelong horse lover living in beautiful South Florida.  She enjoys reading, cooking, shopping, and travel. Check out more from Sue!