Just Mayo Vegan Mayo Review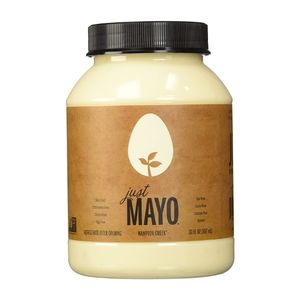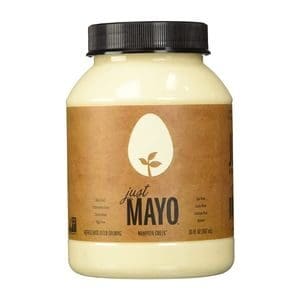 Product Name: Just Mayo Vegan Mayonnaise
Product Description: An eggless, cholesterol free mayonnaise alternative made from pea protein.
Brand: Hampton Creek
Dietary Notes: Gluten Free, Soy Free, Non-GMO
Availability: Discontinued
Summary
Hampton Creek's Just Mayo is a game changer in the mayonnaise market. It not only tastes better than traditional mayo, it's cruelty-free and far healthier for your body & the planet!
Community Rating:
( reviews)
Just Mayo Vegan Mayonnaise Review
I was dying to try this mayo ever since I read an article about the San Francisco startup company Hampton Creek, and how they're trying to make an "eggless" egg out of plant protein.   This Just Mayo is their first product and although they choose not to use the vegan label on any of their products, they are all very much vegan.   Their quest involves not only replacing the chicken egg, but also making the replacement taste even better and be more affordable than chicken egg products.   Backed by Bill Gates and the richest man in China, they are off to a good start!  You may have also heard about Hampton Creek being sued by Unilever (who owns Hellman's) for "misusing" the term mayo and having a picture of an egg on their label.  The lawsuit was a joke (well not a real joke) and Unilever ended up dropping the case.  The cool thing about what happened is that it gained a ton of press for Hampton Creek and brought attention to the Just Mayo product, so a lot of people that normally wouldn't try it ended up doing so just out of curiosity (win!).  If you're interested in how their plant-based egg turned out, check out our Just Egg review!
All of that stuff aside, Hampton Creek really hit the spot with this mayo because I have heard from numerous non-vegan's that it tastes better than their beloved Hellman's mayonnaise and they have now made the switch.   Even though it's barely been 2 years since I've had traditional mayo, I seemed to have forgotten what it tastes like.  Before going vegan I loved mayonnaise and slathered it on everything, but I quickly replaced it with the much healthier and cruelty-free Vegenaise.
After tasting it, I can definitely see why people are comparing it to traditional mayonnaise!  It's really tasty and has a tang to it that other vegan mayo's don't have.  I now keep a bottle or jar in my fridge at all times and recommend it to people I know that still use traditional mayo.  I still buy my beloved Vegenaise because I've just grown to love the taste of it, but keeping both on hand lets me grab whatever one I'm in the mood for!
Just Mayo Ingredients and Nutrition Facts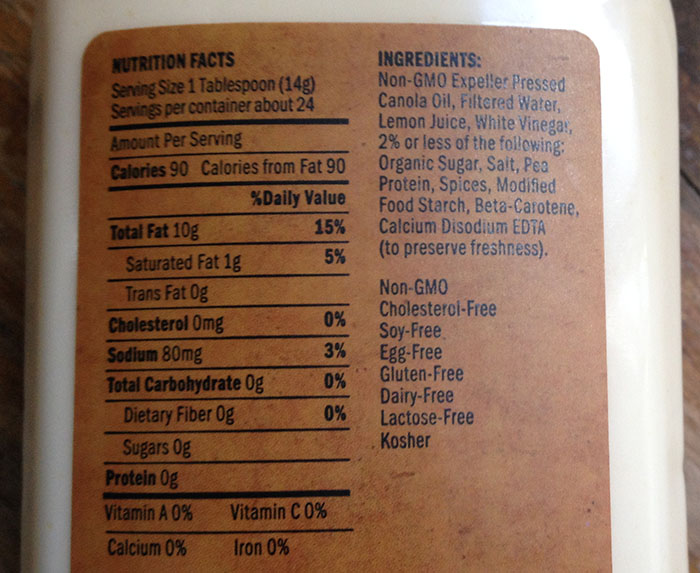 If you haven't tried Hampton Creek's Just Mayo yet, definitely grab a bottle and let us know what you think below!  You can find it at Walmart, Target, Whole Foods, and Amazon, plus hopefully more places by the time you're reading this.  I personally can't wait to get my hands on their cookie dough product too!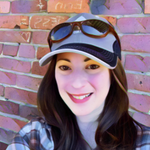 Nicole
Long time vegan living in upstate NY.  Web developer and founder of Vegan ShowOff.  She's addicted to ice cream and loves hiking, snowboarding, gardening, and travel.  Read more from Nicole!