There's evidence to suggest that popcorn is a snack people have been eating for over 6,000 years.  Long before you could put a bag in the microwave and have popcorn in 5 minutes, people were popping corn the old-fashioned way.  Making popcorn is fun and easy, and eating popcorn is even better.  You might be wondering, however, "Is popcorn vegan?"  We're here to talk about making and buying vegan popcorn so you can experience this tasty snack, vegan-style! 
Is Popcorn Healthy?
Popcorn might seem like a sneaky unhealthy snack, but in reality, that's not the case.  While popcorn certainly can be fatty, sugary, or salty, at its core, it's just popped corn.  You would never say that corn on the cob was unhealthy, right?  Popcorn is no different.  It looks different and serves a different purpose in your diet.
After all, no one is bringing corn on the cob to movie theaters. 
There are, of course, ways to make popcorn unhealthy, but unhealthy doesn't have to mean bad.  Even "unhealthy" popcorn can fit into a balanced diet. 
To make "healthy" popcorn, we recommend air-popping it yourself.  If you don't mind extra calories, you can also pop it in a pot with coconut oil which will give it a nice movie theater taste. 
We love adding nutritional yeast to our popcorn for a slightly cheesy flavor (and a boost of protein and vitamin B12), but you can season it in a variety of ways.  We also love adding chopped or drizzled vegan chocolate to popcorn for a salty and sweet snack. 
Even with oil and seasonings, popcorn has less fat and fewer calories than many comparable snacks (such as salty chips or fries).  You adjust the health factor based on your current goals and cravings.
Is Popcorn Vegan?
As we mentioned before, popcorn is just corn!  So when you buy plain popcorn kernels from the store, they're just as vegan as the yellow or white corn you buy in the frozen food section. 
If you're making popcorn at home, it's as vegan as you make it.  By using coconut oil or an air popper, you're adding no animal products to your popcorn.  As long as you don't add dairy butter to it (or any seasoning that contains milk powder or other animal-sourced ingredients), it's vegan! 
However, this is only true for some store-bought brands (but we'll discuss vegan-friendly alternatives later!).
Is Movie Theater Popcorn Vegan?
There's no popcorn quite as tasty as movie theater popcorn.  Is it the ambiance of the movie theater that makes it better?  What gives it that special buttery taste and smell that's so hard to replicate at home?
It can't be vegan, can it?
Well, believe it or not, some movie theater popcorn is actually vegan.  That's right; the delicious "butter" on the popcorn isn't butter at all at many theaters.  Instead, it's often just a blend of oil and flavorings.
This isn't true for every theater.  It's not even consistent within theater chains.  So if you want to eat buttery popcorn at your local movie theater, we recommend reaching out and asking about whether or not there are dairy ingredients involved. 
We won't tell if you decide to bring a bag of your own instead. 
Best Vegan Microwave Popcorn
If the idea of popping your own popcorn sounds like a drag, we get it.  Of course, making popcorn the old-fashioned way before watching a movie or hanging out with friends can be worthwhile, but what if you just want a quick snack? 
Microwave popcorn is there to save the day.
Unfortunately, not all microwave popcorn brands are vegan!  However, here are a few of our favorite brands that have vegan microwave popcorn options. 
Quinn Snacks
Quinn microwave popcorn isn't always vegan, but their Just Sea Salt and Vermont Maple Kettle Corn varieties are!  These sweet and salty popcorn flavors are perfect for when ordinary popcorn just won't cut it. 
The popcorn's organic and farm-to-bag, so you know exactly what you're eating.  In addition, their microwaveable bags don't have a chemical or plastic coating, and that's always a plus!  But, again, only some of Quinn's popcorn varieties are vegan, so be sure to read the ingredients first if you choose to stray from the two delicious kinds above. 
SkinnyPop 
SkinnyPop is available in grocery stores country-wide, making it an excellent option for vegans looking for a quick snack without browsing the web. 
SkinnyPop's microwave popcorn packaging says it's "butter flavored," but don't worry.  That butter flavoring is entirely vegan (like many of the butter flavorings at movie theaters). 
As the name implies, it's also low in calories, with only about thirty calories per cup.  So while there are several cups per bag, this won't put a dent in your daily calorie allowance, even if you're on a diet.
Orville Redenbacher's 
Orville Redenbacher is one of the most famous names in popcorn.  That's right: vegans don't have to be left out of the fun.  There's a vegan option!
Not all of Orville Redenbacher's popcorn is vegan, of course.  The avocado oil one, however, is.  Don't worry; you won't be sacrificing flavor.  It's as good as its non-vegan counterparts. 
Avocado oil is a good source of monosaturated fat and is rich in oleic acid if you need another reason to try this microwave popcorn.
Newman's Own
Newman's is another famous brand, and not just for popcorn.  Newman's Own makes everything from salad dressing to pasta sauce, and popcorn is included. 
Not all of Newman's Own products are vegan.  However, their Sea Salt microwave popcorn is.  It's butter-free but still flavorful, so that you won't be missing out.  It's also a perfect base for adding your own vegan buttery seasoning if you want an extra pop of flavor. 
Best Vegan Pre-Popped Popcorn
Microwave popcorn is great when you want an entire bag of popcorn, but it's not as good when it's not warm any more (though we still love it).
What if you want popcorn to bring with you to work or school, or if you like grabbing a handful from the cabinet every time you're in the kitchen without going through the effort of popping a bag?
Pre-popped popcorn is the obvious answer.  Here are a few of our favorite store-bought pre-popped vegan popcorn options.
Lesser Evil
Lesser Evil has a few different varieties of vegan popcorn (all marked vegan on the front of the bags), including their "cheese-flavored" popcorn.  The cheese flavor is called "No Cheese Cheesiness," but you won't notice that the cheese doesn't come from a cow.  It tastes so similar to other cheddar-flavored popcorn that you won't be able to tell the difference.
Bonus: if you buy a 3-pack from Amazon, you get a free Guru sticker 😆! 
Angie's Boomchickapop 
If you've been to a grocery store any time during the past few years, you've seen the bright pastel-colored Boomchickapop popcorn bags.  Three of those bags are vegan!
At the time of this article, the three vegan flavors are:
Sea Salt

Light Kettle Corn
We love the sweet-salty kettle corn, but all of them are delicious.  As usual, read the ingredients list before making a purchase, just in case anything changes.  We hope this popcorn stays vegan long-term!
Pop Art Snacks
This is a lesser-known brand of popcorn.  When you buy a bag, you'll see why they call themselves Pop Art Snacks.  The bags are brightly-colored and aesthetically pleasing. 
Not all of their popcorn varieties are vegan, but one of their vegan flavors is super unique: Dill Pickle Vegan Ranch.  Try this one if you're bored of buttery, cheesy, or sweet popcorn flavors!
The Safe+Fair Food Company
This is another lesser-known brand, but it's allergy friendly and tasty!  You can find it at your local Target or online.  Many vegans are dismayed at the fact that it's hard to find vegan drizzled popcorn.  Worry not; The Safe+Fair Food Company has you covered with their sweet Birthday Cake Drizzled Popcorn.
There are better options than this if you're looking for a healthy popcorn snack, but it's a perfect treat.  You'll have a hard time not eating the whole bag at once!
The Recap
So is popcorn vegan? It can be!
Popcorn is a crunchy and sometimes healthy snack that's perfect for vegans and non-vegans alike.  Whether you like it salty, sweet, or even cheesy, you can find vegan popcorn options for your microwave or your pantry!  Better yet, try making popcorn at home!  Are you looking for more tasty vegan products to try out?  Check out some of our favorites, and be sure to take a look at the rest of our blog for more vegan tips!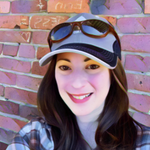 Nicole
Long time vegan living in upstate NY.  Web developer and founder of Vegan ShowOff.  She's addicted to ice cream and loves hiking, snowboarding, gardening, and travel.  Read more from Nicole!