Plant Based Tzatziki Style Dip Review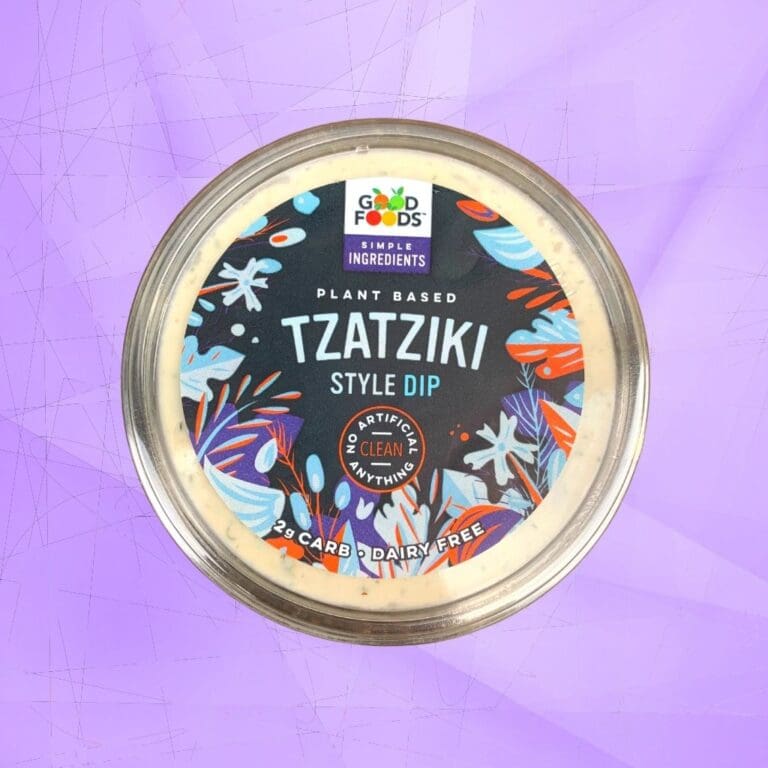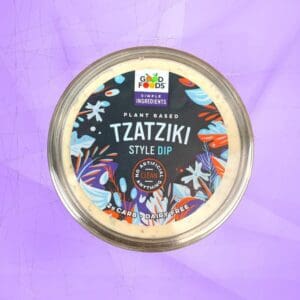 Product Name: Good Foods Plant Based Tzatziki Style Dip
Product Description: A plant-based version of the traditional Greek dip featuring cucumbers and fresh herbs in a healthy cauliflower base.
Brand: Good Foods
Dietary Notes: Gluten Free, No Added Sugar, Non GMO, Soy Free
Summary
This creamy dairy-free dip is infused with fresh dill and mint.  It's a great alternative to making your own homemade vegan tzatziki when you're looking for a quick topping for your falafel or gyro.
Community Rating:
( reviews)
Good Foods Plant Based Tzatziki Style Dip Review
Believe it or not, dairy-free tzatziki has always been hard to come by for me. Before I went vegan, I would visit my favorite falafel shop in Burlington, VT and they would always serve their falafel on a pita with tzatziki. I had no clue what tzatziki even was at the time, I just knew it was delicious and complemented the flavors in the falafel perfectly.
I later learned that tzatziki is a dip or sauce found in the cuisines of Southeastern Europe and the Middle East. This Good Foods tzatziki dip is meant to be inspired by the traditional Greek style dip that's usually served as an appetizer (or as part of a meze if you want to get all fancy with your food lingo). The typical ingredients are strained yogurt, cucumbers, garlic, olive oil, salt, lemon juice, and dill, mint, or parsley.  If you're looking for an additional Mediterranean-style spread to add to your meze, Trader Joe's Olive Tapenade is another recommendation!
I remember one time many years ago I tried to create my own vegan version of tzatziki because I had a craving for it when I was having falafel at home. I don't think I could find any vegan tzatziki recipes online at the time, so I believe I just followed a traditional tzatziki recipe and used whatever plain dairy-free yogurt I could find. The only thing I really remember about it is that it was an epic fail and I didn't try to make it again. I didn't realize (or possibly pay attention to the directions) that you should remove the seeds from the cucumbers first because that's where most of the water content is. My tzatziki was super runny and watery and the texture of the cucumbers in it turned very rubbery the next day. Basically, it turned me off of tzatziki for a bit! Ever since that debacle, I've stuck to tahini sauce on my falafel, and now I can't imagine having falafel without tahini.
I may give homemade tzatziki another shot someday. I was looking for a good vegan tzatziki recipe and came across one from Sam at It Doesn't Taste Like Chicken. While I can't personally vouch for this particular recipe, I've made many of hers over the years and she hasn't steered me wrong yet. Plus, she uses tofu as the base, and we all know I've had a love affair with tofu for most of my life. If you're soy-free this recipe won't work for you but this Good Foods tzatziki will since it's made from a cauliflower base.
Since this dip is cauliflower-based with super clean and minimal ingredients, the calories only come in at 30 per serving (a serving size is 2 Tablespoons).  Personally, I usually double the serving size, but at 60 calories that's still pretty low for a creamy dip or condiment.  It's also lower in fat than most dairy-based tzatziki.
Good Foods Plant Based Tzatziki Ingredients and Nutrition Facts
Would I buy this Good Foods Plant Based Tzatziki Dip again?
I would for sure buy this Good Foods tzatziki dip again. It was easy to come by (found it in my local Target), and it's a heck of a lot easier than making my own when I'm in a rush and super hungry. I thought it was a tiny bit on the pricey side (I paid $4.99)…but you're definitely getting quality, fresh ingredients for the price! This is the first product I've had by the Good Foods brand and now I have their plant based queso on my radar! Has anyone else tried this vegan tzatziki yet? If so, leave your opinion below!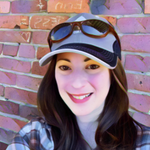 Nicole
Long time vegan living in upstate NY.  Web developer and founder of Vegan ShowOff.  She's addicted to ice cream and loves hiking, snowboarding, gardening, and travel.  Read more from Nicole!