Dark Chocolate Dream Rice Crunch Bar Review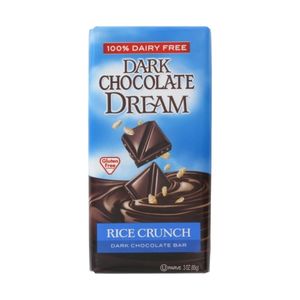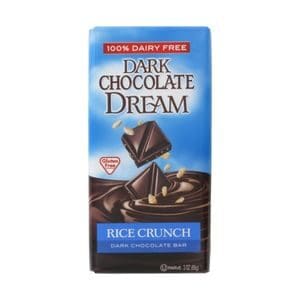 Product Name: Dark Chocolate Dream Rice Crunch
Product Description: An allergy friendly dark chocolate bar filled with puffed rice.
Brand: Imagine Foods – Hain Celestial Group
Dietary Notes: Gluten Free, Non-GMO
Availability: Discontinued
Summary
This Dark Chocolate Dream Rice Crunch Bar is reminiscent of a Nestle Crunch bar, only way better since it's vegan! The puffed wild rice is nicely distributed and the dark chocolate is creamy, although a little on the sweet side. This bar is made in one of the few completely dairy-free and gluten-free facilities in the world, so there's no fear of cross-contamination with this chocolate bar!
Community Rating:
( reviews)
Dark Chocolate Dream Rice Crunch Bar Review
Update (2/14/20):  It appears this product has been discontinued but I've been eating this one instead!  This awesome Dark Chocolate Dream Rice Crunch is like a vegan Nestle Crunch bar!  Actually, it kind of reminds me more of those crispy chocolate bunny shaped foil-covered candy bars I used to get in my Easter basket as a kid.  These are a little sweeter than I thought they would be, and not being a fan of super-sweet stuff I was surprised when I kept going back for another bite.  It doesn't have a real strong dark chocolate taste, and it tastes more like a milk chocolate to me.  I soon found myself looking forward to eating a row of this every night as my before bedtime treat.  I love my fancy vegan chocolate bars (and other sweets of course) so I have to ration myself to one row of a chocolate bar per night, or else the whole thing will be gone before I know it!  Most of the time this works out, but sometimes I get crazy and have two rows, like I kept doing with this rice crunch bar.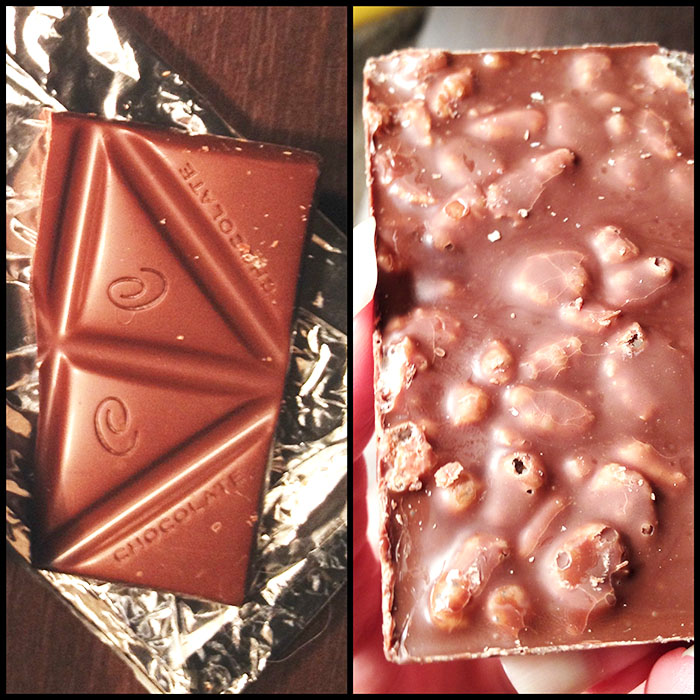 The "crunch" parts (puffed wild rice) are big and well-distributed throughout the chocolate bar.  This bar is also gluten free, non-GMO, and made in one of the few facilities worldwide that guarantees to be free of dairy and gluten (no cross-contamination at this place!).
Dark Chocolate Dream Rice Crunch Bar Ingredients and Nutrition Facts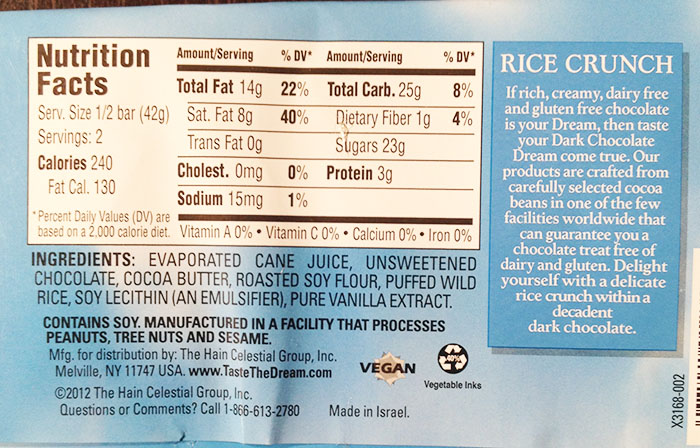 As you can see, the first ingredient is sugar, which explains the extra sweetness.  I randomly spotted this vegan Dark Chocolate Dream bar on a trip to Whole Foods (it's an hour away) and I'm so glad I picked it up!  I would definitely purchase this bar again 100%.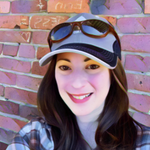 Nicole
Long time vegan living in upstate NY.  Web developer and founder of Vegan ShowOff.  She's addicted to ice cream and loves hiking, snowboarding, gardening, and travel.  Read more from Nicole!