If you want to eat healthier, buying local produce is a great start. Local produce is fresh, tastes better, and is better for the environment. Plus, it supports your community by keeping money in your area. Check out our list of the top reasons to buy local produce!
What are the benefits of buying local produce?
1.  You can support your local economy
.
One of the biggest benefits of buying local produce is that it helps support your local economy. When you buy from local farmers, you're helping keep their businesses going and contributing directly to the economy in your area.
Buying from locally owned businesses keeps more money circulating within your community than if you were to buy something from a big chain store or online retailer. When you purchase fruits and veggies from a small local farm, your money stays in your community rather than going out of state or country. 
Locally owned businesses tend to be more invested in their community than large corporations. As a result, they are more likely to donate to local causes, sponsor local events, and participate in community programs.
2.  It's better for the environment. 
One of the best reasons to buy local produce is that it's better for the environment. Not only does it support farmers in your community, but it also helps reduce your food's carbon footprint.
Sourced from nearby farms, buying local produce cuts down on the amount of pollution caused by transportation. In addition, small-scale farmers often use sustainable growing practices that help to preserve ecosystems and protect soil and water resources.
3.  Fresh fruits and vegetables are more nutritious.
Local produce is often fresher than what you find in stores and supermarkets, so it's more nutritious. Research shows fresh produce loses up to 30% of its nutrients three days after harvest. The longer a fruit or vegetable sits before you eat it, the more nutrients it loses. Vitamin C is especially fragile and prone to breakdown. Depending on the vegetable, vitamin C levels drop as much as 30-90% within a week of harvest. Buying your leafy greens, fruit, and other veggies from a local farm usually means you get them sooner after harvest, leading to greater nutrient preservation.
4.  Fresh fruits and vegetables taste better.
There's no denying that local produce tastes better. Why? Because it's fresher. Local farmers tend to harvest their crops at the peak of ripeness, so they pick the fruits before they're overripe or past their prime. So you shouldn't get mushy tomatoes or wrinkly apples in your bag. And if you buy from farms that harvest by hand instead of a machine, you'll also get various shapes and sizes, not uniformity — and who doesn't love variety?
5.  You can communicate directly with the grower.
When you buy local, you can ask the farmer questions about their farming practices and understand how their business operates. Then you can decide if those practices mesh with your own values and beliefs. You know where your food is coming from when you buy local produce. You can find out if the farmer has a history of practicing good farming practices or if they use pesticides or GMOs. If there's a farm producing something close by, it might be possible to visit them and see how they run their farm.  
6.  You can connect with other people in your community.
If you go to the farmer's market instead of the grocery store to buy local produce, it opens you up to meeting other members of your community that may have the same values as you. Farmer's markets can be an excellent opportunity to socialize and get to know other people that live near you. Especially if your farmer's market has entertainment like music and other activities! 
Another bonus of going to your local farmer's market for produce is that you might find new and interesting fruits and vegetables.  Sometimes local farmers will carry varieties you don't typically find at a regular grocery store.  
If you're unsure if you have a farmer's market near you, you can search LocalHarvest.org and put in your location, which should tell you what's available in your area.
The Bottom Line
There are plenty of reasons to buy local produce, but these are our top six. If you're looking for fresher, tastier fruits and vegetables, supporting your local farmers is a great way to do it. You'll also be helping the environment by reducing your carbon footprint. And who doesn't love knowing where their food comes from? So try to seek out local produce from your grocery store or a nearby farmer's market if you have the option!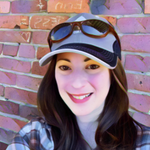 Nicole
Long time vegan living in upstate NY.  Web developer and founder of Vegan ShowOff.  She's addicted to ice cream and loves hiking, snowboarding, gardening, and travel.  Read more from Nicole!