Dr Praeger's All American Veggie Burger Review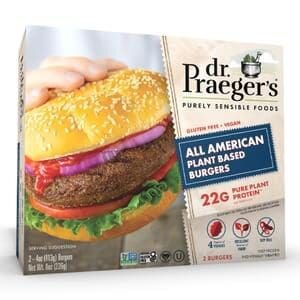 Product Name: Dr. Praeger's All American Plant Based Burgers
Product Description: A high-quality, pea protein-based veggie burger made with 4 different veggies.
Brand: Dr. Praeger's
Dietary Notes: Gluten Free, Soy Free, Vegan, Non-GMO
Summary
These Dr. Praeger's All American burgers are a healthier alternative to some of the more processed vegan burgers on the market today. Featuring wholesome ingredients you can identify and understand, these high-protein patties are both gluten and soy-free.
Pros
Tasty
Wholesome Ingredients – pea protein-based burger with sweet potatoes, butternut squash, carrot, & roasted garlic.
Cons
Pricey – Only 2 come per box and one box is $4.49 at my local grocery store. This wouldn't be very cost-effective if you're feeding a family or even providing them for guests at a BBQ.
Community Rating:
( reviews)
Dr. Praeger's All American Veggie Burger Review
These particular Dr. Praeger's All American Veggie Burgers are my go-to veggie burger that I always have on hand. The taste reminds me of the original Boca burgers, which used to be my favorite but I can't find them at my local grocery store anymore. The Boca burger is soy protein-based and also isn't gluten-free, so if you have sensitivities to soy or gluten then this All American Burger would be a good alternative.
When I get extremely hangry and don't have time to cook a full-blown dinner, I'll throw one of these in the toaster oven with half of a burger bun. I usually eat my veggie burgers topless, because I find that all of the bread makes me super full, especially if I'm having a side dish with it. You could also just put it in a lettuce wrap if that's more your style. I also add vegan mayo, dijon mustard (my fave), and a slice of whatever vegan cheese I happen to have in my fridge.
These burgers have pretty good ingredients that you can actually understand, although I don't think you could fool a meat-eater into thinking these aren't vegetarian like some people can with the Beyond and Impossible burgers.
Serving Ideas for These Vegan Burgers
Although these veggie burgers are very filling to me (probably due to the 22G of plant protein), to make these part of a more complete/well-rounded meal, here are some ideas of things you can serve it with:
A grain such as rice or millet, or a quinoa rice mixture.
Personally, I would go with just a simple side salad of fresh greens to compliment the burger.
Instead of using a regular burger bun and having a separate veggie side dish, you could use slices of grilled eggplant as a bun, roasted sweet potato medallions, or even slices of raw peppers.
Pasta salad or potato salad for the summer months (or any time of year…it definitely doesn't have to be summer to eat pasta salad!).
A side of broccoli or Brussels sprouts roasted with fresh dill would be delicious with this burger!
I can't fail to mention the good ole burger side of french fries 🍟, or air-fried potato wedges if you're trying to cut back on the oil.
How to Cook Dr. Praeger's Veggie Burgers
Toaster Oven – The toaster oven is my go-to method. Just preheat your toaster oven to 450° F, add the frozen veggie patty, and then heat for about 7 minutes per side until browned. I like them pretty brown but I've definitely left them in there too long before and they've dried out a little, so it's important to find the sweet spot for your particular tastes.
Grill – I haven't personally tried grilling these but I think they would hold up pretty well on the grill since they aren't quite as delicate as some veggie burgers. Once the snow goes away and I pull my grill out of storage, I'll give it a try and then update this review.
Stove-top – The box says you can cook it on the stove in a non-stick skillet. It says to cook for 10 minutes and then flip and cook for another 9 minutes. This sounds like too much babysitting for me when you can just stick it in the toaster oven and set a timer. If you don't have a toaster oven then this method is probably better than heating up your regular-sized oven just for these patties.
Air fryer – I know you can air fry these as well and I'm not sure why I haven't tried this method yet!
Dr. Praeger's All American Veggie Burger Ingredients and Nutrition Facts
The ingredients are Hydrated Pea Protein (Water, Pea Protein), High Oleic Sunflower Oil And/Or Avocado Oil, Onions, Sweet Potato Puree, Butternut Squash Puree, Carrot Puree, Natural Flavors, Methyl Cellulose, Fruit Juice Color, Oat Fiber, Potato Starch, Roasted Garlic, Sea Salt.  See package photos below for full nutritional details.
Would I buy these Dr. Praeger's Veggie Burgers again?
Yes, I already buy these regularly and they are one of my favorite frozen veggie burgers. Plus they are easy to find at most major grocery retailers in the US. If you've tried these then let me know what you think below!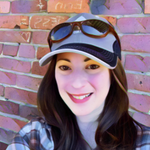 Nicole
Long time vegan living in upstate NY.  Web developer and founder of Vegan ShowOff.  She's addicted to ice cream and loves hiking, snowboarding, gardening, and travel.  Read more from Nicole!