Are you feeling sluggish and exhausted from your crazy schedule?  Then it's time to reach for an energy drink.  If you're vegan, don't worry, you can still get your daily dose of pep with these delicious vegan energy drinks!
Are energy drinks vegan? 
There are a lot of different energy drinks on the market, but not all of them are vegan.  However, there are a few that are specifically marketed as being vegan.  These drinks usually contain ingredients like green tea extract, guarana, and caffeine, and they can give you a boost of energy without any animal products.  So, if you're looking for a vegan energy drink, you're in luck!  Below are some of the best healthy vegan energy drinks on the market, plus a homemade alternative! 
What makes energy drinks not vegan? 
Energy drinks are often marketed as a healthy alternative to sugary soft drinks.  However, many energy drinks contain ingredients that are not vegan.  For example, some energy drinks contain honey, and others may have vitamin D3, which can be derived from sheep's wool.  In addition, energy drinks often contain artificial flavors and colors, which may be tested on animals, so sticking to the labeled vegan options is much easier!
Our Top Picks for Healthy Vegan Energy Drinks
1.  Guru Organic Natural Energy Drink 
This vegan energy drink is made with organic green tea, which provides a natural energy boost.  In addition, it contains organic cane sugar, organic juices, and ginseng root.  Guru also offers a Guru Lite version of their energy drink, which is naturally sweetened with monk fruit and stevia (and only 20 calories a can!).  So if you're looking for a source of natural energy that will help keep you going all day long, this energy drink could be your new go-to!
2.  Sambazon Acai Energy Drinks 
Sambazon is one of the leading organic vegan energy drink brands, made with 100% organic ingredients, including acai.  These antioxidant-rich vegan energy drinks are also free from artificial flavors, colors, and sweeteners, making them an excellent choice for health-conscious consumers.  In addition, they use the highest quality acai available and are fair trade certified.  Each serving is equal to two espresso shots, which is perfect for an afternoon pick-me-up or a pre-workout boost!
3.  Zevia Zero Calorie Energy
You might recognize this brand from their sugar-free sodas, but Zevia also makes flavorful zero-calorie energy drinks made with organic stevia.  Each can has 120mg of organic caffeine per serving and is gluten-free, vegan, soy-free, and sugar-free.  The ingredient list is short and clean, plus they come in various delicious flavors like kola, grapefruit, raspberry lime, and mango ginger.  If you buy a 12-count variety pack, the price is reasonable at a little over $2 a can!  Zevia Zero Calorie Energy is the perfect way to get a boost without all of the sugar and calories.  
4.  Celsius Live Fit Energy Drink 
CELSIUS Live Fit is a vegan energy drink that accelerates metabolism and helps to burn body fat.  The company backs its claim with several clinical trials.  Ingredients include a MetaPlus® proprietary blend, vitamins, minerals, and a unique combination of beneficial ingredients like ginger, guarana, and green tea.  Plus, it's certified vegan and gluten-free.  You can choose from a variety of flavors to suit your individual taste, and they also sell powdered on-the-go packets you mix with water that are easy to travel with!
5.  Odyssey Sparkling Mushroom Elixir  
Odyssey Sparkling Mushroom Elixir is the most unique vegan energy drink on the list.  This mushroom-based energy drink is made with a powerful combination of Lions Mane and Cordyceps mushrooms.  It provides 2500mg of potent extracts to help energize and focus your mind.  Flavors include Passion Fruit Orange Guava, Blackberry Lemon Twist, Orange Ginger, and Dragon Fruit Lemonade.  So, if you're looking for a delicious and healthy way to get your daily dose of mushrooms, Odyssey's Sparking Mushroom Elixir is a great choice.  Plus, they definitely win the award for the prettiest cans 😊!
6.  Pure Boost Energy Drink 
PureBoost is perfect for busy lifestyles!  It comes in convenient packets that you can take with you anywhere.  Just mix with water and enjoy!  Whether you're heading to the gym or hitting the books, PureBoost contains 100 mg of caffeine from natural sources of green tea that will help you power through your day.  And because it's 100% Vegan, you can feel good about what you're putting into your body.  PureBoost is sweetened with stevia and erythritol, and its antioxidant power comes from a blend of turmeric, ginger, and grape seed extract.  Flavors vary whether you try the Original Pureboost, Pureboost Superfoods, or Pureboost Immune. 
What about Kombucha? 
Kombucha is a fermented tea that has been around for centuries.  The fermentation process creates beneficial bacteria and enzymes that have many health benefits.  Kombucha is naturally low in sugar and calories and is a good source of probiotics.  Kombucha is vegan and made with water, tea, and sugar.  Some brands may add fruit or other flavorings, but these are not necessary for fermentation.  Kombucha is often called an "energy drink" because of the small amount of caffeine it contains.  However, kombucha also has B vitamins and iron, which can help improve energy levels.  Kombucha is also thought to boost the immune system and promote detoxification. 
DIY Vegan Energy Drink
You can make your own vegan energy drink with a few healthy ingredients.  Here is our favorite: 
Chocolate Banana Smoothie (Choco-Nana Smoothie) 
This smoothie is a delicious way to get your energy fix.  The banana provides natural sugars that will give you instant energy, while the chia seeds provide lasting energy.
Ingredients: 
Add all ingredients to a blender and blend until smooth.  Finally, add powdered espresso for an extra caffeinated kick and a delicious mocha flavor.  Enjoy! 
P.S. Energy drinks aren't recommended for children, pregnant women, or people sensitive to caffeine.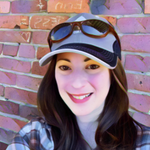 Nicole
Long time vegan living in upstate NY.  Web developer and founder of Vegan ShowOff.  She's addicted to ice cream and loves hiking, snowboarding, gardening, and travel.  Read more from Nicole!