Trader Joe's Boba Ice Cream Review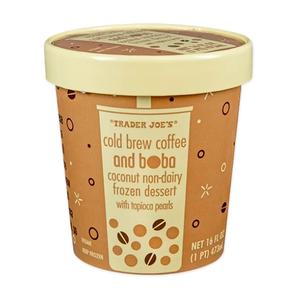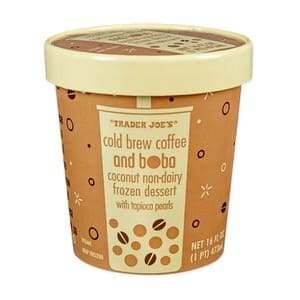 Product Name: Cold Brew Coffee & Boba Coconut Non-Dairy Frozen Dessert
Product Description: Cold brew coffee ice cream with tapioca pearls in a pint-size container.
Brand: Trader Joe's
Dietary Notes: Soy Free, Vegan
Summary
This Trader Joe's boba ice cream has a rich coffee flavor and plenty of chewy boba tapioca pearls throughout.
Pros
Delicious, with a rich coffee flavor and chewy boba.
230 calories for 2/3 cup, which may be a bit lower in calories as compared to some other non-dairy ice creams.
Cons
If you're not a boba fan, this product may not be for you.
It costs $4.49 for a pint. There are about 3 servings per container or $1.49 per serving.  It would take a few containers to treat a larger family.
Community Rating:
( reviews)
Trader Joe's Boba Ice Cream Review
The Trader Joe's boba ice cream label reads "Boba, commonly found in Taiwanese bubble tea, are the chewy tapioca pearls that rest at the bottom until sipped through a straw.  Here's the twist: We replaced tea with cold brew coffee, bringing you this coconut non-dairy frozen dessert with tapioca pearls mixed throughout.  So smooth, so cool, so refreshing!"
Cold brewing, by definition, is also called cold water extraction or cold pressing, it's the process of steeping coffee grounds in water at cool temperatures for an extended period of time.
All I know is that Trader Joe's has once again performed some amazing magic to come up with such a tasty treat!  What they've done is use coconut milk to create a non-dairy base, added an authentic coffee flavor using cold-brewed coffee, and then added in lots of delicious chewy boba.  It's a match made in heaven!
You won't taste any coconut as the coffee flavor is so rich and decadent.
If you're like me with a sweet tooth and need something sweet after whatever meal of the day be it breakfast, lunch, or dinner…I'll just dip into the container with a spoon and grab a few bites it's so yummy!  Another little trick is that coming straight out of the freezer it may be rock solid, so I just pop the container in the microwave for about 10-12 seconds, then spoon it out and enjoy!  You can also just let it rest for a few minutes on the counter.
Serving Ideas for Trader Joe's Cold Brew & Boba Ice Cream
Try adding a little maple syrup as a topping for a maple coffee flavor.
Add your favorite granola, not only will you get the chewiness from the boba, but also a crunch from the granola.
Non-dairy chocolate morsels are always fun!
Try a topping of vegan hot fudge and whipped cream to make it into a boba ice cream sundae 🍨.
Trader Joe's Boba Ice Cream Ingredients and Nutrition Facts
The ingredients are Coconut milk (coconut cream, water), water, sugar, tapioca pearls (glucose syrup, water, modified tapioca starch, powdered sugar, sugar, tapioca starch) glycerin, rice bran oil shortening, caramel color), ground coffee beans, maltodextrin, dextrose, mono-and diglycerides of fatty acids, guar gum, sea salt, carob bean gum.  See the photo below for full nutritional details.
Would I buy this Cold Brew & Boba ice cream again?
Absolutely, I just love the combination of a creamy rich coffee flavor and chewy Boba!  They also make a Black Tea & Boba version of this non-dairy dessert, which I haven't had the pleasure of trying yet.  If you've tried either one of these flavors then let us know what you thought of them below!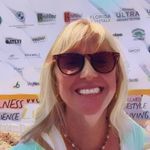 Sue
Sue's a lifelong horse lover living in beautiful South Florida.  She enjoys reading, cooking, shopping, and travel. Check out more from Sue!