Banish those pesky dry skin woes with a trusty moisturizer or lotion – your ultimate weapon for smooth, hydrated, and rejuvenated skin! Going out and buying a lotion is simple enough on its own, but if you're searching for a lotion that is affordable, effective, and also vegan – it's hard to know where to start. 
That's where we come in!
In this blog post, we're going to cover the following:
What actually makes body lotions vegan

Common ingredients in body lotions that are 

not

 vegan

Our picks for the best vegan body lotions.
If you're looking for a vegan lotion that will soothe and heal your dry skin and not cost you an arm and a leg, you've come to the right place! So let's get into it! 
What Makes a Body Lotion Vegan?
A vegan body lotion is a lotion free from all animal products and byproducts. There can be far more animal products in ordinary lotions than you might think! Luckily, with the market for vegan products ever-expanding, most companies will now state if they are vegan or not. But what are the animal products that are often present in regular lotions? In the section below, we'll explore the major ones to look out for.
Common Non-Vegan Ingredients in Body Lotions
If you're interested in incorporating vegan body lotions into your routine, it can be helpful to familiarize yourself with some common non-vegan ingredients you may come across. 
Here are a few examples to get you started:
Lanolin

 — a type of wax extracted from sheep wool 

Glycerine

 — a natural compound derived from animal fats

Casein

 — a protein found in cow's milk 

Squalene

 — a kind of oil frequently harvested from animals 

Guanine

 — a compound found in fish scales 

Oleic acid

 — a fatty acid that occurs naturally in animals 

Stearic acid

 — an acid created from animal fat

Carmine

 — a coloring derived from an insect 

Collagen

— extracted from the bones and skin of animals (yikes 😳)

Elastin

 — extracted from animal tissue

Beeswax 

— a wax produced by bees used to build hives 

Propolis

 — a resinous mixture produced by bees to build hives.
The 5 Best Vegan Body Lotions For Dry Skin
If you want a lotion that is not only going to hydrate your dry skin but is also 100% vegan and cruelty-free, then check out our top 5 picks for vegan body lotions!
1.  Alba Botanica Very Emollient Body Lotion – Coconut Rescue

If you're looking for instant relief for irritable, dry skin, Alba Botanica Very Emollient Body Lotion is an absolute dream! This lotion has a rich and creamy formula that absorbs quickly and is long-lasting for continued relief. Unrefined coconut oil, coconut milk, and aloe vera work together to hydrate and replenish your skin. Recommended time and time and time again on various skincare and vegan forums, this lotion is a crowd favorite and will surely be your skin's favorite, too! 
2.  Cake Beauty – Heavy Cream Body Butter Balm 
This intensive Cake Beauty Balm helps to heal rough and chapped skin until it is soft and smooth. With a texture created to mimic an indulgent buttercream frosting, this rich balm glides over your skin, leaving it plump and moisturized. With the powerful combination of coconut oil, shea butter, aloe vera, and green tea, this balm is a spa day for your skin. This product is vegan and cruelty-free, so you can enjoy the feeling of velvety-smooth skin knowing that you've chosen an ethical and effective product — not to mention its delicious smell! 
3.  Love Beauty & Planet Luscious Hydration Body Lotion – Coconut Water and Mimosa Flower  
Fresh and hydrating, give your dry skin a much-needed boost with the Love Beauty & Planet Luscious Hydration Body Lotion! This lotion is lightweight and refreshing and won't leave your skin feeling greasy!  The product is infused with coconut water and scented with the delightfully sweet aroma of mimosa flowers — which are ethically sourced! A little goes a long way with this hydrating formula, and it's perfect for moisturizing the entire body. Vegan, cruelty-free, and made with ethically-sourced ingredients, as the brand name suggests, this product will give a little bit of vital love and care to both you and the planet. 
4.  Everyone Nourishing Hand and Body Lotion – Ruby Grapefruit 
Packaged in 100% recycled plastic bottles, Everyone Nourishing Hand and Body Lotion is an incredible lotion that is perfect for targeting dry areas on the skin.  Dry skin can be frustrating and painful anywhere on the body, but dry hands can be particularly stubborn. With this hand and body lotion, you can enjoy a formula created specifically to target these areas.  With the intoxicating scent of orange, peppermint, and lavender essential oils, this lotion will heal and hydrate your skin with its lightweight formula.  Not only that, this lotion is paraben-free, GMO-free, cruelty-free, and produces zero landfill waste! 
5.  HEMPZ Body Lotion Original — Floral & Banana Daily Moisturizing Cream 
If your dry skin is a bit more stubborn, HEMPZ body lotion is the way to go.  This lotion is created with inflammation and atopic dermatitis in mind, so you can rest assured that you are getting the highest level of hydration.  This vegan body lotion is a careful blend of hemp seed oil, shea butter, plus omega-6 and omega-3 fatty acids, which will sink into your skin and hydrate it like never before.  With a thick formula that is naturally scented, this lotion won't leave any residue or cloying odor behind. It won't irritate your skin, either — something that is incredibly important for dry skin!
What Are Some Natural Replacements for Body Lotion?
You don't have to break the bank to keep your skin moisturized! Here are some natural vegan moisturizers:
Coconut oil 

–

 

Coconut oil contains vitamins and antioxidants that moisturize, as well as a number of fatty acids. 

Olive oil 

–

 

Olive oil is an excellent moisturizer. It contains 

vitamin E, which is a highly effective moisturizer

. 

Almond oil 

–

 

As long as you aren't allergic to nuts, almond oil is an excellent moisturizer for dry skin! It contains three vitamins that are great for you: A, D, and E.

Shea butter 

–

 

Not only does shea butter smell amazing, but it also contains vitamins A, E, F, and K. It is well known for its ability to help promote the regeneration of your cells.

Cocoa butter 

–

 

Cocoa butter

 has been used for centuries, and it'll make you smell like chocolate! If you have sensitive skin, this could be a great option for you.

Aloe vera gel 

–

 

Aloe vera gel isn't just for sunburn. It can also be a fantastic moisturizer that can help to brighten your skin, act as an anti-aging product, and even 

help with hyperpigmentation

.
The Recap
There are so many lotions on the market right now, but when you're on the hunt for a vegan lotion that is actually going to hydrate and nourish your dry skin, it can feel like finding a needle in a haystack.  That doesn't mean you should have to settle for anything less than incredible!  Our top 5 picks for vegan body lotions all have gold stars across the board when it comes to formula, ingredients, hydration, and scent.  Hopefully, with this list, you'll be able to find your new go-to lotion and enjoy smooth, velvety skin in no time!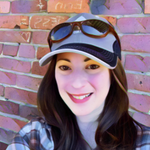 Nicole
Long time vegan living in upstate NY.  Web developer and founder of Vegan ShowOff.  She's addicted to ice cream and loves hiking, snowboarding, gardening, and travel.  Read more from Nicole!