Beyond Breakfast Sausage Review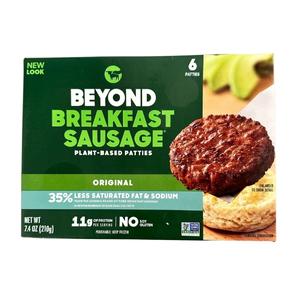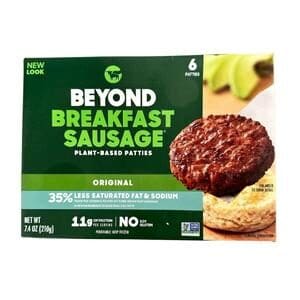 Product Name: Beyond Breakfast Sausage Plant-Based Patties - Original
Product Description: A plant-based alternative to traditional breakfast sausage. Made from simple ingredients like peas and rice protein, and free from soy, gluten, and GMOs.
Brand: Beyond Meat
Dietary Notes: Vegan, Kosher, No Gluten, No Soy, No GMO's
Summary
Start your day off with an energizing and compassionate breakfast! Beyond Breakfast Sausage provides delicious flavor without any animal products. A great source of protein, these vegan plant-based sausages are totally free from cholesterol – so you don't have to compromise taste for nutrition!
Pros
Available at most US grocers

Lower in sodium and saturated fat than traditional pork sausage
Reasonably priced at around $1.50 per serving (2 patties)
Convenient and ready to cook and eat within minutes
Allergy-friendly (free from gluten and soy)

Cons
Lots of empty space in the box resulting in wasted cardboard

The texture is a little spongy
Community Rating:
( reviews)
Beyond Meat Breakfast Sausage Review
If you want to switch up your morning breakfast routine, plant-based breakfast sausages are worth trying. While plenty of brands exist, Beyond Breakfast Sausage has been available for a while and is readily available in most areas. The patties are found in the frozen food section of most grocery stores.
I was in my local Publix Supermarket and picked up a box of the Original patties, although they also offer a Spicy option.
On a recent Sunday morning, I decided to bake them by placing all 6 patties on a baking sheet, setting the timer for 4 minutes, taking them out, flipping them over, and baking for an additional 4 minutes.
What does Beyond Breakfast Sausage taste like?
They definitely cook and sizzle like traditional sausage, so what do they taste like? They're pretty good, resembling traditional sausage's taste and texture, according to hubby, who is not vegan. He was impressed with the flavor and actually said he liked it. I was also impressed by the flavor, but not having consumed traditional sausage in years did not have an accurate comparison. We both found them to be slightly spongy but not unusually so. This is genuinely a thumbs-up product!
I ate mine with a side of Just Egg plant-based bites adding a side of sautéed peppers and onion, yum! I felt the texture and flavors of these worked well together! Another idea would be to crumble and scramble with liquid Just Egg! 
How to cook Beyond Meat Breakfast Sausage

Beyond Breakfast Sausage patties are available frozen. The box contains 6 individual patties and can either be baked in the oven or cooked on a stovetop.  They don't recommend deep frying, boiling, or microwaving these patties!  Don't thaw the patties first (cook them directly from the freezer), and make sure you don't overcook them.

Stovetop Directions
Fire up the skillet! Cook the frozen patties over medium-high heat until the edges are golden and caramelized, which should take around 4-5 minutes.
Oven Directions (or Toaster Oven)
Preheat your oven to 350°F, then place the frozen patties on a baking sheet. Be sure to flip them halfway through their 8-minute cooking time, so they get that perfect golden brown finish!
Serving Ideas
You can eat these vegan sausages by themselves any time of day, but here are some more creative serving suggestions.

As a fast and easy alternative breakfast option, cut it up and scramble it with Just Egg or add it to your favorite tofu scramble recipe.
Add it to a pita with sautéed peppers and onions.
Dice it up and add it as a protein in soups and stews.
Make a breakfast sandwich by adding some vegan cheese and avocado to an English muffin, a bagel, or a homemade biscuit.
Crumble it and use it as a pizza topping.
The Vegan Atlas has some great recipe ideas for using vegan sausage (31+ bountiful recipes, actually!), so be sure to check her page out for some inspiration!
Where to buy Beyond Breakfast Sausage

You can buy Beyond Breakfast Sausage at Publix, Walmart, Target, Hannaford, Sprouts, Winn-Dixie, and most other major US grocery retailers.

How much does
Beyond Breakfast Sausage

cost?

One box of Beyond Breakfast Sausage costs between $4.50 – $4.99 nationwide (for a 7.4 oz package containing 6 frozen patties).

Is Beyond Meat Breakfast Sausage healthy?
Beyond Breakfast Sausage is a heathier alternative to traditional pork sausage because it's cholesterol free and contains 35% less saturated fat and sodium than the leading brand of pork breakfast sausage.  Plus—Beyond Breakfast Sausage contains absolutely no artificial ingredients or preservatives!
Is Beyond Breakfast Sausage vegan?
Yes, it is! All of the ingredients in Beyond Breakfast Sausage are vegan.
Beyond Breakfast Sausage
Ingredients & Nutrition Facts
The ingredients are Water, Pea Protein*, Expeller-Pressed Canola Oil, Refined Coconut Oil, Natural Flavors, Inactivated Yeast, Rice Protein, Methylcellulose, Yeast Extract [niacin (Vitamin B3), pyridoxine hydrochloride (Vitamin B6), thiamin hydrochloride (Vitamin B1), riboflavin (Vitamin B2), folic acid (Vitamin B9), cyanocobalamin (Vitamin B12)], Apple Extract, Salt, Pomegranate Extract, Vinegar, Lemon Juice Concentrate, Sunflower Lecithin, Beet Juice Extract (for color), Carrot.  See the package photo below for the complete nutrition information.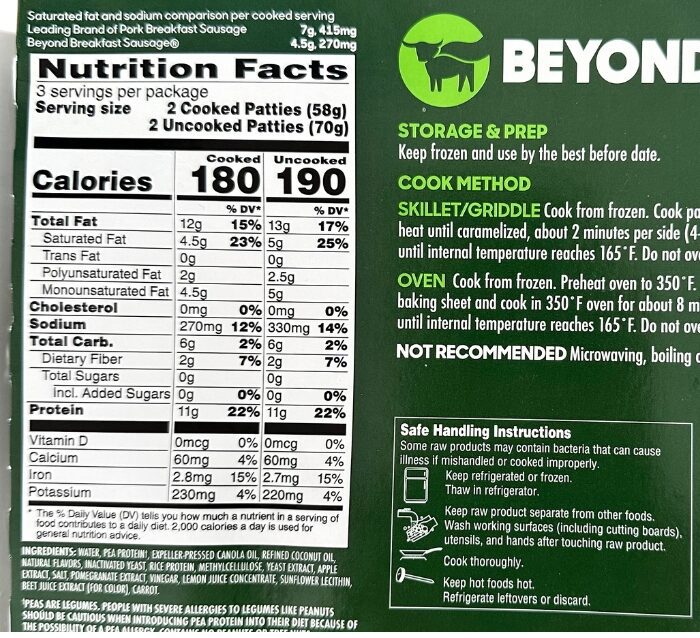 Would I buy it again?
A tasty, plant-based breakfast that's better for you, the animals, and the planet? Sounds like a win! Beyond Breakfast Sausage is definitely worth trying and I'd buy it again. Time to spice things up with the spicy version next time around! If you've tried these vegan sausage patties already, let us know what you thought of them below!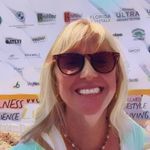 Sue
Sue's a lifelong horse lover living in beautiful South Florida.  She enjoys reading, cooking, shopping, and travel. Check out more from Sue!