Violife Just Like Feta Vegan Cheese Review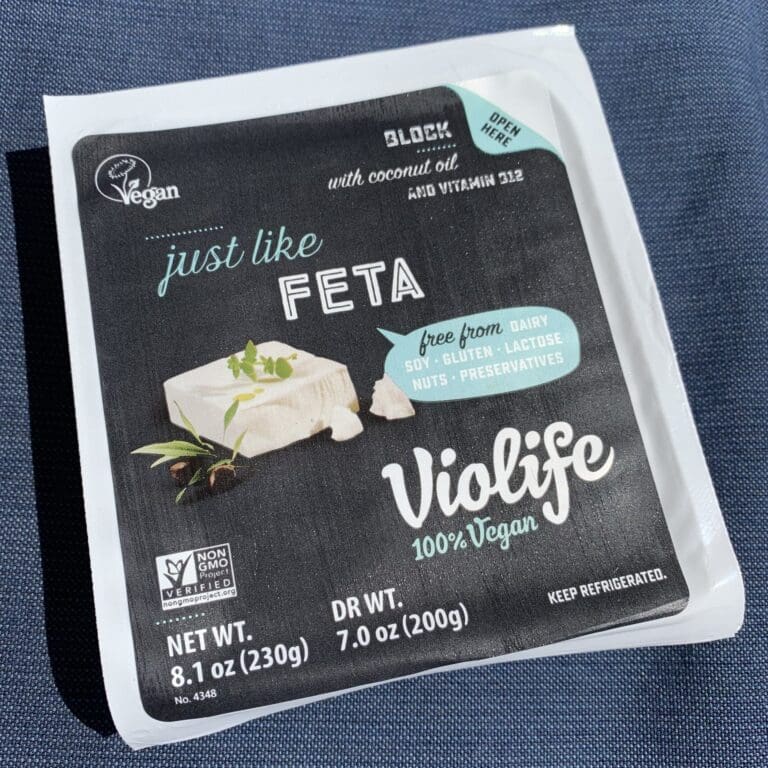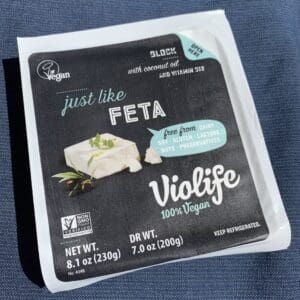 Product Name: Violife Just Like Feta Cheese
Product Description: A coconut-oil based Greek feta inspired cheese that comes in soft block form and has added B12.
Brand: Violife
Dietary Notes: Gluten Free, Soy Free, Nut Free, Non-GMO, No Preservatives, Kosher, Sugar Free
Summary
This Violife Just Like Feta Vegan Cheese is very reminiscent of feta cheese flavor-wise, although the texture isn't quite as crumbly as the feta I used to be familiar with. This Violife feta has a creamy smooth texture and an amazing versatile flavor so it can be used in a variety of dishes. I eat it straight out of the package, cubed and on salads, and sliced on sandwiches (my favorite way). I'd even bet this feta would be awesome in a grilled chilled cheese or panini with some spinach and tomatoes! This is one vegan cheese I buy whenever I can find it!
Community Rating:
( review)
Violife Just Like Feta Vegan Cheese Review
I'd like to start by saying I've never liked feta cheese before going vegan,  I think it was the texture that just never appealed to me.  When I go down to see my parents in Florida my stepmom always buys me special vegan cheese and other interesting vegan food items she comes across while shopping.  One time I went down there and saw this glorious block of Violife Just Like Feta Vegan Cheese waiting in the fridge for me!  At this point, I had only heard of Violife cheeses but I still couldn't find it at stores around me in upstate NY.  I jumped up and down all excited and didn't let the fact I never liked feta deter me from trying it!  I immediately opened the package (a little water is in there that you have to drain unless you maybe keep it in a container along with the brine).  I just drained mine and kept it stored in the original package and that worked great.  It didn't last long though!  I sliced off my first creamy piece and ate it plain and it was amazing!  The texture is a little different than dairy feta but the taste is even better (in my opinion obviously).  My sister's non-vegan boyfriend even tried it and said it was really good.  He said the texture was off but it was tasty….so I thought that was a win!!  So over the week I was down there, I proceeded to eat it plain right out of the package, and cubed up and tossed in a salad.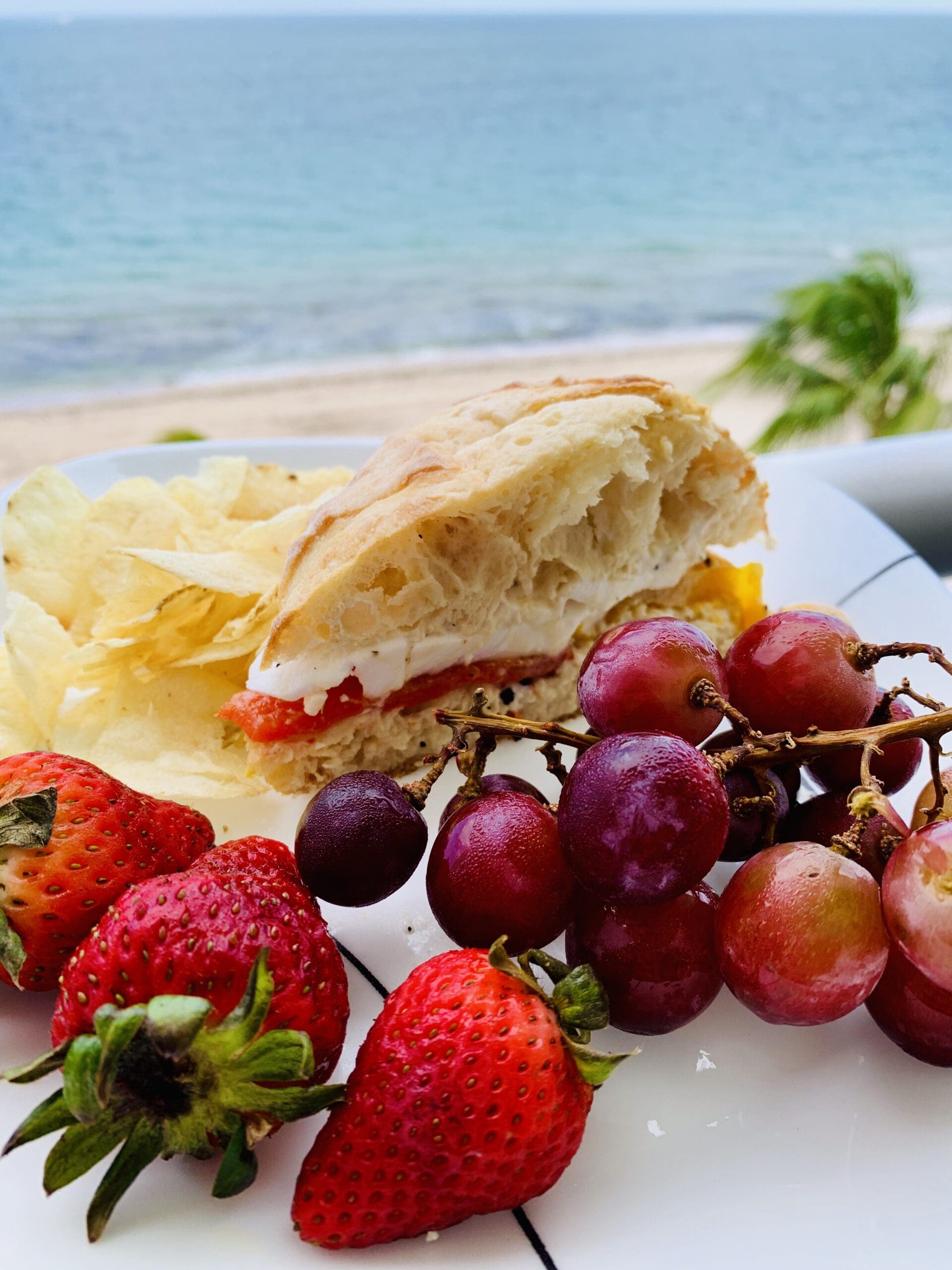 My absolute favorite way of using this Violife Feta was to make the best beach sandwiches ever with it!  For some reason, the beach makes me hungry.  I grabbed these really fresh ciabatta rolls that Winn Dixie makes (the grocery store across the street), slapped on some nice slices of creamy feta, added some of those jarred roasted red and yellow peppers from Trader Joe's, drizzled some of the pepper juice from the jar on it, added some S&P and a little vegan mayo and it was a stack of pure deliciousness!  Fresh strawberries, grapes, and of course sea salt potato chips rounded off the perfect meal to eat from a lounge chair while watching the beautiful waves crash along the shore.  Now I'm back in NY surrounded by snow and reminiscing about this lovely sandwich!
Violife Just Like Feta Vegan Ingredients and Nutrition Facts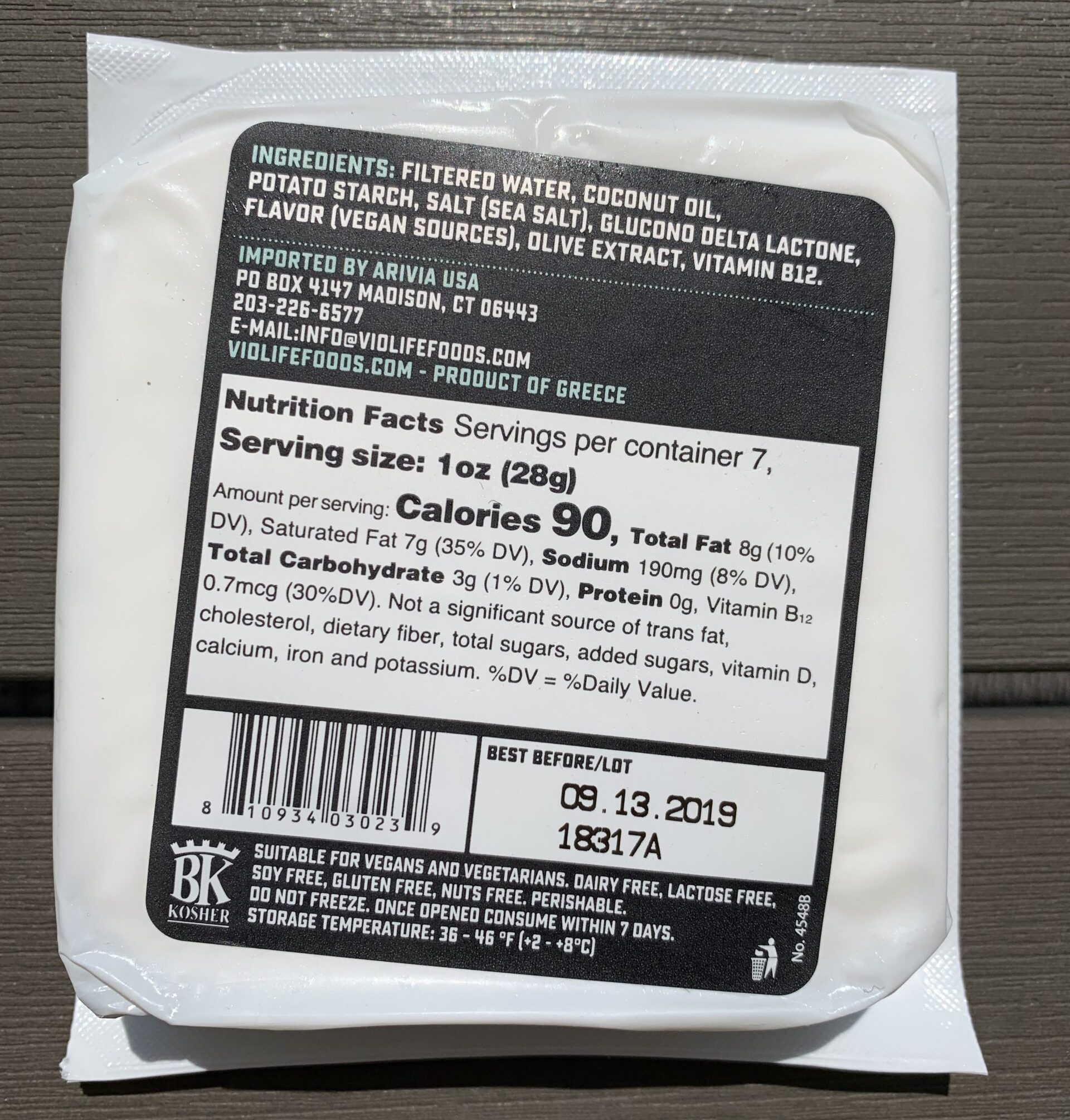 Would I buy Violife Just Like Feta again?
Heck yeah!  I've already bought it many times again and it's a solid product that's super versatile.  It's not really easy to find though so I do always grab some whenever I have the opportunity.  The price is a tiny bit high for me but not unreasonable for the value you get.  Have any of you tried this feta yet and if so, what did you think?  Let me know what you usually put it on or if you've made any interesting creations with it yet!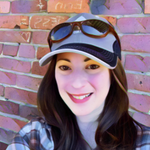 Nicole
Long time vegan living in upstate NY.  Web developer and founder of Vegan ShowOff.  She's addicted to ice cream and loves hiking, snowboarding, gardening, and travel.  Read more from Nicole!