Do you know that there are over 300 shapes of pasta?  With so many choices, it is not surprising that pasta is one of the most popular foods.  Although pasta may be our comfort food of choice, it is not always the most nutritious.
Pasta is high in carbohydrates, with a minimal amount of protein or fiber.  Luckily, high-protein pasta is available, so you can enjoy your favorite meal without compromising nutrition or taste.
High-protein pasta is often vegan, so it's a great way to add protein to your plant-based diet.  But, you may wonder, which one is the best?  Thankfully, we did the legwork for you.  Keep reading to find out ten high-protein vegan pasta brands to try today.
Is Pasta Vegan?
Traditionally pasta is made with eggs, wheat, and water.  Occasionally, ingredients such as milk powder or whey can be added.  So, unfortunately, most fresh pasta is not vegan.
Dry pasta is usually made with durum semolina and water.  Almost all dry pasta is vegan.
Unless otherwise stated, in both cases, the main ingredient is wheat flour.  So, if you suffer from gluten intolerance, you need to look for gluten-free brands.  It is important to note that not all gluten-free pasta is vegan pasta. Sometimes, eggs are used as the binding ingredient in gluten-free pasta.  The best way to know if pasta is vegan and gluten-free is to read the labels.
What Is High Protein Vegan Pasta?
As the name suggests, a high-protein vegan pasta uses plant-based protein as the main ingredient.  Lentils, beans, and pulses are the most common sources of proteins for vegans.
Your daily protein intake will vary depending on how many calories you consume, your weight, and your overall health.  The good news is that high-protein vegan pastas contain 8 grams of protein or more per serving.  The protein amount varies between brands, so check the labels if you want to know the exact amount a particular kind has.
High-protein vegan pasta can be a healthier alternative to traditional pasta, too.  A lot of brands offer options with as few ingredients as one!
You can eat high-protein pasta the same way you eat traditional pasta.  Serve it with olive oil, plenty of veggies, fresh herbs, and your favorite pasta sauce.  Of course, you can add additional protein if you want, but you don't need to, thanks to the pasta.
Keep in mind that the main ingredients of high-protein pastas are often beans, legumes, or pulses, so many types of these vegan pastas don't contain gluten.  Gluten helps to keep the shape of the pasta.  So if you want to add high-protein vegan pasta to soups, you are better off adding it just before serving.  Adding high-protein vegan pasta to your other vegan meals can be easy.  Let's have a look at some top brands. 
1.  Banza Chickpea Pasta
Banza is a great place to start with vegan pasta.  The entire line of Banza pasta is chickpea-based.  It comes in all shapes, so you can easily add it to your favorite meals.
The pasta is high in protein, accounting for 20 grams of protein in a 2-ounce serving.  This is not only due to chickpeas but also to pea protein.  Additionally, it contains 8 grams of fiber.
The texture is dense, maybe slightly chewy; however, it is full of flavor.  It cooks quickly, so it's an excellent option for a last-minute dinner idea.  And thanks to the different shapes you can buy, it is popular with kids.  Banza Chickpea Pasta is gluten-free.
2.  Barilla Veggie
If you're vegan, you likely already eat enough vegetables.  However, if you want to get your non-vegan family or friends to consume more vegetables, this pasta is for you.  Barilla Veggie pasta is made of 75 percent wheat flour and 25 percent vegetable puree.  This vegan pasta comes in a penne, rotini, and spaghetti shape.  You can choose from zucchini and spinach or carrots and tomato flavors.  A 2-ounce serving contains 8 grams of protein and 2 grams of fiber.  The carbohydrate content is around 41 grams.  It may seem a bit high, but it is due to the wheat and the vegetables.  You can pair it with fresh or cooked vegetables and herbs or add your favorite marinara sauce!
3.  Pastabilities Mighty Pasta
This vegan pasta contains 11 grams of protein.  In addition, it is fortified with B vitamins and iron and contains 12 grams of fiber.  Fiber is essential for gut health, blood sugar regulation, and keeping you full for longer.  The Pastabilities Mighty Pasta contains peas and durum wheat flour.  So, although it is vegan, it is not gluten-free.  Its unique shape adds some fun to your dish.  You can pair it with veggies and olive oil or add your favorite pasta sauce.
4.  Barilla Protein+ Farfalle
The creative shape of this pasta will make your meal a winner!  It is not only packed with 10 grams of protein per serving, but it also has 4 grams of fiber.
Barilla Protein+ Farfalle is made with semolina, barley, and spelt flour.  It also has lentils, chickpeas, and peas.  This vegan pasta contains high amounts of B-complex vitamins thanks to the combination of different flours.  A full serving contains 30% of the recommended daily value of vitamin B3 (niacin), 40% of vitamin B1 (thiamine), and 50% of vitamin B9 (folate). The B vitamins are important in cellular health, breaking down carbohydrates and transporting other minerals through the body.  Because of the different flours (especially the wheat flour), this pasta is not gluten-free.
5.  The Only Bean Organic Edamame Spaghetti Pasta
Edamame is soybean and is naturally high in protein.  This organic pasta delivers a whopping 25 grams of protein, 11 grams of fiber, and minerals such as iron, calcium, and potassium.  This alternative to traditional spaghetti is gluten-free and fantastic paired with Asian-inspired dishes.  The green color also adds a bit of pop to any meal.
6.  Zenb Rotini Pasta
Yellow peas are the main ingredient in this vegan pasta from Zenb.  It delivers 17 grams of protein.  Zenb Rotini Pasta comes in a funky corkscrew shape that you can add to your favorite vegetables or creamy pasta sauces.  It is gluten-free and has a lower net carb count compared to traditional pasta.
7.  Tolerant Organic Green Lentil Rotini Pasta
This pasta is a star among other vegan pastas because it has only one ingredient: green lentil flour.  Green Lentil Rotini Pasta contains 25 grams of protein and is full of fiber.  Because there is only one ingredient, this pasta is free from common allergens.  It doesn't contain gluten or soy and is suitable for anyone who suffers from gluten intolerance.  In addition, it is a low glycemic index food and contains only complex carbs.
8.  Explore Cuisine Edamame Mung Bean Fettuccine Pasta
This organic and gluten-free pasta combines edamame bean flour and mung bean flour.  It delivers 24 grams of protein and tons of fiber!  Thanks to its shape, you can use this edamame mung bean pasta instead of traditional fettuccine.  Add some olive oil, tomatoes, zucchini, and garlic, and enjoy!
9.  Lupii Lupini Bean Pasta
Lupini beans are high in protein and fiber but low in net carbs.  Lupii Lupini Bean Pasta contains 14 grams of protein, 12 grams of prebiotic fiber, and 17 grams of net carbohydrates.  This gluten-free pasta has a minimal list of ingredients and comes in 100% plastic-free packaging.  In addition, lupini beans require less water than other beans, making them a great choice from an environmental perspective.  You can add it to salads and soups or make vegan macaroni and cheese!
10.  Blue Evolution Seaweed Penne
At first glance, it may seem surprising to have seaweed in pasta, but it can be done!  Seaweed is packed with antioxidants, iodine, and B12.  This vegan pasta is best served in Asian cuisine-inspired dishes because you can taste the seaweed a bit.  You can sauté mushrooms, Asian greens, and tofu (if you want to add a serving of protein).  This pasta is nutrient-dense, with 8 grams of protein, iron, magnesium, and iodine.
The Recap
These high-protein pasta brands will give you the protein your body requires and keep you satisfied for longer.  So eating your favorite dish, aka pasta, and staying healthy is easier than you think!  Check out our other favorites for more inspiring vegan food ideas.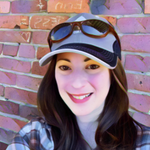 Nicole
Long time vegan living in upstate NY.  Web developer and founder of Vegan ShowOff.  She's addicted to ice cream and loves hiking, snowboarding, gardening, and travel.  Read more from Nicole!