Various vegan multivitamins today cater to different needs, so it's essential to find the one that's best for your lifestyle.  In this article, we'll go over our top 5 recommendations for a vegan multivitamin for women and address why women need different multivitamins than men. 
Why Do Women Need Different Multivitamins Than Men?
Mostly, there's a lot of overlap between men's and women's nutritional needs.  We all require similar amounts of carbohydrates, proteins, and fats.  While both men and women need vitamins and minerals to support their overall health, there are some key nutrients that women need in higher amounts.  
For one, women's bodies are designed to support a pregnancy, which means they need higher levels of some nutrients, like calcium, folic acid, and iron.  They also lose blood during menstruation, which depletes their stores of these same nutrients.  Additionally, women tend to have a higher percentage of body fat than men, which affects how they process and store vitamins and minerals.  Finally, as women age, they become more susceptible to osteoporosis and other age-related health conditions, which means they need different levels of vitamins and minerals to stay healthy.  As a result, many multivitamin manufacturers produce formulas specifically designed for women.  In addition, vegan multivitamins for women are becoming increasingly popular as more women seek out plant-based sources of nutrients.  
While the specific nutrients that women need may vary depending on their age and lifestyle, taking a daily multivitamin is a great way to ensure they get all the nutrients they need.
What Makes Some Vitamins Not Vegan?
For many people, being vegan means doing everything you can to prevent the exploitation of animals.  When most people think about this practice, it involves cutting out any animal or animal-related product from the food you eat.
However, the reality is that animal exploitation doesn't just extend to the food we consume.  It's also in everyday products like clothing, furniture, and our vitamins.
Many of the ingredients found in vitamins come from animal parts. Some of the common elements that use animal products include:
Pepsin

Lipase

Omega-3s from fish oil

Vitamin B12

Bee pollen

Collagen

Gelatin

Chondroitin

Glucosamine

Carmine

Hyaluronic acid

Glycerin
Remember that just because one of these ingredients is listed doesn't always mean it's not vegan.  For example, though lipase can come from animals like calves, it can also be acquired from plant sources.
This is why looking for multivitamin products explicitly labeled vegan is essential.  That way, you know for sure that all of the ingredients inside are acquired from ethical sources. 
The Five Best Vegan Multivitamins for Women
We've covered why women require different multivitamins than men and why some vitamins aren't vegan.  So, by now, you're likely interested in finding a specific vitamin brand for your needs.  That's why we organized five of our top picks for vegan multivitamins for women.
Any of the products in this section would make an excellent option for vegans (or non-vegans!) looking to fill in blind spots in their diet.  
1.  Mary Ruth's Women's Liposomal Multivitamin 
Looking for a multivitamin that goes above and beyond the ordinary?  Then check out Mary Ruth's Women's Liposomal Multivitamin!  It's a "vanilla peach" flavored liquid vitamin that can be taken on its own or blended into your favorite smoothie!  The formula has 11 essential vitamins and a proprietary botanical blend that includes traditionally used herbs such as yam and goji powder to support women's hormones, reproductive health, mood, libido, cognitive function–and more!  In addition, the liposomal technology ensures enhanced absorption of crucial vitamins and minerals.  This liquid vitamin is not only vegan but it's also gluten-free, soy-free, and dairy-free, making it an ideal supplement for those with food allergies or sensitivities.  It's also easy on the stomach and gentle on the digestive system.  With so many features and benefits, Mary Ruth's Women's Multivitamin Liposomal is our top choice for any woman looking for a high-quality multivitamin supplement.  
2.  Ritual Essential for Women
Many multivitamins hide their supply chain processes to disguise dubious sourcing methods.  However, that's not true for Ritual Essential for Women.  All nine ingredients in this product can be traced to the country and city where they come from.
They include folate, vegan Omega-3s, iron, boron, and a variety of vitamins.  The capsules contain Ritual's patented beadlet in oil technology that's designed to have a delayed release into the small intestine, which is an ideal place to absorb nutrients.  Plus, each bottle has a mint tab to keep things fresh and clean!
3.  Deva Vegan Tiny Tablets Multivitamin & Mineral
Do you struggle with taking large vitamin supplement pills?  If the answer is yes, then you'll love Deva Vegan Tiny Tablets Multivitamin & Mineral.  These tiny pills are straightforward to swallow.
And, somehow, Deva squeezes a ton of nutrients into this tiny tablet.  With this product, you get a high amount of Iodine, Folate, Iron, Selenium, and vitamins A, C, and E. 
4.  Garden of Life mykind Organics Women's Multivitamin
Vegan women who want their nutrients to come from a natural, whole foods source should consider mykind Organics Women's Multivitamin.  This brand uses over thirty different powdered herbs, vegetables, and fruits to provide the eighteen vitamins and minerals found in its product.
Some of these ingredients include annatto, lemon, holy basil, lichen, and amla berries.  The result is an organic, vegan product that is great for women's immune systems and blood support. 
5.  Hello Bello Organic Women's Multi
Are you shopping for women's multivitamins on a budget?  If so, then consider getting Hello Bello Organic Women's Multi.  You don't need to break the bank to get the necessary nutrients.  At an affordable price, you get twelve essential vitamins for women. 
Specifically, you'll find Vitamin D for your bone health, Vitamin B6 for your immune system, and Vitamin E for antioxidants.  This gummy vitamin is made with certified organic ingredients and is free of synthetic colors and flavors.  Plus, it's delicious and co-founded by Kristen Bell and Dax Shepard!

Want More Advice On Being Vegan?  
We hope this article helped you answer the question, "What is the best vegan multivitamin for women?".  Here at Vegan ShowOff, we know that finding genuinely vegan products with strong ethics can be a challenge.  That's why we work hard to provide you with a wide selection of recommended products, reviews, and weekly giveaways.  Committing to an entirely plant-based lifestyle can be tough at times, but finding quality vegan products shouldn't have to be! 💚
P.S.  Before starting any health supplement, it is always best to consult a physician or healthcare professional. This is because each person's body requires different nutrients, and results may vary from person to person. Additionally, some groups of people – such as children under 14, seniors over 65, those who are pregnant or lactating, and those taking any medications – should always speak with a healthcare professional before taking any supplements, as they may be more susceptible to adverse reactions. Finally, if anyone experiences any negative reaction after taking a supplement, they should discontinue use immediately. By following these simple guidelines, anyone can safely and effectively supplement their diet.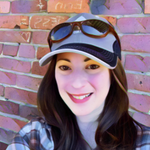 Nicole
Long time vegan living in upstate NY.  Web developer and founder of Vegan ShowOff.  She's addicted to ice cream and loves hiking, snowboarding, gardening, and travel.  Read more from Nicole!