Trader Joe's Garlic Spread Review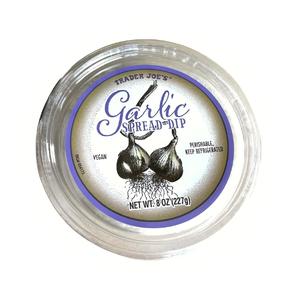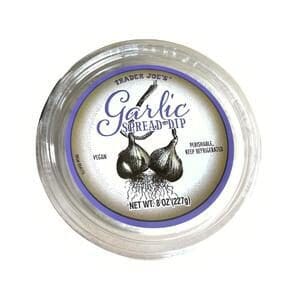 Product Name: Trader Joe's Garlic Spread & Dip
Product Description: A garlicky and fluffy spread made from whipping oil, garlic, salt, and lemon together.
Brand: Trader Joe's
Dietary Notes: Gluten Free, Vegan
Offer price: 2.99
Summary
This delicious garlic spread from Trader Joe's is a potent addition to any dish or used straight up as a dip or condiment.  The intense garlic flavor with a tangy lemon kick is sure to please any garlic enthusiast.  Vampires beware!
Pros
Tastes like heaven
Versatile
Unique – can't find something like this at most major US grocery retailers
Worth the price vs making it at home
Clearly marked "Vegan" on front of package
Cons
Causes extreme bad breath
Addictive
Pretty fattening
Community Rating:
( reviews)
Trader Joe's Garlic Spread & Dip Review
This Trader Joe's garlic spread is their take on a popular Lebanese sauce called Toum.  It's essentially just oil, garlic, lemon, and salt emulsified.  Never having had toum before, I wasn't sure what to expect.  I'm the type that loves garlic, the stronger the better, and if something doesn't have garlic in it I think something's missing.  For me, a little garlic powder usually solves it!  So being the garlic lover I am, I figured giving this garlic spread a whirl would be a fairly low-risk activity.  I was not disappointed with this decision since I immediately fell in love with the intense garlic flavor and zippy lemon kick.  Another perk of this spread is that it lasts in the fridge a long time…just not in my fridge apparently.  Yes, I fell a little too hard for this dip.
That being said, I would not recommend eating this before a first date, hanging out with friends, or if you're going anywhere there will be other people.  Also, take caution if you plan on eating this before you go out and about wearing a mask, since the kickback of your own breath will be brutal.
I would personally call this a spread and forget the "dip" part.  Using this as a dip seems super extravagant.  In two dips you'll have hit the serving size of 2 Tablespoons (at least if you dip the way I dip).  It's basically whipped oil and not the healthiest food in large quantities.  Here's a short video clip I just took that might give you a better idea of the product's consistency:
 

 

View this post on Instagram

 
How to Use Trader Joe's Garlic Spread
Because of the addictive nature of this divine garlic emulsion, I believe it's best used as a condiment or a mix-in flavor enhancer instead of a dip.  You can pretty much add it to anything you want to add a garlic flavor to.  For some reason, I was expecting it to melt kind of like butter when I tested it on my hot potatoes, but it kept its creamy consistency for the most part as a mayo would.  Really, you could use this garlic spread anywhere you'd use mayo, but here are some other random use ideas to spark your creativity:
Dollip it over some boiled yellow potatoes kind of like you would sour cream (this is how I first tried it and also how I finished the entire tub…over the course of a week, not in one sitting like I wanted to 😆).
Use it in a pita in place of tahini or tzatziki with Trader Joe's falafel.
Spread it on a grilled cheese in place of butter.
Add a little to the pan when you're sautéing greens such as spinach.  I usually finish my sautéed greens with a squeeze of lemon, but this garlic spread would probably do the trick instead.
Mix it with your favorite plain vegan cream cheese and add some fresh herbs to make a fancy garlic herb spread you can impress your friends with.
Slather on roasted or grilled veggies.  I think it would be dreamy smothered over a fresh ear of grilled summer corn.
I'm thinking that blending a tub of this spread with a package of silken tofu would retain a lot of the flavor profile while toning down the fat content (and adding protein). Then you could eat it as a healthier dip or even add spinach to that mixture and bake it for a warm garlicky spinach dip. Yummm…I'll get back to you on this idea…need to make a Trader Joe's run first 😊.
Trader Joe's Garlic Spread Ingredients and Nutrition Facts
The ingredients are just canola oil, garlic, lemon juice, citric acid, and salt.  See package photos below for full nutritional details.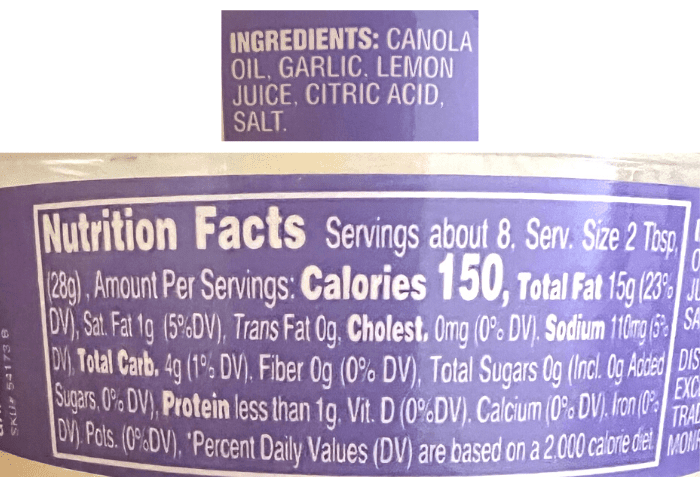 Would I buy this Trader Joe's product again?
Yes, I would buy it again!  This spread is unique and well worth the money to me since making toum garlic sauce at home seems to have a high risk of failure, but for you brave souls who'd like to give it a shot, this seems to be a good tried and true Trader Joe's garlic spread recipe (toum). Maybe I'll give it a go in the future, but I'm afraid that successfully making it at home would just lead me to consume larger quantities of it. What you do think about this garlic spread? Leave your thoughts below!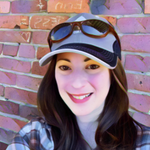 Nicole
Long time vegan living in upstate NY.  Web developer and founder of Vegan ShowOff.  She's addicted to ice cream and loves hiking, snowboarding, gardening, and travel.  Read more from Nicole!