There's nothing like a piping hot pizza fresh out of the oven.  But let's be honest, sometimes we don't have the time (or energy) to make our own.  That's where frozen pizzas come in!  And luckily, there are more vegan frozen pizza options than ever before.
Whether you're craving a classic cheese pizza or something a little more unique, here are six delicious vegan frozen pizzas that will hit the spot.  So grab a slice (or two) and enjoy! 
Blackbird BBQ Chick'n Pizza
Get ready to take your vegan pizza night up a notch with Blackbird BBQ Chick'n vegan frozen pizza!  Blackbird is an NYC-based company known for its vegan wings and seitan.  They also have a growing selection of artisanal frozen vegan pizzas, including this BBQ Chick'n one!
This pizza recently won 

PETA's Libby Awards

 for "Best Vegan Frozen Food."

It's topped with red onions, BBQ chick'n, and Violife vegan cheese.

Made with Blackbird's own plant-based chick'n and BBQ sauce.
With this vegan frozen pizza, you don't have to worry about compromising on the taste – or your vegan lifestyle!  It's time to switch up your vegan pizza nights with some vegan chick'n bbq flavor!
American Flatbread Vegan Harvest Pizza
American Flatbread is an excellent option for vegan pizza lovers because they use high-quality ingredients and have a few vegan-friendly options.  Our favorite is their Vegan Harvest pizza (their other vegan varieties are Farmers' Tomato Pie, Vegan Meat Lovers, and Vegan Pepperoni).
This pizza is thin, crispy, and made with 100% organic wheat flour, homemade tomato sauce, fresh herbs, and garlic 😋.

The dairy-free cheese is flavorful and creamy, plus it melts well for vegan cheese. 

It's low in calories per serving (only 260 calories per serving, 

which is half a pizza!

)

The herbs and tomatoes taste super fresh for a frozen pizza.

This pizza is a perfect base for adding your own toppings like leftover veggies, fresh basil, or extra garlic!
Tattooed Chef Killer Bee Plant Based Pizza
This wood-fired frozen pizza is made with unique vegan ingredients and is packed with flavor.  So let's dive in and find out what makes this plant-based pizza so buzz-worthy. 
It's drizzled with a sweet and spicy vegan "hot honey" that comes in a separate pouch, so you can add as much or as little as you'd like.

It features slices of Tattoed Chef's own spicy plant-based pepperoni.

This frozen pizza is ready in under 15 minutes!

It's also soy-free.

There are 360 calories per serving (1/3 of a pizza).
If spicy drizzle isn't your style, Tattooed Chef also makes a gluten-free plant-based pepperoni pizza made with a cauliflower crust (minus the hot honey).
While this vegan frozen pizza comes at a premium price (we found it for $11.49 at Target), the creativity and unique flavor are definitely worth it!  
The box says one pizza serves three people, but two people can split it if you're eating it as a meal.  So the next time your stomach starts buzzing for something tasty (and good for you!), grab some killer bee plant-based frozen pizza from Tattooed Chef.
Banza Plant-Based Cheese Pizza
If you love cheese pizza but are looking for a healthier, gluten-free, vegan option, Banza's plant-based cheese pizza is the perfect choice. 
The crust is made from chickpeas and is packed with protein and fiber.

It has a reasonable serving size of half of a pizza 😆!

They use Follow Your Heart mozzarella cheese, which is melty and creamy.

The pizza's sauce is made with flavorful San Marzano tomatoes infused with roasted garlic and caramelized onions.
Not only does Banza's plant-based cheese pizza look and feel like a traditional pizza, but it also tastes cheesy and delicious!  Health food skeptics fear not— this vegan pie should satisfy your craving for classic pizza.  So the next time you're craving melty cheese and perfect crust, don't be afraid to try Banza's vegan frozen pizza. 
Also, if you're feeling creative, Banza's frozen plain-crust pizza (basically two frozen pizza crusts in a box) is vegan and gluten-free.  It's carried in most major grocery stores, and it's a little easier to find than their vegan pizzas.  If you take this route, you can add sauce and toppings to match whatever kind of pizza you're currently craving!
Amy's Vegan Margherita Pizza
Amy's Vegan Margherita Pizza is probably the most widely available vegan frozen pizza.  It has all the classic Italian ingredients without any of the animal products.    
It's made with fresh organic tomatoes, vegan cheese, and basil.

The hand-stretched wheat crust is thin and crispy, making it a perfect choice for those who prefer a light pizza.

This pizza doesn't have a lot of cheese, so the quality of the tomatoes and other ingredients shines through.

It cooks in under 15 minutes and doesn't require a single dirty dish to make!  
Serve it with a crisp green salad for an easy vegan dinner that's sure to please.  Whether you're vegan or veg-curious, this vegan masterpiece is sure to satisfy your cravings for a classic Margherita pizza!
Sweet Earth Veggie Lover's Pizza
This Veggie Lover's pizza is currently Sweet Earth's only frozen pizza that's vegan.
This pizza is loaded with a variety of veggies, including brussels sprouts, broccoli, and cherry tomatoes! 

It's made with organic mushrooms, wheat flour, and extra virgin olive oil.

The crust is thin, crispy, and topped with a flavorful marinara and cauliflower herb sauce.

It's a decent source of fiber for a pizza (5 grams per serving, which they say is 1/3 of the pizza).
Overall, this is an excellent option for any veggie lover looking for a tasty plant-based pizza.  Ready in minutes, this Sweet Earth frozen pizza is the ideal vegan solution for those days when cooking seems like too much effort!
The Recap
There you have it: 6 delicious vegan frozen pizzas that will satisfy your cravings!  So whether you're looking for something traditional or a little more adventurous, there's definitely a plant-based pizza on this list for you!  So go ahead and ditch the delivery…these frozen pizzas are about to become your new best friend.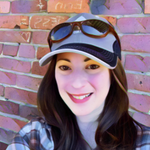 Nicole
Long time vegan living in upstate NY.  Web developer and founder of Vegan ShowOff.  She's addicted to ice cream and loves hiking, snowboarding, gardening, and travel.  Read more from Nicole!