Vegan with a Vengeance Cookbook Review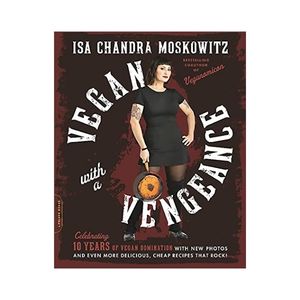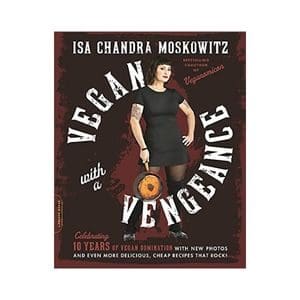 Product Name: Vegan with a Vengeance by Isa Chandra Moscowitz
Product Description: Over 150 delicious vegan recipes with full color photos and helpful tips for plant-based cooking. Published by DaCapo Lifelong.
Community Rating:
( review)
Vegan with a Vengeance Cookbook Review
Yes, cookbooks can get makeovers too!  Vegan with a Vengeance by Isa Chandra Moskowitz has had an awesome makeover for this 10th Anniversary Edition.  It has an impressive redesigned cover and is filled with even more stunning and colorful photos.  It also features a bunch of additional recipes that aren't in the original cookbook.  The coolest part is that it wasn't just the cover that got a makeover, but the recipes themselves did as well!  Fewer ingredients and more streamlined directions take this edition to a whole new level.  I'm no vegan chef but I can't find a recipe in here that I don't think I could handle!  The BLT Mac & Cheeze had my name all over it and turned out amazing!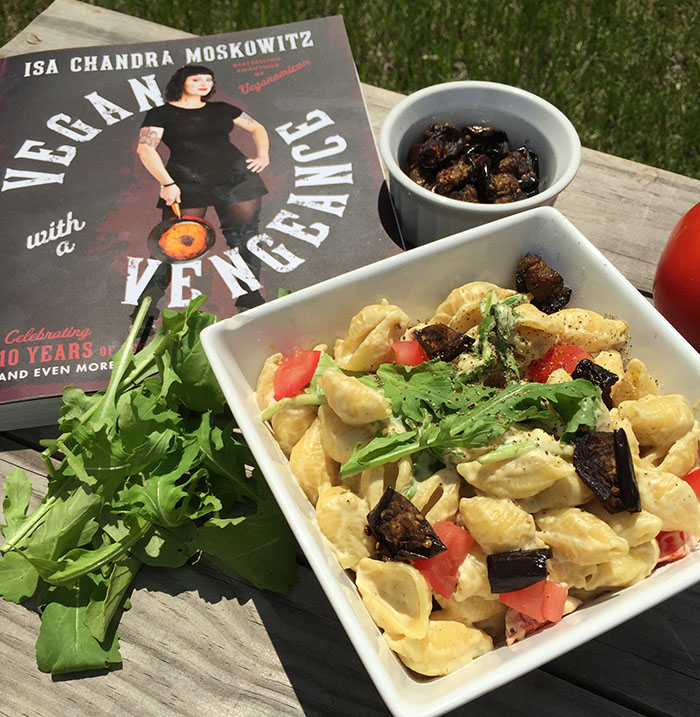 The recipe came together quickly and the cheeze sauce was so tasty I was slurping it up with a spoon before I even added it to the pasta!  The fresh tomatoes and spicy arugula pair perfectly with the creamy cheeze sauce. The pieces of smokey eggplant bacon that sneak into every bite really make this vegan mac and cheese dish extraordinary!
BLT Mac & Cheeze
Ingredients
For the Cheeze:
1 cup cashews, soaked in water for at least 2 hours or overnight
1 cup vegan vegetable broth
3 tablespoons nutritional yeast flakes
3 tablespoons freshly squeezed lemon juice
2 teaspoons Dijon mustard
2 teaspoons onion powder
Salt and freshly ground black pepper
For the BLT Mac:
8 ounces small shell pasta or macaroni (gluten-free, whole wheat, or any type)
4 cups baby arugula
2 cups halved cherry tomatoes (or chopped regular tomatoes)
1 recipe Eggplant Bacon (page 152)
To Make the Cheeze:
Drain the cashews and place with all the sauce ingredients in a blender or food processor and blend away until completely smooth.  Scrape down the sides with a spatula to make sure you get everything. Depending on the strength of your blender, this could take from 1 to 5 minutes.  Taste for salt and pepper, keeping in mind that you want it just a little saltier than you think because it's going to be poured over all of the other ingredients.
To Make the BLT Mac:
Prepare the pasta according to the package directions.  When the pasta is tender, drain it in a colander.  Immediately place it back in the pot you boiled it in and stir in the sauce.  Place the pot on low heat and stir for 3 minutes or so, until the sauce is thickened a bit and everything is deliciously creamy.  Taste for salt again.
Now toss in the arugula, tomatoes, and eggplant bacon, leaving a little extra aside to garnish, if you like.
Excerpted from Vegan with a Vengeance by Isa Chandra Moskowitz.  Reprinted with permission from Da Capo Lifelong, © 2015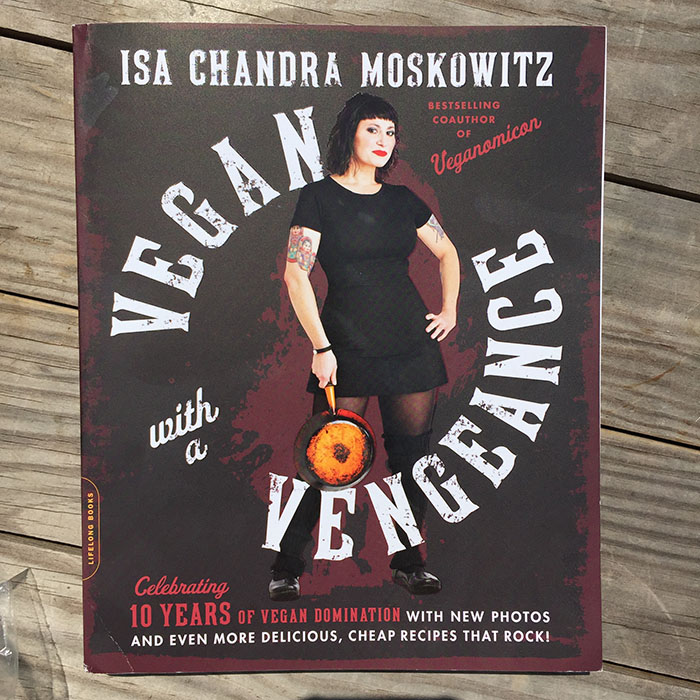 Like all of Isa's cookbooks, I found myself reading this from cover to cover because her witty personality really shines through in the text.  She's funny and talented and definitely someone I think is awesome. Plus you've got to love how Isa's cat Fizzle makes appearances throughout the book with nifty vegan foodie tips!
Next on my list to try from this cookbook:  White Bean and Roasted Garlic Soup, Banana Pecan Pancakes (seriously?), Apple Pie Crumb Cake Muffins, Buttery Lemon Cutout Cookies, Kitchen Sink Chocolate Biscotti, Banana Split Pudding Brownies, and No-Bake Black Bottom-Peanut Butter Silk Pie (hello, my new yummy future dessert).  I could keep going but those should keep me busy (and full) for now!
If you don't have Isa's newest book, Isa Does It, then I highly recommend picking up a copy of both of these books at the same time!  They are definitely worthy staples in any vegan cookbook library!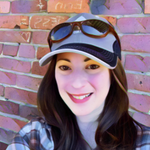 Nicole
Long time vegan living in upstate NY.  Web developer and founder of Vegan ShowOff.  She's addicted to ice cream and loves hiking, snowboarding, gardening, and travel.  Read more from Nicole!