So Delicious Dairy Free Barista Style Frech Vanilla Creamer Review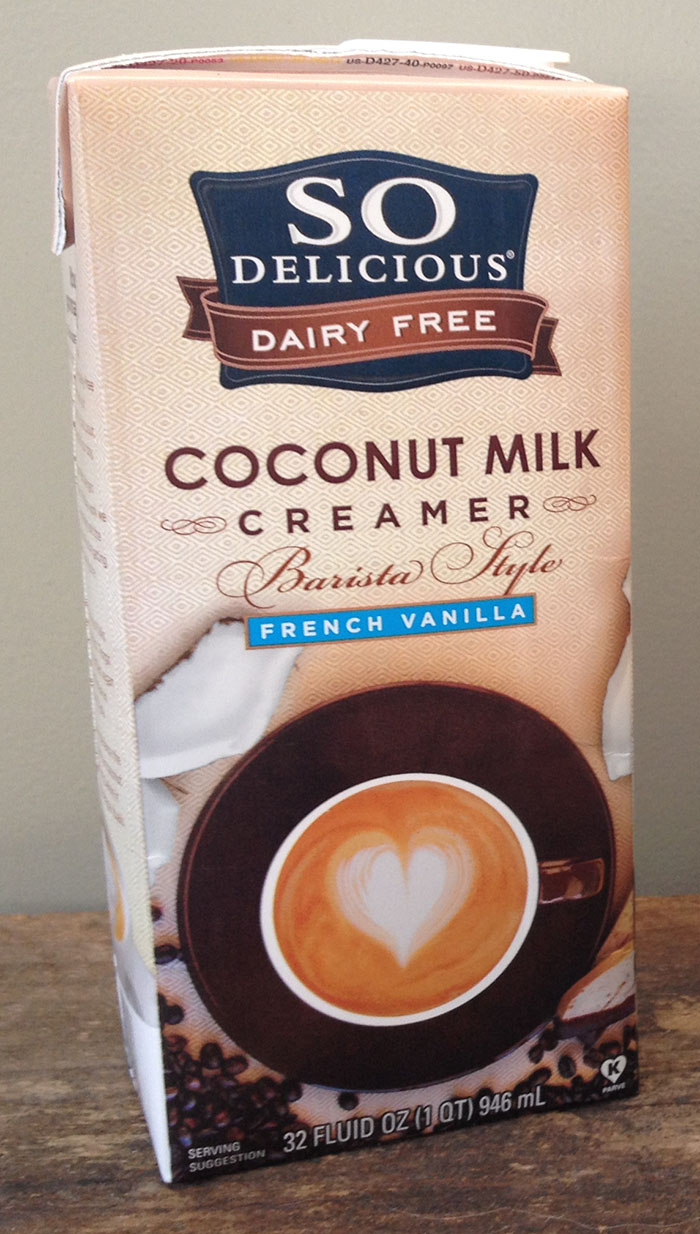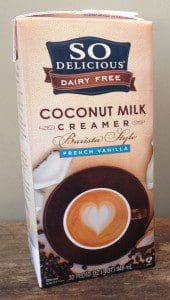 Product Name: So Delicious Dairy Free Coconut Milk Creamer
Product Description: A shelf stable coconut creamer that features organic coconut cream and a barista style finish.
Brand: So Delicious Dairy Free
Dietary Notes: Soy Free, Gluten Free, Non GMO, Nut Free, Organic Ingredients
Summary
I had high expectations for this "barista style" coconut milk creamer since I usually love So Delicious products, but it's just too sweet. Although the French Vanilla flavor and aroma is decent, I would only recommend it to people who like their coffee super, super sweet.
Community Rating:
( reviews)
So Delicious Dairy Free Coconut Milk Creamer Review
Oh boy I really, really wanted to like this product.  I love a ton of different So Delicious products so I wasn't thinking I would be disappointed at all.  I saw this in my local health food store and passed it up because I didn't need creamer at the time and it was wicked expensive (in my opinion).  In all fairness it's 32 ounces so it's probably not that much money since you're getting a lot of creamer.  I kept thinking about that fancy earth-toned barista style box of creamer though so when my mom asked if I needed anything from Healthy Living Market of course I said I wanted the creamer.  Plus she was buying so the "wicked expensive" thing didn't pertain!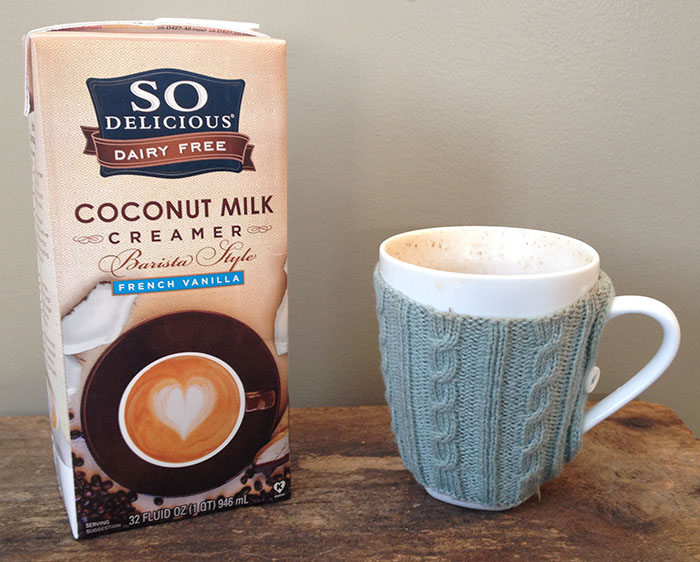 I love French Vanilla flavor so that's the one I wanted to try, and unfortunately, that will be the only one I will be trying.  I got all excited the next morning and even ignored my already opened Trader Joe's Soy Creamer so I could try the new one.  I did my normal coffee making routine which I won't bore you with (I will say it involves a french press and grinding coffee beans by hand though), and poured in the new fancy creamer.  Much to my dismay it curdled immediately!  Now I'm not going to take any stars off for that since that probably isn't a true representation of the product.  The expiration date was far off but it could have been subjected to some weird weather so I just went with it.
I only usually use a tiny bit of creamer in my morning cup (and no sugar), but this time I added my normal amount and it was still not lightening up like the Silk or Trader Joe's so I added a little more. Then I took a quick sip and holy sweetness!  My coffee now tasted like pure sugar and totally masked the actually flavor of my coffee.  The smell was really good though and the French Vanilla flavor was decent and prominent, but crowded out by the sweetness.  I thought maybe I just put too much in so I choked down that cup and decided to try again the next morning using way less.  Well, that's what I did and I barely used any and it tasted waaaay too sweet still, like not drinkable sweet.
So Delicious Dairy Free Barista Style Ingredients and Nutrition Facts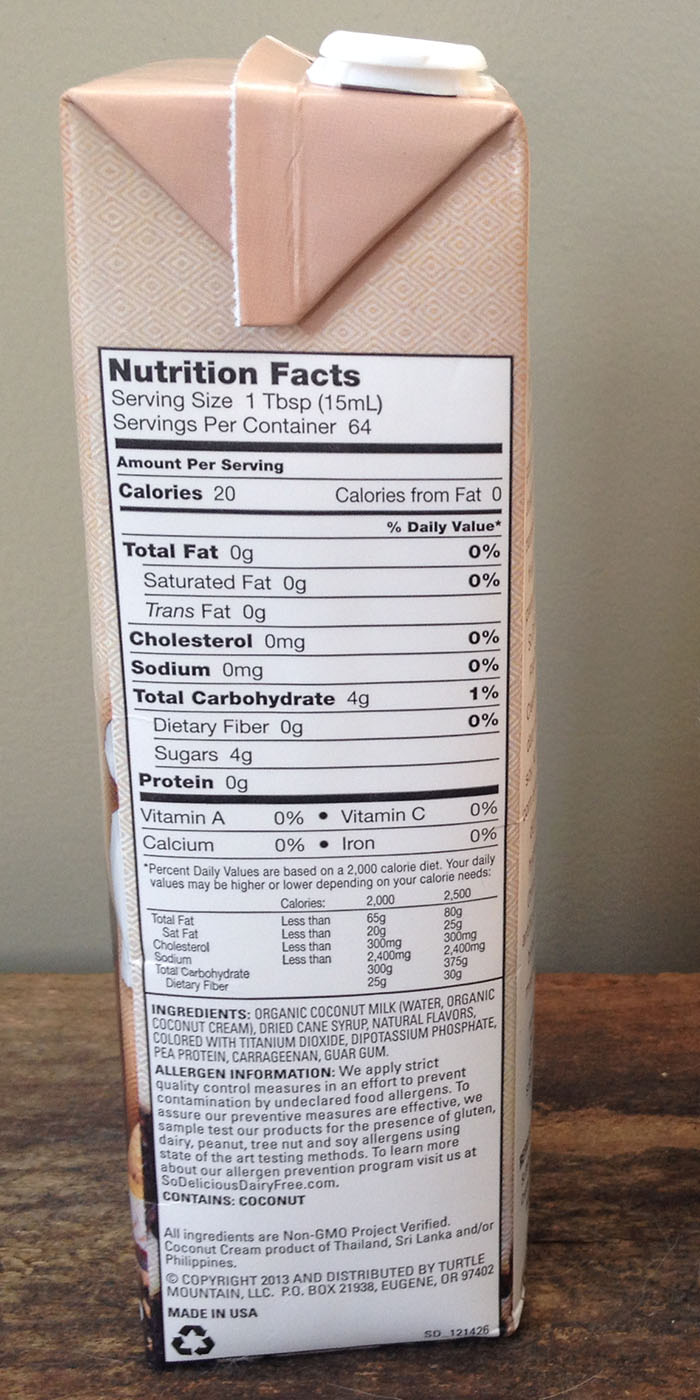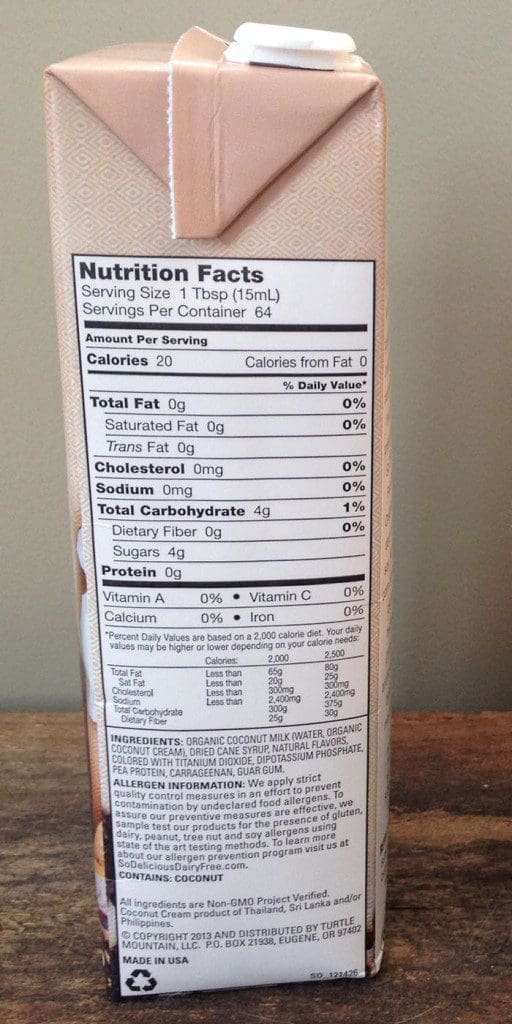 I don't know, maybe I got a bad batch or maybe it's just me because I'm not used to any sweetener in my coffee (although there is sugar as an ingredient in most of the other creamer brands I use).  It's not like I don't like sweet things or anything, I'm a cupcake addict after all!  This was just too sweet.  I was expecting thick and creamy coconut milk with a hint of French Vanilla, but nope : (
Is it just me or has any one else tried this and felt the same way?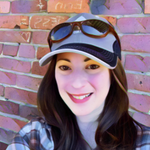 Nicole
Long time vegan living in upstate NY.  Web developer and founder of Vegan ShowOff.  She's addicted to ice cream and loves hiking, snowboarding, gardening, and travel.  Read more from Nicole!