Amy's Tofu Scramble Review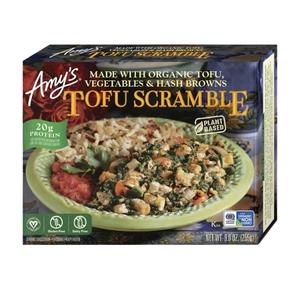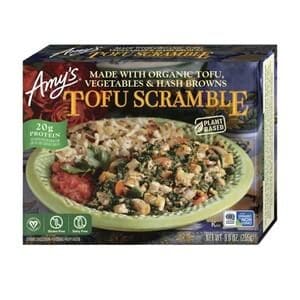 Product Name: Amy's Tofu Scramble
Product Description: A delicious plant-based scramble made with organic tofu and vegetables, served with a side of hash browns and tomatoes.
Brand: Amy's Kitchen
Dietary Notes: Dairy-Free, Vegan, Gluten-Free
Summary
I was really impressed with the flavor of Amy's Tofu Scramble.  The tofu had a great texture, and the veggies were nicely seasoned.  I would definitely recommend this dish to anyone looking for a delicious vegan breakfast option.
Pros
Comes with a side of hash browns and tomatoes.

The tofu is well-seasoned with a firm texture.
Cons
Sodium is on the high side at 34% (but lower than Trader Joe's Tofu Scramble)
Community Rating:
( reviews)
Amy's Tofu Scramble Review
When it comes to vegan breakfast options, tofu scramble is one of the most popular choices. And for a good reason – it's delicious, easy to make, and can be customized to fit your taste. So today, I'm sharing my review of Amy's Tofu Scramble.
Although Amy's Tofu Scramble has been available for quite some time, I only recently tried it for the first time. Why did I wait so long? I'll never know!
This vegan and gluten-free dish is packed with protein and flavor and makes a great breakfast, lunch, or dinner. 
This scramble is made up of generous portions of tofu, organic spinach, carrots, and mushrooms. There's also a side of hash brown potatoes and tomatoes, making this more of a complete, satisfying meal!
Amy's inner tray has separated the hash browns from the tofu scramble and diced tomatoes, making it a nice neat package. Also, if you don't want to eat the diced tomatoes or hash browns (who doesn't like hash browns?!), you can move them aside and dig in!  
The tofu is flavorful, but I think it really stands out because since it was frozen, it takes on a different consistency than non-frozen tofu once it's thawed. It's a bit firmer, so it doesn't simply fall apart and tastes delicious! 
Also, Amy's makes all of their tofu from scratch out of American-grown, non-GMO organic soybeans, so that's pretty impressive 😊
What is Tofu Scramble?
For those of you who aren't familiar, tofu scramble is a vegan-friendly dish made with tofu that has been cooked and crumbled to resemble the texture of scrambled eggs. You can add whatever veggies and seasonings you like to tofu scramble, making it a versatile and delicious meal that everyone can enjoy. Plus, it's a great way to get your protein in without any of the cholesterol from eggs.  
So if you're looking for a hearty yet healthy breakfast option, be sure to give tofu scramble a try! You can make your own or try this frozen Amy's Tofu Scramble meal. Trader Joe's even makes a decent frozen tofu scramble (check out our review on that)!
How to Prepare Amy's Tofu Scramble
It comes in a 100% recycled paperboard box. The internal container is encased in a plastic overwrap. You make a 1-inch slit in the overwrap, then microwave on high for 4 minutes, let it sit for 1 minute, and serve.
Although the package only has microwave directions, if you don't have a microwave or don't want to use one, you can also prepare it in a toaster oven or regular size oven. Remove the meal from the packaging first and place it into an oven-safe dish at around 350°F. If your container doesn't have a lid, I'd recommend covering it with aluminum foil so it doesn't dry out. Then, keep checking it every 10 minutes or so until it's thawed and thoroughly heated through (time will vary depending on your oven).
Serving Ideas
Although this tofu scramble is lovely all by itself, here are some other serving ideas you can play around with:
You could add a wrap or pita and make a breakfast burrito. Amy's actually sells a gluten-free 

Tofu Scramble Breakfast Wrap

 that's also vegan!

Add a side salad for lunch or dinner for a delicious low-calorie meal.

For a heartier meal, crumble a block of firm tofu and mix it in along with some extra seasonings like 

Bragg Liquid Aminos

 or 

fresh herbs

.

Splash on some of your favorite hot sauce for an extra spicy kick.

Add an English muffin or a slice of thick, healthy multi-grain toast to this meal to really fill you up!

Freshly sliced avocado with a drizzle of lemon juice and some cracked black pepper would totally liven up this frozen meal.
Where to Buy Amy's Tofu Scramble
This product is easy to find in the freezer section of larger chain stores. I found mine at Publix but have also seen it at Walmart, Target, and on Amazon in bulk.
How much does Amy's Tofu Scramble cost?
I paid $5.49 at Publix in South Florida, although I saw it slightly cheaper at Walmart ($5.14).
Amy's Tofu Scramble Ingredients & Nutrition Facts
The ingredients are Organic tofu (filtered water, organic soybeans, magnesium chloride), organic hash browns (organic potatoes, organic onions, organic extra virgin olive oil, organic garlic, sea salt, organic black pepper), organic diced tomatoes, organic spinach, organic zucchini, organic onions, organic extra virgin olive oil, organic mushrooms, organic carrots, sea salt, organic garlic, nutritional yeast, spices, organic black pepper.  See the package photo below for full nutritional details.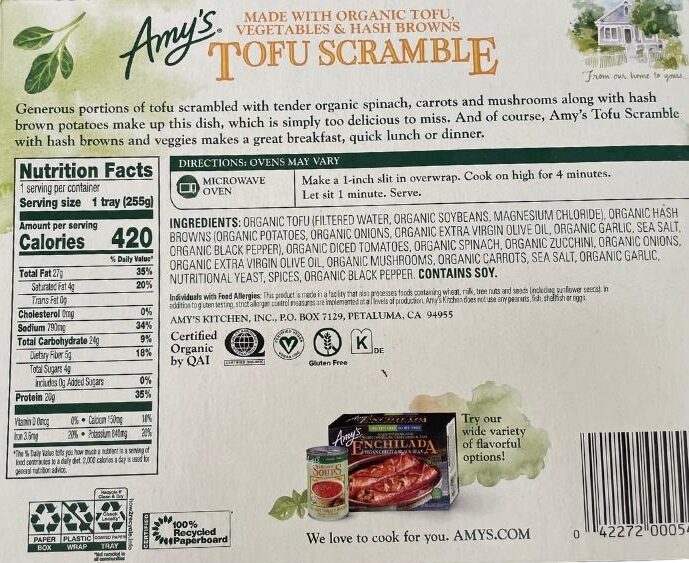 Would I buy this product again?
Absolutely 100% yes! Love this product and wish I bought more to have on hand for a quick, satisfying breakfast. If you've tried this Amy's Tofu Scramble, let us know your thoughts below!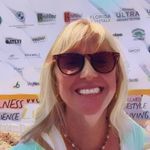 Sue
Sue's a lifelong horse lover living in beautiful South Florida.  She enjoys reading, cooking, shopping, and travel. Check out more from Sue!