Trader Joe's Vegan Brioche Loaf Review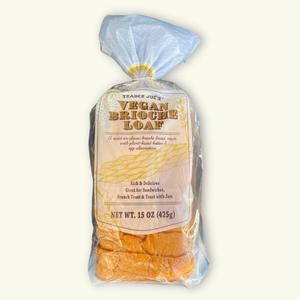 Product Name: Trader Joe's Vegan Brioche Loaf
Product Description: This vegan take on classic brioche bread is made with plant-based butter & an egg substitute.
Brand: Trader Joe's
Dietary Notes: Vegan, Dairy-Free, Egg-Free
Summary
I was really impressed with the flavor of this Trader Joe's vegan brioche loaf – it's very rich and slightly sweet without being too heavy.  The texture is also great – it's soft and fluffy but still has a nice crust.  Overall, I thought this was a great addition to the Trader Joe's lineup!
Pros
Rich flavor

Soft and fluffy texture

Thick slices

Cost $3.99 for a 15 oz (425)g loaf of brioche bread. As mentioned in other reviews, Trader Joe's continues to keep its prices fair.
Cons
Super processed, with a very long ingredient list.
Community Rating:
( reviews)
Trader Joe's Vegan Brioche Bread Review
If you're a fan of Trader Joe's, then you'll be happy to know that they've recently come out with a vegan brioche loaf!  This thick-sliced bread is perfect for toast or sandwiches and also makes a pretty stellar French toast.
I was really excited to try this bread, and I wasn't disappointed.  The brioche is soft and fluffy, with a slightly sweet flavor.  It's definitely one of the best vegan breads I've had (not counting fresh baked or homemade 😊).
The bread wrapper is transparent so that you can see the slices within.  The thick slices immediately made me think of French toast with maple syrup, yum!
What is brioche bread?
Brioche is a type of bread that's typically made with eggs and butter.  As a result, it has a rich, fluffy texture and a slightly sweet flavor.  Brioche is often used for breakfast foods such as French toast but can also be served as a dinner roll or used to make sandwiches.  Since brioche dough contains a high proportion of eggs and butter, it's usually not vegan.
Brioche bread originated in France, and it is still very popular there today.  In recent years, brioche has also become increasingly popular in the United States.  There are many different ways to make brioche, but most recipes share one key ingredient: lots of eggs!  This gives brioche its distinctive color and helps to create the bread's signature light, fluffy texture.  
Brioche can be found in most bakeries, but it can be tricky to make at home because the dough is very sticky, which makes it challenging to work with.   
Brioche is often baked in a brioche pan, which has a deep well that helps to create a traditional round shape.  The bread can also be formed into small brioches, which are individual rolls often served at breakfast or as an accompaniment to soup or salad.

If you don't have a Trader Joe's near you and want to try making vegan brioche yourself, here's a detailed recipe with great reviews.
Trader Joe's states their vegan brioche is "made with an ingeniously crafted plant-based butter that's derived from a mix of coconut oil, cocoa butter, and sunflower oil".  
Serving Ideas
It's wonderful as French toast made with 

Just Egg

 and a generous pour of maple syrup.

Try slicing it into cubes and baking it for delicious vegan croutons.

Use it as sandwich bread for a slightly sweet flavor. This bread makes a great open-faced sandwich because the slices are super thick and filling.

This brioche would make a tasty bread pudding…try it in this 

Maple Pecan Vegan Bread Pudding

 recipe from Connoisseurus Veg 💚.
Where to Buy Trader Joe's Vegan Brioche Bread
You can buy this Vegan Brioche Loaf at your local Trader Joe's store. 
How much does it cost?
One loaf at Trader Joe's is $3.99 and contains 10 slices of thick bread.
Trader Joe's Vegan Brioche
Ingredients & Nutrition Facts
The ingredients are unbleached enriched flour (wheat flour, niacin, reduced iron, thiamine mononitrate, riboflavin, folic acid, enzymes), water, sugar, plant-based butter (high-oleic sunflower oil, cocoa butter, coconut cream [coconut extract, water], coconut oil, natural flavors, water, sea salt, cultured dextrose [to preserve], sunflower lecithin, yeast, lactic acid, chickpeas), yeast, contains 2% or less of plant-based egg alternative (rice flour, soybean oil, cellulose gum, sodium bicarbonate, salt, annatto extract [for color], turmeric oleoresin [for color]), sea salt, canola oil, distilled white vinegar, glaze (pea protein, xanthan gum), wheat gluten, mono- and diglycerides (to preserve), cultured wheat flour (to preserve), sourdough culture (wheat flour, water, starter culture), xanthan gum, enzymes, turmeric oleoresin (for color), ascorbic acid (to preserve), paprika oleoresin (for color).  See the package photo below for the complete nutrition information.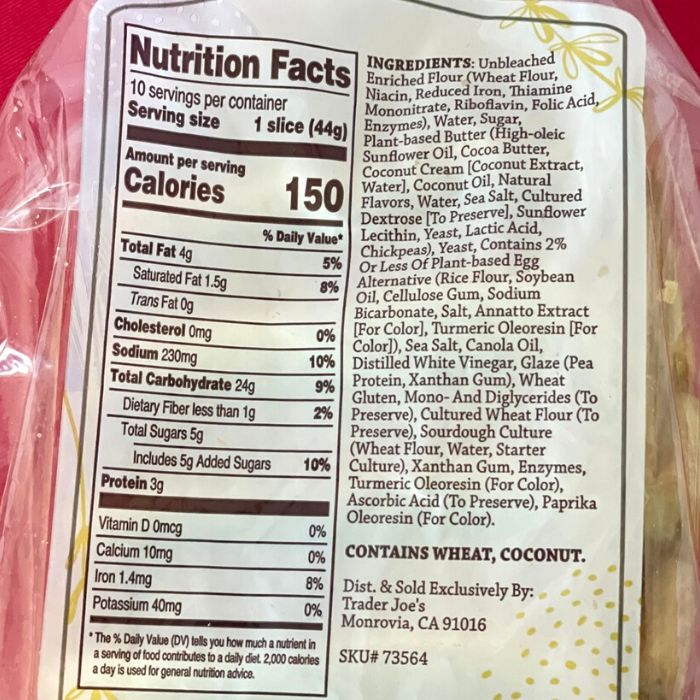 Would I buy it again?
Yes, I love the thick slices and rich flavor of this Trader Joe's vegan brioche bread, and I look forward to a long and lasting relationship 😆.  If you're looking for a delicious vegan brioche loaf, head to your local Trader Joe's and give this one a try!  You won't be disappointed.  If you've already tried this new brioche bread, let us know what you thought of it below!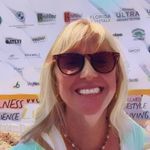 Sue
Sue's a lifelong horse lover living in beautiful South Florida.  She enjoys reading, cooking, shopping, and travel. Check out more from Sue!