V-Dog Peanut Butter Wiggle Biscuits Review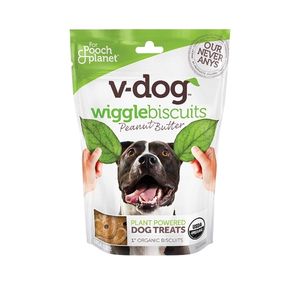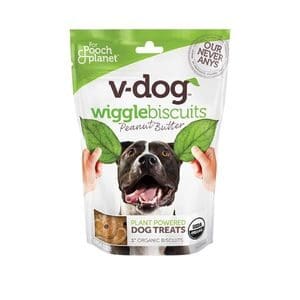 Product Name: V-Dog Wiggle Biscuits - Peanut Butter Flavor
Product Description: USDA Organic plant-based and grain-free dog treats packed with banana, flax, peanut butter and coconut oil.
Brand: V-Dog
Dietary Notes: Gluten Free, USDA Organic, Soy Free, Corn Free, Grain Free, Made in USA
Summary
V-Dog Peanut Butter Wiggle Biscuits are high quality, delicious USDA Organic dog treats. They are 100% plant based and made with super high quality natural ingredients. My dog Archer loves these bite-sized vegan dog treats as much as I love giving them to him!
Community Rating:
( review)
V-Dog Peanut Butter Wiggle Biscuits Review
My favorite dog food company, V-Dog, just came out with some organic dog biscuits that Archer loves!  These Wiggle Biscuits are small, bite-sized treats that are 100% USDA Organic.  Archer was trying to rip into the box when they were shipped to me because he obviously smelled pure deliciousness inside.  It was pretty much impossible to get him to take the photo with the vegan dog treats since he wanted to dig right in!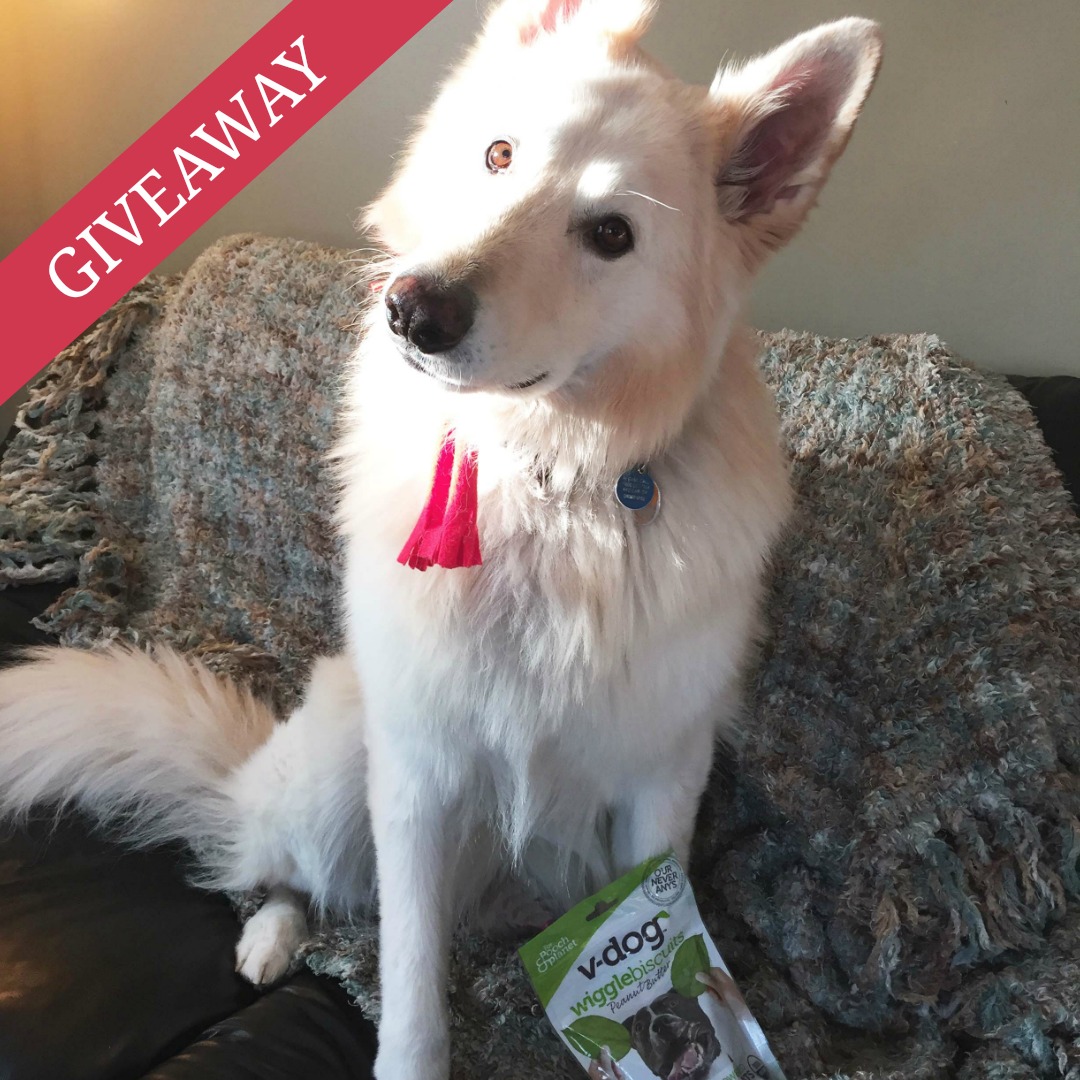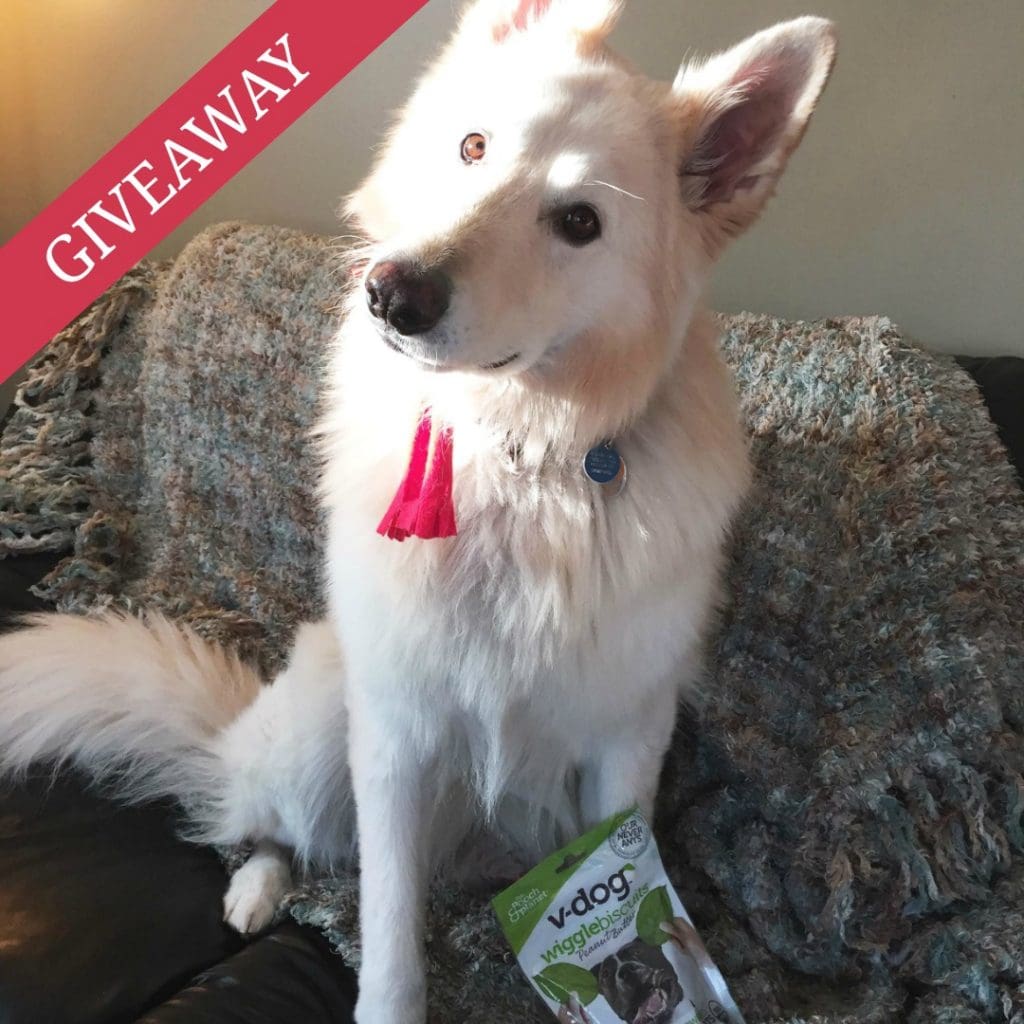 Archer actually had a health problem since he was a puppy with random bouts of diarrhea that the vet had diagnosed as anxiety.  They would last a week or sometimes more and would keep both of us up all night letting him out.  We had tried every brand of food under the sun, but the bouts would still occur regularly, so we figured the vet was right and it was anxiety.  We initially tried the V-Dog kibble because I had gone vegan the year before and I just didn't feel great about feeding Archer animal-based food with sketchy ingredients anymore.  My boyfriend and I did a bunch of research before discovering V-Dog and we liked what the company stands for and that it's made in the USA.  We were just hoping he would like the kibble since he's a super picky boy!  Well he loved it right away and still gets excited every time we get a shipment!  About a few months after Archer had been eating the V-Dog kibble, we noticed that he hadn't had any diarrhea bouts since he started it!  I was hoping that it wasn't just coincidence so I kept my fingers crossed for a while, but by now I can confidently say that the V-Dog cured him of his tummy problems!   He is now 6 and has been eating V-Dog for over 2 years and has been tummy-trouble free since the first bag!  That's why when V-Dog approached me to do a review and giveaway of their new Wiggle Biscuits, I was super excited since I was already a long-time customer and familiar with the company.
So as far as these Wiggle Biscuits go, they are definitely his favorite organic dog treats!!! I was tempted to try one myself actually : )  I know they are 100% vegan and made with super high quality ingredients like peanut butter, banana, coconut oil, and flax.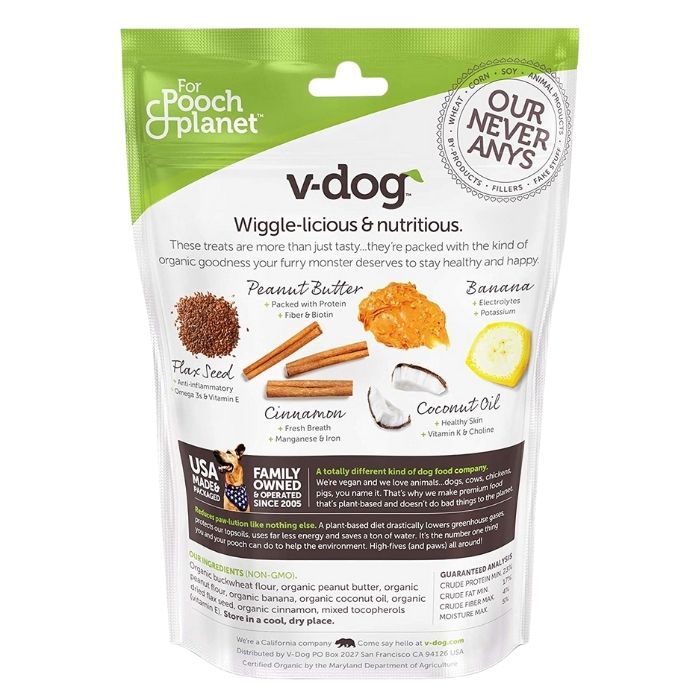 Every batch is definitely made with love. All of their products are high quality and my dog loves their Breath Bones treats as well! I have never seen my dog act as excited about treats as he does about the treats from V-Dog!  I have always been committed to providing my dogs with the best possible experiences and making the healthiest choices for them when it comes to nutrition. We all want our dogs to be around forever, and I do everything I can to provide my dog with the best quality of life.  I love to reward my dog with good things and that's why I choose V-Dog products! Win your furry friend a bag of V-Dog Wiggle Biscuits by entering the giveaway below (giveaway open to continental US residents only).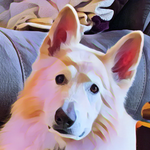 Archer
An expert in plant-based kibble, Archer resides in upstate NY.  He loves frolicking in fields, barking at the UPS truck, long naps, and snuggling with his companions.  Read more from Archer.