As a vegan, having a well-stocked pantry full of nutritious and affordable vegan staples is essential. Having the right ingredients makes it so much easier to whip up vegan meals and recipes quickly! Just add fresh (or frozen) fruits and veggies to these shelf-stable foods, and you have the foundation for an unlimited number of nutritious plant-based meals.
Whether I'm cooking up something special or just throwing together a quick weeknight dinner, having the following go-to ingredients in my pantry is key!
1.  Beans & legumes
Not only are beans and legumes incredibly high in protein and fiber, but they're also super affordable. They come dried, so they last practically forever, and you can cook them up quickly with whatever veggies you have on hand. Of course, if you don't feel like cooking them yourself, there are plenty of canned bean options.
I like to keep a variety of canned and dry beans, lentils, split peas, and refried beans around. Plus, some canned vegan chili for quick and easy nachos!
2.  Nutritional yeast (nooch)
Nutritional yeast is deactivated yeast packed with nutrients like B vitamins, folic acid, protein, and trace minerals. I always keep nutritional yeast in my pantry – it's super versatile! It's also referred to as 'nooch' or vegan Parmesan, and it has a unique cheesy flavor that makes it perfect for adding depth of flavor to vegan dishes.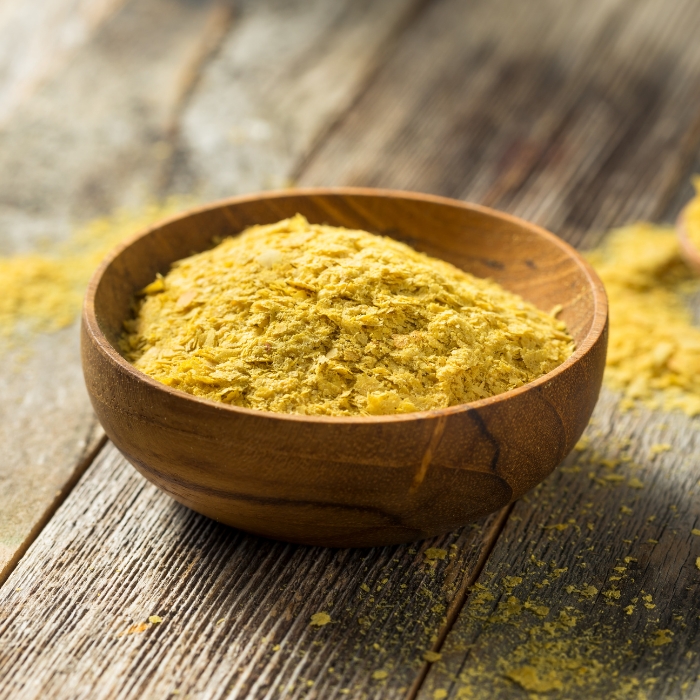 3.  Soy sauce, tamari, or liquid aminos
These vegan-friendly sauces are all great options to bring some umami flavor to plant-based dishes. Soy sauce is a classic, but I typically buy tamari, the Japanese version of soy sauce. If you're gluten-free, it's good to keep alternatives like Braggs Liquid Aminos and Coconut Aminos on hand for adding to homemade dressings and tofu marinades.
4.  Peanut butter or other nut butters
Nut butters are incredibly versatile, acting as delicious spreads and cooking ingredients in their own right. I'm an absolute nut butter fanatic, so I'm always exploring the different varieties available. Peanut butter was one of my first loves and a staple in my childhood. What's really cool about nut butter is that there's such a wide range of options available. From walnut and cashew to sunflower seed and even pecan, so many unique flavors are waiting to be sampled! I've recently been into the brand Nuttzo, and I've tried a bunch of their different nutter butter spreads. My favorite is their Power Fuel Crunchy kind!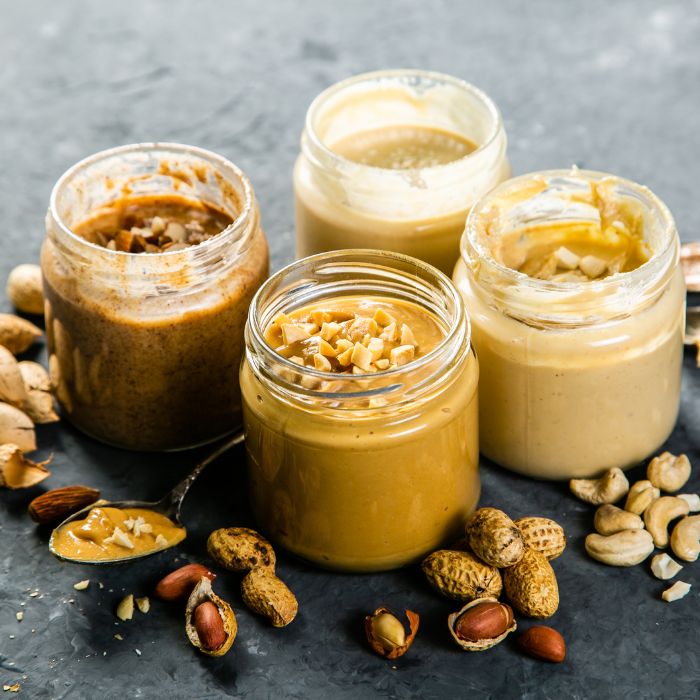 5.  Shelf-stable plant milk
I always keep a container or two of shelf-stable plant milk in my pantry. These are the aseptic boxes of all different kinds of plant milk you can find on grocery store shelves (not in the refrigerated section). These are great to keep around when you want to whip up a batch of creamy mashed potatoes or make a smoothie. I consistently buy Edensoy Original Unsweetened Soy Milk and Almond Breeze Unsweetened Almond Milk. The almond milk is great in smoothies, but I prefer the Edensoy in most cases because it's creamier, and the only ingredients are soybeans and water!
6.  Extra virgin olive oil, coconut oil, and avocado oil
While all cooking oils have unique benefits and drawbacks, extra virgin olive oil, coconut oil (refined and virgin), and avocado oil are among my top options. My all-time favorite oil is extra virgin olive oil; it brings a depth of flavor to each dish, whether you cook with it, dip crusty bread into it, or use it in salad dressings.
Depending on the type you select, coconut oil can add a lot of flavor to your food. Choose virgin coconut oil if you're looking for a healthier option. However, it does have that signature coconut flavor and smell. Opt for refined coconut oil if you're cooking in high heat or don't want a coconut flavor. Avocado oil is also pretty tasty and good for cooking with high heat. All three of these high-quality oils enhance every meal I create, making them essential additions to my pantry.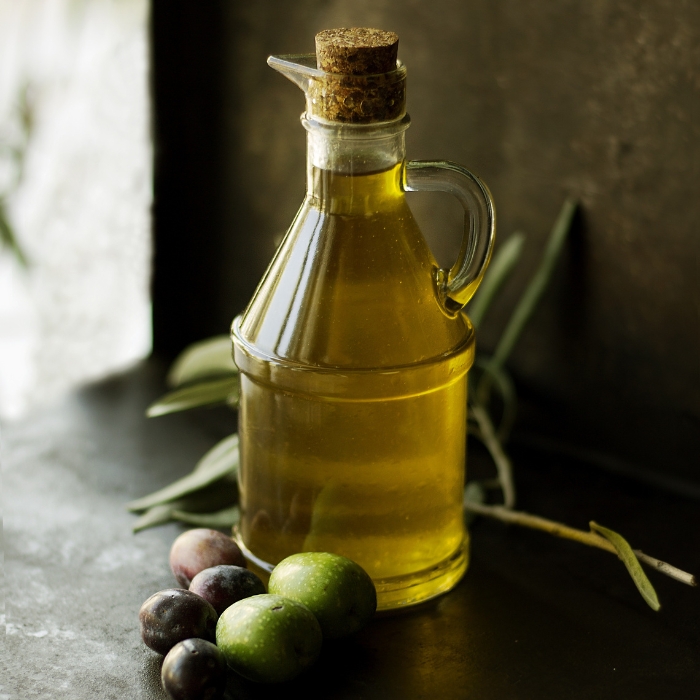 7.  Pastas 
I'm a huge pasta fan (I'm Italian, so it's in my genes!). So you will always find a box of angel hair, ziti, or rigatoni in my cupboard. Although definitely not Italian, couscous is another kind of pasta I usually keep around.
Even though gluten-free pasta can sometimes taste a little different than traditional ones, I like to keep some gluten-free high-protein pasta on hand, too, since they tend to have higher nutritional benefits than traditional wheat pasta.  
Whatever type of pasta you choose, it's always good to keep some in your pantry since their shelf life is pretty long. Plus, there's always something delicious to make with pasta!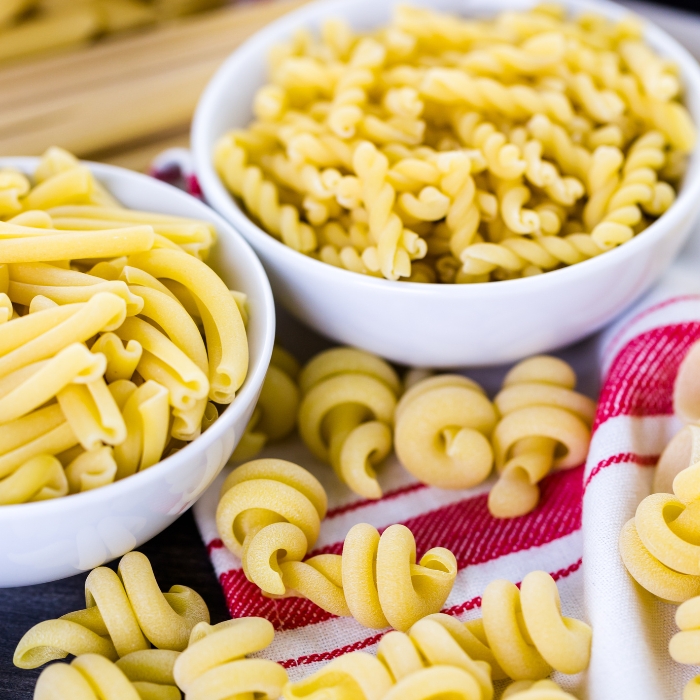 8.  Rices, quinoa, millet, couscous, and grain mixes
I love trying out new kinds of rice and grain mixes! For example, brown rice has a rich, nutty flavor that adds depth to any veggie stir-fry. But I also like using other options such as wild rice, quinoa, or millet. All have unique flavors and textures that help brighten up a dish.
My go-to dinner is usually rice with vegetables and tofu. Although, if I'm really busy, I'll opt for a pre-seasoned box of rice, couscous, or quinoa. I like to keep a few of these on hand since they are inexpensive, and I usually don't need to add any extra seasonings to them. They're a great way to get dinner on the table fast while still being super flavorful. Just add a protein and some steamed veggies and call it a meal!
9.  Nuts (especially cashews), or whatever nuts you prefer
Although I rarely grab a handful of nuts and eat them plain, I always have a bag of raw cashews around for making creamy vegan sauces and cheeses. I also like to keep some slivered almonds in my cupboard for salad toppings. You'll want to keep around whatever nuts you'll think you'll eat…although if you plan to experiment with vegan cooking, you should at least buy some raw cashews (don't buy the roasted kind if you plan on blending them into cheese or sauces).
Pro tip:  To save money, buy raw cashew pieces in bulk instead of whole or half cashews if you think you'll just be using them for making creamy sauces, cashew milk, and dressings.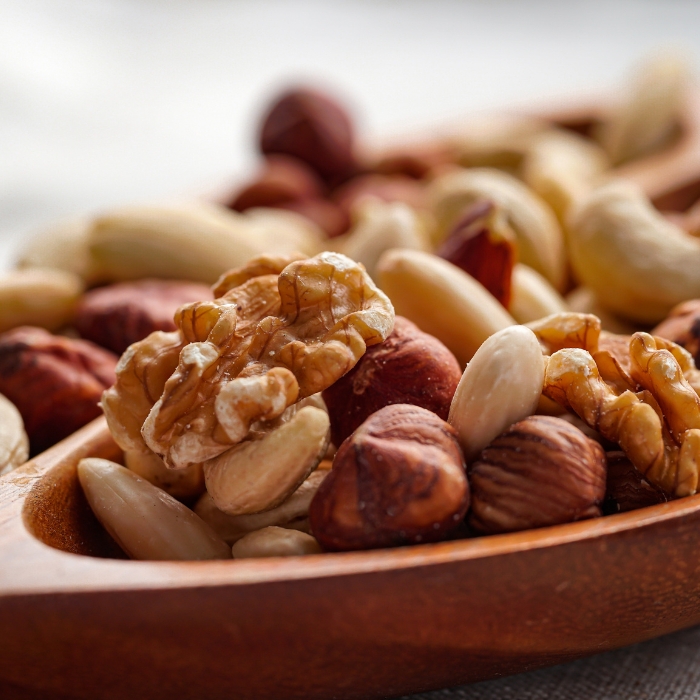 10.  TVP or soy curls
TVP is textured vegetable protein. It comes dehydrated and is usually relatively inexpensive, especially if you buy it from the bulk bins. You rehydrate it and use it in place of ground beef in tacos, chili, sloppy joes, or other "meat" sauces.  
Soy curls are a similar idea, only they mimic little chicken strips, so they are best used as a replacement for chicken in stir-fries and other recipes. TVP and soy curls are both high in protein and fiber. Plus, they are great vegan protein options for camping since they're super lightweight!
11.  Shelf-stable tofu
As a tofu enthusiast, I love the convenience of shelf-stable tofu. Since it doesn't need to be refrigerated, I don't need to worry about it going bad before I get to making something with it. In addition to being easy to store, this unique form of tofu holds its silky texture even after opening it.  
I usually use this type of tofu in recipes where you blend the tofu like chocolate silk pie, vegan sour cream, and creamy dressings. The most popular brand is Mori-Nu, and they make a lot of different types. However, I usually buy the firm or extra firm in bulk on Amazon since it can be hard for me to find locally. Plus, their website has a lot of recipe ideas if you need help with how to use this unique form of tofu!
12.  Veggie broth or bouillon cubes
I keep a good supply of both vegetable bouillon cubes and veggie broth on hand at all times. Veggie broth is the perfect ingredient for adding flavor and depth to various dishes such as soups, stews, sauces, grain dishes, and more.  
Sometimes when it's cold outside, and I'm craving something warm and comforting that's not a full meal, I'll cut one of my favorite bouillon cubes in half (the Not-Chick'n ones by Edward & Sons), boil some water in the kettle, and whisk it together in a mug instead of drinking tea. Sometimes I'll add some cubes of raw tofu to the mug as a snack if I'm a little hungry!
If you're trying to reduce your oil intake, you can also sautee veggies in a little bit of low-sodium veggie broth instead of using oil.
13.  ACV, rice vinegar, and balsamic vinegar
Some people like to drink apple cider vinegar (ACV) straight-up for different health reasons, but I'm not a big fan of the flavor. So if you do this, buy the ACV with the "mother" in it, like Bragg's ACV. I always keep some around to use in recipes, along with rice vinegar (my fave) and a good quality balsamic vinegar for making quick salad dressings.
14.  Jars of roasted red peppers, olives, hearts of palm, artichoke hearts, or capers
Keeping jars of roasted red peppers, hearts of palm, olives, and capers on hand in my pantry is a must-do. They are all ingredients that can instantly zest up any dish and make it way more exciting. Roasted red peppers add a smoky depth to any pasta or salad. They also make a delicious vegan nacho cheeze dip when blended with cashews, lemon juice, and nooch. The hearts of palm I usually eat right out of the jar, and I typically keep a small jar of capers around for making vegan caesar dressing!
15.  Flax seeds, chia seeds, or powdered egg replacer
Both flax and chia seeds are packed with omega-3 essential fatty acids and are perfect for adding a nutritional boost to salads and smoothies. I keep both of these around because they are great egg substitutes in vegan cooking and baking. To make a chia or flax egg, mix 1 tablespoon of chia or ground flax with 3 tablespoons of water and let sit for about 10 minutes. Chia and flax eggs make a perfect binder for homemade veggie burgers or veggie loaf recipes. 
Keep a commercial powdered vegan egg replacer in your pantry as well (this vegan egg replacer by Ener-G Foods has been around forever and is pretty tried and true, and Bob's Red Mill makes a similar product).
16.  Hemp hearts, sunflower seeds, or pumpkin seeds
I love having my vegan pantry (or kitchen cupboard) stocked with hemp hearts, sunflower seeds, or pumpkin seeds. These tiny, nutty-tasting superfoods are incredibly healthy and nutritious; they are packed with vitamins, minerals, omega-3 fatty acids, and plant proteins!  
Hemp hearts are my favorite and can easily be added to salads, smoothies, oatmeal, or baked goods for extra flavor, texture, and nutrition. Sunflower seeds and pumpkin seeds make a great snack on their own or as an addition to salads, trail mix, or homemade granola bars – anything that needs a crunchy boost of nutrition! Keeping these types of seeds on hand is an easy way to add more nutritional variety to my meals.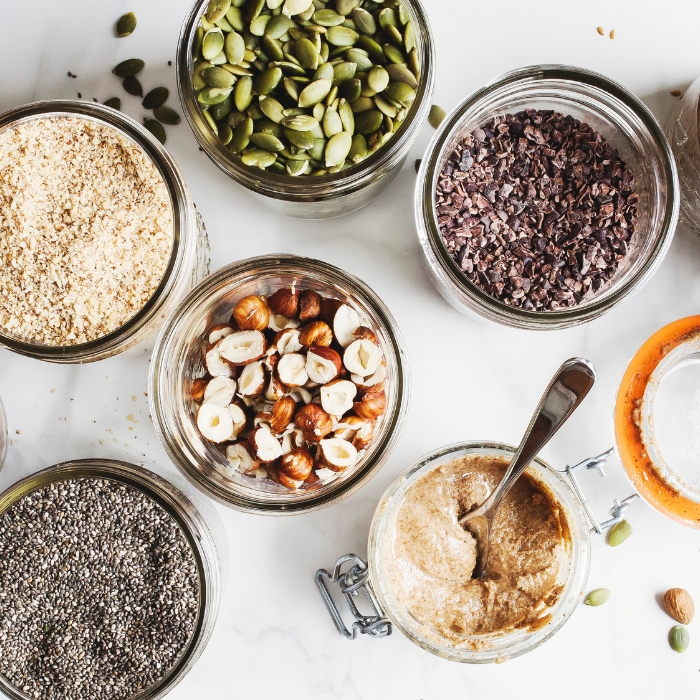 17.  Spices, herbs, and spice mixes
It probably goes without saying that you should have a variety of spices around if you plan on doing any cooking regularly. At a minimum, if you are starting to stock your vegan pantry with basic spices, I suggest garlic powder, onion powder, curry powder, thyme, kala namak (for eggy flavor), and a general taco seasoning. Also, it's worth it to splurge on organic, higher-quality spices because I've noticed a big difference in flavor, purity, and freshness!
18.  Maple syrup, agave, or vegan honey
My liquid sweetener of choice is definitely maple syrup! I live in an area of the US where real maple syrup is a big thing and pretty abundant. It's still expensive, but a little bit goes a long way!
If maple syrup isn't your thing, agave syrup is an excellent low-glycemic option and perfect for baking.  
If honey is usually your preferred liquid sweetener, then definitely try some of the vegan honeys on the market (no, I'm not talking about vegan dating 😆). I'm talking about some of the delicious vegan honey alternatives being sold, such as BlenditUp's Organic Bee Free Vegan Honey and The Single Origin's Un-Honey!
19.  Organic oats
As someone who loves to cook and bake, I'm always well-stocked with organic oats. This heart-healthy and versatile grain has many uses, ranging from sweet treats like oatmeal cookies to savory creations like veggie burgers. I tend to stick to buying organic oats as much as possible since conventionally grown oats have been linked to high levels of glyphosate (the active ingredient in the herbicide Roundup).
Try my homemade vegan dog treat recipe that features oats as one of the main ingredients!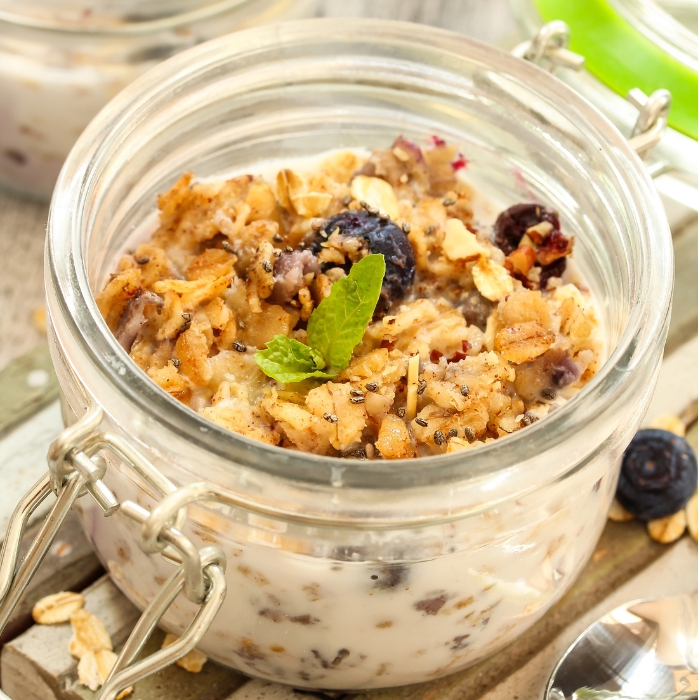 20.  Premade shelf-stable foods like boxed vegan mac and cheese, canned soups, etc.
I always like to keep a few boxes of Annie's Vegan Mac and canned vegan soups around for days when I'm in a rush or not up to cooking something elaborate. It's easy to make a quick box of vegan mac and cheese and then add whatever beans, veggies, or tofu I have on hand.  
It's definitely more expensive to buy canned soups as opposed to making your own…but the reality is that I don't always have the time to make everything from scratch, so I keep some of these items around for the convenience factor!
21.  Canned unsweetened coconut milk 
I make sure there's always a can of unsweetened coconut milk in my pantry! Not only is it shelf-stable and super convenient, but there are so many unique dishes you can make with it. I love the richness it adds to curries, soups, and stews and how well it works as a non-dairy alternative for making creamy sauces. One of my favorite uses for coconut milk is to make homemade coconut whipped cream with it! Plus, having some canned coconut milk handy ensures I'm never stuck when a recipe calls for this ingredient – being prepared has saved me more than once!
22.  Jarred marinara sauce and tomato paste
I always like to make sure that I have a few jars of marinara sauce and some tomato paste in my vegan pantry. These come in handy when it's time to whip up a delicious Italian dish.
The umami flavor from tomato paste adds richness to soups, casseroles, and sauces. Buy the tomato paste in a tube if you can find it. This has been a game changer since I used to open up a can of tomato paste and use only a tablespoon or two for a recipe. I would freeze the rest of the can, but then I'd forget it's in the freezer. The tube is just so much easier!
23.  Tahini
This wonderfully creamy, nutty condiment is a great way to add flavor and nutrition to many dishes. It makes everything from hummus to salad dressings much more delicious. Also, it packs some healthy fats, minerals, and protein into whatever I'm making. Plus, its shelf life is surprisingly generous!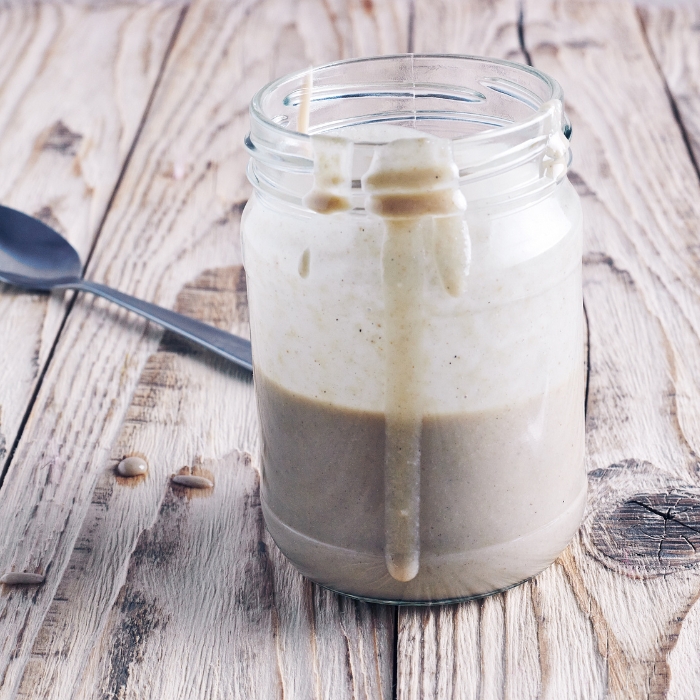 24.  Protein powder 
I usually keep a bag of my favorite vegan protein powder around to add to my smoothies. I love the taste of it (the chocolate kind, of course!), and it also has added probiotics as a bonus. High-quality protein powders are costly, and unless you're a vegan bodybuilder or athlete, you shouldn't need to use them daily. I only add it to my smoothies when I'm having one as a meal replacement because adding the protein powder keeps me full longer than if I make a smoothie without it. Plus, it tastes like a chocolate milkshake! My go-to smoothie is just some frozen banana, one cup of plant milk, a teaspoon of nut butter, and a scoop of chocolate protein powder!
25.  Cocoa or cacao powder, chocolate chips, or chocolate syrup
I'm a big fan of chocolate, so it's no surprise that I always have cacao powder, chocolate chips, or chocolate syrup in my pantry. Having any of these items on hand means I can quickly satisfy my sweet tooth when the moment strikes. With cacao powder and a few other basic ingredients, I can make a homemade hot cocoa mix, chocolate "nice cream", avocado mousse, or many other healthy desserts. 
Chocolate chips are ideal for baking or popping in my mouth when I want chocolate but not a whole dessert. Keeping all the different forms of chocolate stocked in my vegan pantry means I always have some way to indulge my cravings!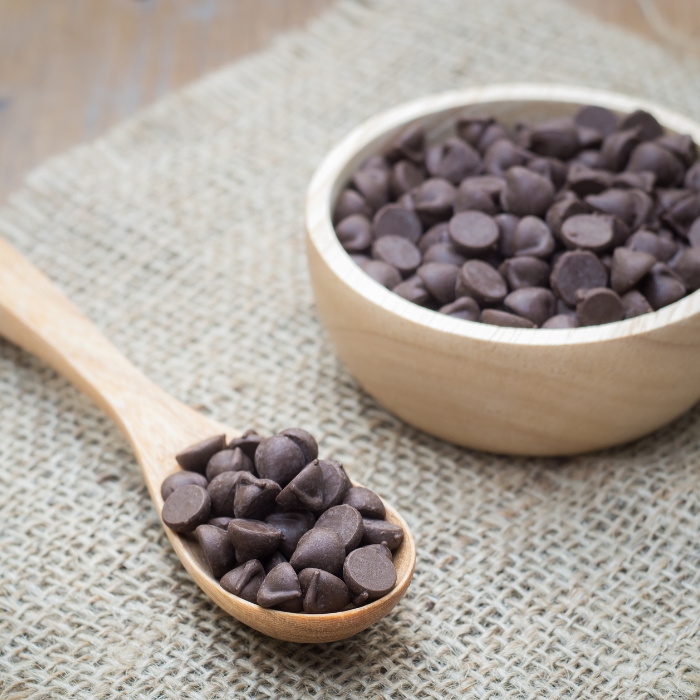 The Recap
If you keep these core vegan pantry staples on hand, the combination of meals and recipes you can make is only limited to your imagination.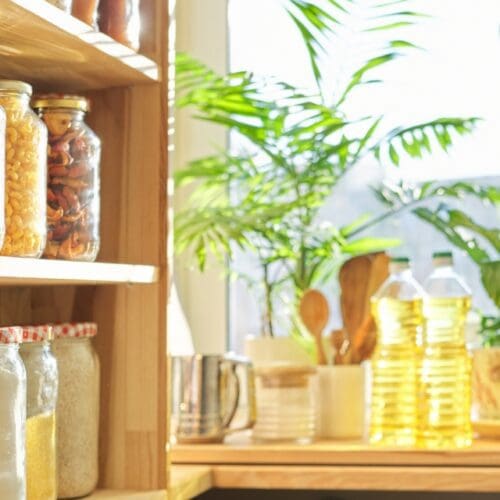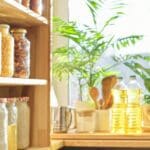 Print
25 Affordable and Nutritious Vegan Pantry Staples
A printable shopping list of 25 vegan pantry staples.
Notes
Beans & legumes

Nutritional yeast (nooch)

Soy sauce, tamari, or liquid aminos

Peanut butter or other nut butters

Shelf-stable plant milk

Extra virgin olive oil, coconut oil, and avocado oil

Pastas

Rices, quinoa, millet, couscous, and grain mixes

Nuts (especially raw cashews), or whatever nuts you prefer

TVP or soy curls

Shelf-stable tofu

Veggie broth or bouillon cubes

ACV, rice vinegar, and balsamic vinegar

Jars of roasted red peppers, olives, hearts of palm, artichoke hearts, or capers

Flax seeds, chia seeds, or powdered egg replacer

Hemp hearts, sunflower seeds, or pumpkin seeds

Spices, herbs, and spice mixes

Maple syrup, agave, or vegan honey

Organic oats

Premade shelf-stable foods like boxed vegan mac and cheese, canned soups, etc.

Canned unsweetened coconut milk

Jarred marinara sauce and tomato paste

Tahini

Protein powder 

Cocoa or cacao powder, chocolate chips, or chocolate syrup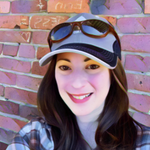 Nicole
Long time vegan living in upstate NY.  Web developer and founder of Vegan ShowOff.  She's addicted to ice cream and loves hiking, snowboarding, gardening, and travel.  Read more from Nicole!