What's in your vegetable crisper? Hopefully, some kale, spinach, or other leafy green.  You know you should eat more of them.  Leafy greens are packed with nutrition.  Few foods pack as many nutrients into each calorie as greens.  When you bite into greens like spinach, kale, and Swiss chard, you get vitamins, minerals, fiber, and antioxidants.  Unfortunately, most people don't eat enough of them. If that's you, you just need some inspiration.
Although there's no wrong way to eat leafy greens, let's look at some ways to add more of them to your plate and make it easier to do so.  One serving of leafy greens means 1 cup of raw chopped spinach or kale or a half cup of cooked greens.  Aim for one or two servings per day, along with a variety of other non-starchy vegetables in various shades.
1.  Make Eating Greens More Convenient
One reason you might not eat more leafy greens is that you don't like the prep.  Why not add frozen leafy greens to the mix?  Frozen vegetables are available year-round and often cost less than fresh varieties.  They're convenient if you're on a tight budget, and you can stock up when they go on sale.
Would you believe frozen greens may be better for you than fresh?  Fresh vegetables lose some nutrients when stored and transported, so it makes sense to choose frozen if you want the most nutritious food available.  Freezing leaves more nutrients intact than other preservation methods, since heat destroys enzymes and vitamin C.  Manufacturers freeze vegetables right after harvest when their nutrient density is highest, and the cold temperature prevents further nutrient loss.  So, check out the freezer section!
Pro tip:  We've all bought fresh leafy greens with the best intention of eating them before they go bad.  If you find your spinach is about to go limp or you bought more greens than you can use up in time, then give them a quick wash and throw them in a ziplock bag and into the freezer.  You can also blend them with a tiny bit of water and freeze them in ice cube trays, storing them in baggies once they are frozen.  These frozen cubes are ideal for throwing into smoothies or soups and stews!
2.  Add Green, Leafy Veggies to a Smoothie
Leafy greens are a natural for smoothies, and you can choose from a variety of greens.  Baby greens are an excellent choice since they tend to be sweeter.  If you're using fresh greens, tear the leaves off the stems or strip the stems off entirely using a knife.  The latter method is usually faster and easier.  Add some fruit to your smoothie recipe for sweetness and flavor.  Strawberries and bananas are common choices for sweet smoothies, but you can use any fruit that you enjoy raw.  A cup of frozen berries is a good starting point for most recipes, but adjust the quantity depending on how sweet you like your smoothies.  The fruit will mask the taste of the greens and add natural sweetness.  Plus, fruits are loaded with nutrients.
3.  Add Leafy Greens to Sauces and Dips
A sneaky way to add more greens to foods is to puree leafy greens, like spinach or kale, in a high-powered blender with other ingredients like tahini, lemon juice, and spices to make tasty dips and spreads. Homemade sauces and spreads are better for you than store-bought ones too.
4. Use Greens Powders
If you're traveling, in a rush, and don't have the time to make sure you get in your leafy greens, or if you're just super averse to eating green things, you can always turn to a high-quality greens powder to supplement your greens intake.  There are quite a few on the market these days.  Be sure to look for powders that are organic and free of sweeteners such as this raw, organic juiced greens powder.  They usually have an acquired taste, so you may have to mix them into a smoothie or some juice to find it palatable for you (or you can just plug your nose and chug it 😆).
5.  Explore New Recipes and Ways to Use Leafy Greens
Explore new recipes, but also look for opportunities to add greens to the foods you already prepare.  Add leafy greens to soups, stews, sandwiches, and wraps.  If you're adventurous, you can even puree greens and add a little to baked goods for more nutrition.  Here are some other ideas:
Sautéed leafy greens:  Add them to a stir-fry for extra nutrients or incorporate them into any sauté or stew for a nutritional boost.
Rolled leafy greens:  This is most easily done with collard greens.  Choose medium or large leaves that are firm, with no brown spots. Blanch the leaves in boiling water until tender but not too delicate, then fill the center with your protein and veggie mixture of choice.  Some filling ideas are tofu scramble, rice and beans, or a vegan ground meat substitute and sauteed veggies.  You could also use any leftovers you may already have hanging out in the fridge for this!  Roll tightly like you would a burrito.  Here's a great tutorial and recipe if you need some inspiration or a demo on how to do this.
Raw leafy greens: Use raw in any salad recipe–spinach is excellent for pasta salads. Add them to sandwiches, veggie burgers, and wraps.
Pizzas and flatbread – Throw a large handful of arugula or spinach on top of a homemade or frozen pizza or flatbread before cooking to sneak in an extra dose of greens!
6.  Try Out Different Types of Salad Greens
Raw vegetables have an advantage over cooked ones. Heat destroys vitamin C.  So, raw fruits and vegetables are the best way to add more vitamin C to your diet.  Don't let your salads get boring by just using iceberg lettuce either.  Play around with different salad greens.  There are many types that are richer in nutrients than iceberg lettuce including kale, spinach, romaine lettuce, and Swiss chard.
Experiment with diverse types of greens and different species of the same green.  For example, there are many varieties of kale, and each has its own texture, taste, and nutrient profile.  Many people enjoy curly kale, but lacinato kale is even sweeter.  If you like sweet kale, try baby kale, a smaller version of the classic leafy green variety with tender leaves that work great in salads.  It has a light flavor that compliments many dishes, such as soups or pasta dishes.  Experiment and discover the types of greens you like best!
7.  Make Kale Chips
Skip the potato chips and make your own kale chips in the oven. Here's a quick recipe: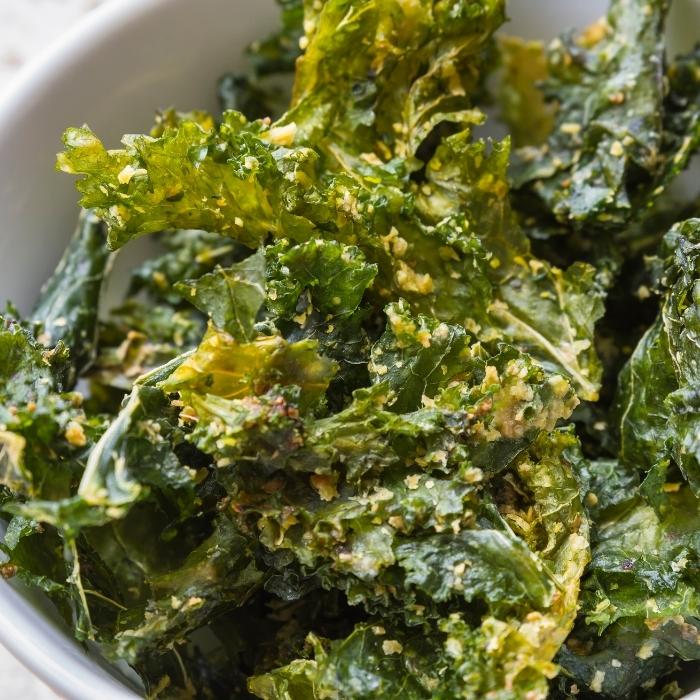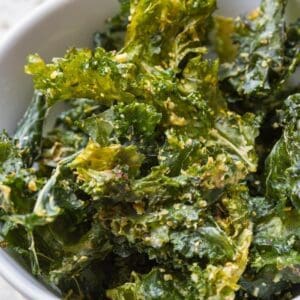 Simple Baked Kale Chips
A kale chip recipe that you can use as a base to make different kale chip flavors by varying up the seasoning to your mood or preferences!
Ingredients
Kale leaves

Extra virgin olive oil

Salt and other seasonings of choice
Instructions
Preheat oven to 300 degrees F.

Remove the kale leaves from the stems and tear them into bite-sized pieces.

Wash and dry the kale thoroughly (use a salad spinner or kitchen towel to make sure they are completely dry before the next step).

Add the dry kale leaves to a large bowl and drizzle with the olive oil, shaking to coat each piece.

Spread the kale out onto a parchment-lined baking sheet, making sure the leaves aren't touching each other, and bake for 10 to 20 minutes. This really depends on your oven and the size of the kale pieces. Keep an eye on them, you want them to be crispy but not burnt!

As soon as they come out of the oven, sprinkle with salt or your favorite seasoning blend (you can get creative here). Adding the salt and seasoning is best done at the end or else they can easily get over-seasoned. You can season them before baking but consider yourself sufficiently warned 😊.
The Bottom Line
Now that you know how to add more leafy greens to your diet, how will you start?  You have lots of options.  Vary the types of greens you eat too for more nutritional diversity and to keep your taste buds happy.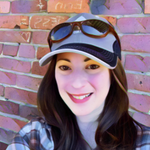 Nicole
Long time vegan living in upstate NY.  Web developer and founder of Vegan ShowOff.  She's addicted to ice cream and loves hiking, snowboarding, gardening, and travel.  Read more from Nicole!