For those of us who are interested in sustainable living, health, and animal welfare, it's essential to know the difference between vegan and cruelty-free.  Both terms are often used interchangeably, but they actually have quite different meanings.  Here's a quick guide to help you understand the difference between vegan and cruelty-free, especially when it applies to beauty and personal care products.
What does vegan mean?
Veganism is a lifestyle that seeks to exclude all forms of animal exploitation and cruelty, whether for food, clothing, or any other purpose.  Therefore, people who follow a vegan lifestyle do not consume any animal products, including meat, dairy, eggs, honey, gelatin, etc.  They also do not wear animal-derived materials such as leather, wool, and down.  Finally, vegans do not use any products that have been tested on animals.
What is a vegan product?
A vegan product does not contain any animal products or by-products.  This includes things like milk, honey, gelatin, eggs, and even fabrics like wool and leather.  Instead, vegan products can be made from plant-based ingredients or synthetics.
What does cruelty-free mean?
Cruelty-free means that a product has not been tested on animals.  This includes both finished products and ingredients.  This type of testing is often done during the development process of a new product to ensure its safety for human use. 
While it's not always possible to guarantee that a product is entirely free of animal testing, certified cruelty-free companies have committed not to test their products on animals at any stage of development.
Are all vegan products cruelty-free?
No, not all vegan products are cruelty-free.  A company can create a vegan product without animal products or by-products, but they may still choose to test it on animals (though this is increasingly rare).  Sometimes this is because they plan on exporting their products to countries that still require animal testing (like China).  This is most commonly seen in the makeup and skincare industry.  The website Ethical Elephant does a great deep dive into this topic if you want to know the nitty gritty!
Another example is when Impossible burgers first came on the market.  They caused a considerable stir in the vegan community.  This is because Impossible Foods had to test one of its ingredients ("heme") on animals to get FDA approval.  The finished product is free of animal products, but the testing process used animals at one point in time, though they no longer do.  You can read the company's official statement about this if you want all the details.  So, while Impossible burgers are vegan, they technically aren't cruelty-free.
Are all cruelty-free products vegan?
Not all cruelty-free products are vegan.  For example, a product may be free of animal testing but contain animal-derived ingredients like honey or beeswax.
How do I tell if a product is both cruelty-free and vegan?
When shopping for beauty or healthcare products, it's important to consider both the ethical and environmental impacts of your purchase.  Unfortunately, it can be difficult to tell if a product is truly cruelty-free and vegan.  Here are a few tips to help you make an informed decision:
First, check the label for any certification logos.  Certification bodies like Leaping Bunny, Vegan Action, and PETA operate strict guidelines to ensure that products bearing their logo are free from animal testing.

Next, take a look at the ingredient list.  If a product contains any animal-derived ingredients, such as honey or beeswax, it is not vegan.  However, some cruelty-free companies do use milk or egg proteins in their formulations, so it's important to check with the manufacturer if you're unsure.

Finally, research the company's policies on animal testing.  Even if a product bears a cruelty-free logo, the company may still test on animals during development.  Make sure to choose a brand you trust to be both cruelty-free and vegan.
Many companies that make vegan and cruelty-free products will advertise this fact prominently on their packaging or website.  So, the next time you're looking for a new beauty or personal care product, research the company and make sure they meet your standards for a cruelty-free and vegan lifestyle.
Several organizations keep lists and have searchable databases of cruelty-free and vegan companies, such as PETA and the Leaping Bunny Program.  These resources can be helpful when you're trying to make informed choices about the products you buy:
Why should I buy vegan and cruelty-free products?
In a perfect world, all products would be vegan and cruelty-free.  Unfortunately, we don't live in a perfect world, and animal-derived ingredients and animal testing are still commonplace in the beauty industry.  However, many good reasons exist to seek out vegan and cruelty-free products.
For one thing, it's important to remember that animals are sentient beings who feel pain and suffering just as we do.  Every year, millions of animals are subjected to cruel and unnecessary experiments in the name of "beauty."
In addition, vegan and cruelty-free products are often better for your skin and hair since plant-based ingredients can be gentle and nourishing.
Finally, buying vegan and cruelty-free products is a way of voting with your wallet for a kinder, more compassionate world.  When you support companies that don't exploit animals, you're helping to create change on a global scale.
The Recap
To recap, vegan means that a product does not contain any animal products or by-products.  Cruelty-free means that a product has not been tested on animals.  A product can be both vegan and cruelty-free, but it's also possible for a product to be just one or the other.
If you're interested in buying sustainable, ethical products that don't support animal exploitation, we encourage you to look for items that are both vegan and cruelty-free 💗.
Cover Image: Digital art by Nicole@VeganShowOff. All certification logos are the property of their respective owners.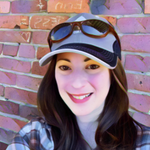 Nicole
Long time vegan living in upstate NY.  Web developer and founder of Vegan ShowOff.  She's addicted to ice cream and loves hiking, snowboarding, gardening, and travel.  Read more from Nicole!