Ready to relax, unwind and create a cozy atmosphere in your home, all while staying committed to your vegan principles? Vegan candles to the rescue! Rather than traditional waxes, these eco-friendly options are made from plant-based ingredients for a cruelty-free alternative that's as comforting to animals as it is to your nose! 
Our top picks have something for everyone- whether you're into the scent of freshly baked blueberry muffins or notes of caramel and apple – you're bound to find one you love. So grab one, curl up, and let the inviting aroma fill every corner of your home. You deserve some relaxation time!
What Makes a Candle Vegan?
A candle is considered vegan if it is made without using any animal-derived ingredients and without being tested on animals. Here are some common ingredients used in candles that can be of animal origin:
Beeswax

 – a wax produced by honey bees to build their hives.

Stearic acid

 – a fatty acid that can be derived from animal fats.

Tallow

 – a hard fatty substance made from rendered animal fat, often from cows or sheep.

Lanolin

 – a waxy substance secreted by the sebaceous glands of wool-bearing animals, such as sheep.
To ensure a candle is vegan, it should be made with alternative ingredients. Soy, candelilla, and coconut wax blends are plant-based waxes commonly used in vegan candles. In addition, essential oils and plant-based fragrances can be used to add scent to the candle. Wicks can be made from cotton or other plant-based materials, and dyes or colorants should also be plant-based.
It's also important to note that the candle-making process itself should be vegan. This means that no animal testing should be done on the finished product or its ingredients, and no animal byproducts or derivatives should be used in the manufacturing process.
Types of Vegan Candle Waxes
There are several types of vegan candle waxes available on the market. Some of the most popular types are:
Soy Wax

 – With an impressive burn time, no smokey soot emissions, and all-natural origins, soy wax candles are taking over the market! Soy wax is made from soybeans and is an excellent vegan alternative to traditional beeswax. 

Coconut Wax

 – Coconut wax is becoming increasingly popular among vegan candle makers! It's cold-pressed from coconut meat or oil and blended with soy, creating an eco-friendly product that blends well with essential oils. 

Carnauba (Palm) Wax

 – This natural wax, extracted from the leaves of carnauba palm trees native to Brazil, has a glossy finish and higher melting point than other types of wax – so your candles will last longer. However, it's more difficult for candlemakers to work with and costs more, making it less popular than the other options.

Candelilla Wax

 – Candelilla wax is perfect for eco-conscious consumers looking for sustainable, vegan candle options! It's derived from a shrub native to northern Mexico and the southwestern United States. This vegan-friendly wax isn't just used in candles – it can also be found in many cosmetics and skin care products like lip balms and lotions.

Paraffin Wax

 – Although not the most eco-friendly option, paraffin wax is technically vegan. Paraffin wax isn't eco-friendly because it is made from non-renewable resources like petroleum and coal, making it unsustainable in the long run. If you want to be kinder both to animals and our planet, consider alternatives such as soy wax.
Our Top Picks for Vegan Candles That Smell Delicious
Check out our top picks for vegan candles if you want to create a nice ambiance or make your home smell divine without cooking or baking.
1.  Nika's Home – Blueberry Muffin Candle
Fill your home with the sweet, cozy aroma of freshly-baked blueberry muffins without lifting a finger in the kitchen! This Nika's Home Blueberry Muffin Candle is hand-poured in the USA from all-natural, vegan ingredients and boasts an impressive 60-hour burn time. Plus, the containers are classy and go with any decor, making them perfect for gifting!
2.  Homesick – Grandma's Kitchen
Homesick is a unique candle brand that features scents from cities, states, and experiences that evoke nostalgia. Try this Grandma's Kitchen scent if you want your house to smell like a slice of warm apple pie! All of Homesick's candles are vegan and hand-poured in the USA.
3.  Aira Soy Candle – Caramel Apple 
This caramel apple-scented vegan candle will give your home a deliciously comforting scent! Hand-poured using 100% soy wax, this all-natural candle contains organic, kosher, and vegan ingredients plus therapeutic grade essential oils for an inviting smell that won't harm the environment–or people! With its Mason jar design, cotton wick for easy lighting, and sweet caramel apple aroma, it's ideal in any room of the house!
4.  Lulu Candles – Lemon Biscotti
Get ready for a delectable aroma to sweep through your home with Lulu Candle's Lemon Biscotti soy wax vegan candle! This scent smells like sweet, lemony deliciousness and will make you think freshly-baked biscotti is nearby. Crafted in small batches in the US using only vegan ingredients and 100% cotton wicks, these clean burning candles radiate warmth without parabens!
5.  GoodLight – Fig Grapefruit Vegan Candle
Illuminate any space with the mouth-watering aroma of GoodLight's signature Fig Grapefruit scented candle. This blend is like olfactory candy! And don't worry about burn time either, because even after 30 hours, your room will still smell as delicious as ever. GoodLight is a 100% plant-based candle company with a commitment to sustainability. 
6.  PETA's Tofu-Scented Soy Candle
Light up your life and help animals in need at the same time!  This tofu-scented candle is made in the USA from natural soy wax and comes in an 8 oz. glass jar. Plus – no need to worry about that delicious tofu aroma; this candle is scentless (like tofu), so it won't make you hungry! All profits support PETA's important work to protect our furry friends.
Tips for Safely Burning Candles
When it comes to candles, there are a few things you need to keep in mind to ensure a safe and enjoyable experience. Here are some tips for burning vegan candles safely:
Make sure you place your candle on a flat, heat-resistant surface and out of the reach of any kids or animals that may accidentally knock it over.

Always trim the wick before lighting. This will help prevent the flame from getting too big and causing soot to build up.

Keep an eye on the flame while the candle is burning. If it gets too high, blow it out and trim the wick again.

Never leave a burning candle unattended. Make sure to extinguish it completely before leaving the room or going to bed.
Following these simple tips will help you enjoy your vegan candles safely and worry-free!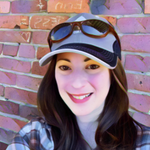 Nicole
Long time vegan living in upstate NY.  Web developer and founder of Vegan ShowOff.  She's addicted to ice cream and loves hiking, snowboarding, gardening, and travel.  Read more from Nicole!