Is jelly vegan?  The answer is yes – most types of jelly are vegan.  However, jams are a little more complicated, as some contain honey.  This article will explore the differences between jelly and jam and provide a quick and easy recipe for vegan chia jam!
Why is most jelly vegan?
Jelly is typically made from fruit juice, sugar, and pectin.  Pectin is a plant-based compound that is used to thicken jams and jellies.  Because jelly is made from plant-based ingredients, it is typically vegan. 
Is jam vegan?
There are many different types of jam, and not all of them are vegan, so it depends on the recipe.  Some jams contain animal products like gelatin or honey, while others are made entirely from fruit and sugar. 
However, many brands of store-bought jam are vegan-friendly, so it's definitely worth checking the label before you buy.  If you're looking for a delicious vegan jam, why not make your own at home?  You only need fruit, a sweetener, and some chia seeds!
Difference between jelly and jam
Jelly and jam are both fruit spreads typically made from boiled fruit, sugar, and pectin.  The main difference between jelly and jam is that jelly is made from fruit juice, while jam is made from crushed fruit. 
Jelly is smooth and clear because the fruit pulp and seeds are strained before boiling.  On the other hand, jam has a thicker texture and may contain bits of crushed fruit and seeds.  
Jelly is often eaten on toast or used as a filling for cakes and pastries, while jam is more commonly used as a sandwich spread.  Whatever way you choose to enjoy them, jelly and jam are both delicious ways to add flavor to your favorite foods.
Common non-vegan ingredients in jelly and jam
A few common non-vegan ingredients that are often used in jelly and jam include:
Honey (although honey is often considered a natural sweetener, it's not suitable for vegans because it's an animal product).

Carmine (a red food coloring made from crushed insects).

Whey (a byproduct of cheese making).
So the next time you're at the store, be sure to check the label to make sure you're buying a vegan product.
Our favorite store-bought vegan jams and jellies 💗
Luckily, there are plenty of vegan-friendly jelly and jams on the market.  So if you don't feel like making your own at home, check out some of our top store-bought picks below!
Polaner All Fruit
Polaner All Fruit is a popular fruit spread brand found in most US grocery stores.  All fruit is made from real fruit juice concentrates, fruit, and pectin.  All fruit comes in a variety of flavors, including cherry, raspberry, grape, apricot, strawberry, peach, blueberry, and orange.
If you're the type that doesn't like seeds in their jam, Polaner also offers a variety of seedless flavors, including strawberry, blackberry, and raspberry. 
As a healthy vegan option, it's recommended to stick to their All Fruit product line as they also offer "Sugar-Free with Fiber" spreads that contain Splenda and a number of artificial dyes (like Red #40 and Blue #1). 
Polaner also has a few products that contain high fructose corn syrup as the first ingredient.  This includes their apricot preserves, real mint jelly, grape jelly, and sweet orange marmalade.  High fructose corn syrup is an ingredient to avoid for many health reasons.  
Polaner got its start more than a century ago, and if you're looking for a delicious way to add some sweetness to your day Polaner All Fruit is a great option.
Crofter's Organic Fruit Spreads
Crofter's organic fruit spreads are some of the best out there.  The company takes great care in sourcing its ingredients, which shows in the quality of its products. Crofter's pectins are made from apples extracted from the apple pulp leftover from making apple juice.  They are always looking at ways to reduce waste and give you the tastiest spreads.
Crofter's states their fruit spreads meet all categories of vegetarian, including vegan.  They use no animal ingredients of any kind, and their organic cane sugar is produced without the use of bone char. 
They offer a line of Premium spreads made with Fair-Trade cane sugar.  Flavors include apricot, grape, mango, and cherry, to name a few.  They've also introduced a new line of spreads, including peach, pomegranate, strawberry-banana, and super fruit blueberry.  Their seedless flavors are blackberry and raspberry.
Although their Premium spreads contain thirty-three percent less sugar than other preserves, they also offer a Just Fruit line with no added cane sugar.  Instead, they are sweetened with organic grape juice concentrate.  Flavors include apricot, black currant, blackberry, raspberry, seville orange, strawberry, super fruit, and wild blueberry. 
So the next time you're shopping, pick up a jar of Crofter's. Just look for the black bear on the label.  You won't be disappointed!
Trade Street Jam Company
There are many delicious vegan jams out there, and Trade Street Jam Company has some of the best!  Their jams are made with high-quality ingredients and are absolutely packed with flavor.  So whether you're looking for a fruity jam to spread on your morning toast or a unique flavor to add to a recipe, they have something for everyone.  And because their jams are made in small batches, you can be sure that each one is truly unique.
Trade Street jams are 100% Vegan. They do not use any animal products.  All their Jams are made in low-quantity batches, which ensures quality and allows for stronger flavor profiles.
Trade Street Jam Co is a woman and black-owned business founded by a trained chef who loves experimenting with flavors and creating the unexpected.
So whether you're looking for a tasty toast topping or a fruity filling for your next baking project, check out their selection of jams.  They come in a variety of enticing flavors, including "cranberry raspberry sage", "blueberry lemon basil", "strawberry chipotle", "sour cherry ginger", and more!
Chia Smash Fruit Spreads
Chia Smash was founded just a few years ago.  Co-founder Anna was tired of the many jelly and jams on the market filled with sugar (and other not-so-healthy ingredients).  After numerous attempts at finding just the right recipe, she teamed up with co-founder Steve, and Chia Smash was born.  Chia Smash jams are made with simple ingredients that offer a superfoods jam alternative to other overly sugary spreads.  Simple, delicious, and nutritious!
They are proud to be Certified Upcycled, using imperfect fruit that is still perfectly delicious, helping to fight food waste with every jar.
Chia Smash uses only four healthy ingredients: flavorful berries, chia seeds, dates, and lemon.  The sweetness is derived naturally from berries and dates, with no added sugar.
Chia seeds provide the gel and add to the nutritional value.  You can see the chia seeds interspersed with berry seeds throughout the jam which also adds a bit of crunch.  Swirl it through your favorite oatmeal, use it in a smoothie, or drizzle it on waffles or pancakes!
Chia Smash flavors include cherry pomegranate, strawberry, raspberry, and blueberry.  Look for the brightly colored Chia Smash label in your local grocery store or order online. 
The Recap
So is jelly vegan?  The answer, as with most things in life, is complicated.  While some jellies and jams are made without animal-derived ingredients, others contain honey or other non-vegan additions.  So if you're looking for a truly vegan-friendly jelly or jam, definitely check the label before purchasing.  Hopefully, this information helps you decide which type of jelly or jam to bring home the next time you hit the grocery store!
Quick Vegan Chia Jam Recipe
Whether you're vegan or not, this chia jam recipe is definitely worth trying.  It's quick, easy, and delicious and can be used in a variety of ways.  Spread it on a slice of Trader Joe's brioche bread, add it to oatmeal or yogurt, or eat it straight out of the jar with a spoon!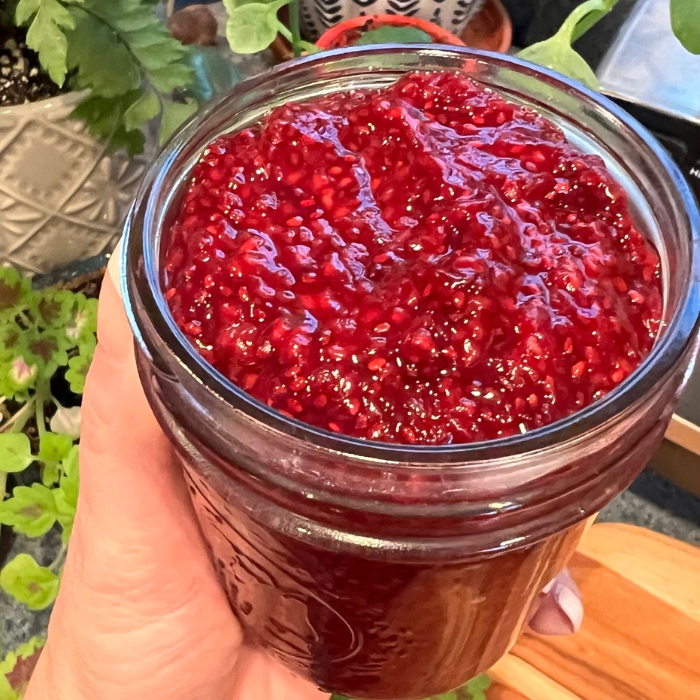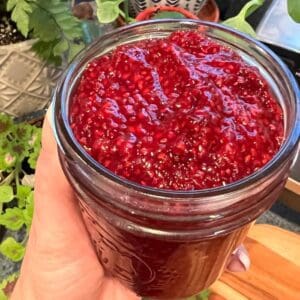 Quick Vegan Chia Jam
Whether you're vegan or not, this chia jam recipe is definitely worth trying. It's quick, easy, and delicious and can be used in a variety of ways. Spread it on toast, add it to oatmeal or yogurt, or eat it straight out of the jar with a spoon!
Ingredients
2

cups

Frozen raspberries or other berries

(10 oz. bag)

2

tbsp

Chia seeds

1 to 3

tbsp

Coconut sugar or sweetener of choice

(optional)
Instructions
Combine frozen fruit and chia seeds in a saucepan.

2 cups Frozen raspberries or other berries,

2 tbsp Chia seeds

Cook over medium heat for about 10 minutes or until it reaches the desired consistency (it will firm up more once it cools). Mash the berries with the back of your spoon as it's cooking.

Turn off the stove and add optional sweetener one tablespoon at a time, tasting it until it's as sweet as you'd like it.

1 to 3 tbsp Coconut sugar or sweetener of choice

Let it cool and then put it into a jar or glass container and into the fridge!
Notes
Flavor and sweetness will depend on quality and ripeness, as well as the type of berries that are used.
Store in the refrigerator for up to a week or freeze for up to 3 months.
Makes about a cup of jam once it's cooked down.
Nutrition
Serving:
1
T
Calories:
18
kcal
Carbohydrates:
3
g
Protein:
0.4
g
Fat:
1
g
Saturated Fat:
0.1
g
Polyunsaturated Fat:
0.4
g
Monounsaturated Fat:
0.04
g
Trans Fat:
0.002
g
Sodium:
0.4
mg
Potassium:
29
mg
Fiber:
1
g
Sugar:
1
g
Vitamin A:
6
IU
Vitamin C:
4
mg
Calcium:
13
mg
Iron:
0.2
mg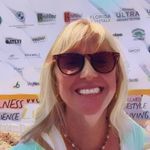 Sue
Sue's a lifelong horse lover living in beautiful South Florida.  She enjoys reading, cooking, shopping, and travel. Check out more from Sue!