Trader Joe's Olive Tapenade Review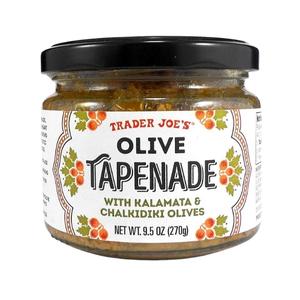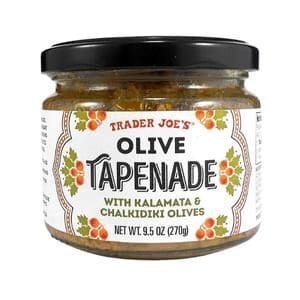 Product Name: Trader Joe's Olive Tapenade
Product Description: Trader Joe's Olive Tapenade is a delicious and healthy spread made from olives, extra virgin olive oil, roasted red pepper paste, dried onions, dried garlic, capers, and other spices.
Brand: Trader Joe's
Dietary Notes: Dairy-Free, Vegan, Gluten-Free
Summary
Trader Joe's Olive Tapenade is AMAZING! If you're looking for a delicious, vegan-friendly tapenade, this is the one for you. It's perfect for dipping, spreading, or just eating straight out of the jar!
Pros
Good source of vitamins A & C

It comes in a glass jar and is shelf-stable.

Great price: With everything else that seems to have escalated in price, Trader Joe's has kept its price extremely fair on this and other products in its stores.
Cons
High in sodium

The only other downside is that it doesn't last forever once opened, so be sure to use it up within a week or two.
Community Rating:
( reviews)
Trader Joe's Olive Tapenade Review
Every time I'm lucky enough to get to my local Trader Joe's store, I'm sure to pick up a few jars of this delicious tapenade! It's so good!
If you're a fan of olives and looking for a delicious and healthy way to add flavor to your cooking and snacking, look no further than Trader Joe's Olive Tapenade. This tapenade is made with mouth-watering Kalamata and Chalkidiki olives and is perfect for adding some Mediterranean flair to your meals.
Trader Joe's Olive Tapenade is made with Kalamata olives, known for their rich, fruity flavor. The Kalamata olive is dark brown, almost black in color, with a smooth texture, named after the city of Kalamata in southern Greece. The olives are hand-picked, sun-dried to perfection, and then pitted and chopped for a smooth and spreadable consistency.
This tapenade also contains Chalkidiki olives grown in the Halkidiki region of Greece. Chalkidiki olives are large pale green olives with a slightly nutty flavor and are less salty than Kalamata olives. The two olives complement each other in this tapenade from Trader Joe's.
Olives are nutrient-rich and packed with healthy fats, antioxidants, and vitamins. This tapenade is a great way to get your daily dose of healthy olives!  
What is Olive Tapenade?
Olive Tapenade is a common Mediterranean condiment made of olives, olive oil, and sometimes other ingredients such as herbs. There are hundreds of recipes for tapenade, but the two most common ingredients are black or green olives and garlic. A really good tapenade will have a fresh, briny taste from the olive juice that the olives were packed in. In general, tapenades make wonderful accompaniments to any snack platter. However, some tapenades aren't vegan or vegetarian because they're made with anchovies, so watch out for those! Luckily this Trader Joe's tapenade doesn't include anchovies, so it's vegan-friendly 😊.

How to Serve Olive Tapenade
One of the great things about olive tapenade is that you can use it in a variety of different dishes. For example, you can use it as a condiment or an appetizer. Below are some of our favorite ways to enjoy this delicious spread!
What do you eat with olive tapenade?
It's perfect for spreading on crackers or a sliced baguette. Drizzle on some balsamic vinegar if you're in the mood. 

Use it as a dip for veggies or chips.

Combine it with your favorite cold or warm pasta dish! It makes a great mix-in for an 

easy pasta salad

.

If you're feeling creative, use it as a pizza topping!

Add a little to your favorite salad to give it an extra zing.

Perhaps put it on a vegan charcuterie board with some fancy crackers, cashew cheese, or Boursin dairy-free

 cheese

.
Where to Buy Trader Joe's Olive Tapenade
You can buy this tapenade at your local Trader Joe's store. If you don't live near a Trader Joe's, you can purchase it online from an Amazon or eBay seller, but be prepared to pay up for it!
How much does it cost?
This tapenade is $1.99 for a 9.5 oz jar if you buy it at Trader Joe's. Plan on paying quite a bit more from Amazon (it's cheaper if you buy two jars).
Trader Joe's Olive Tapenade Ingredients & Nutrition Facts
The ingredients are Diced Green Olives (Olives, Water, Salt, Citric Acid, Ascorbic Acid [Vitamin C for Freshness]), Diced Kalamata Olives (Olives, Water, Sea Salt, Wine Vinegar), Roasted Red Pepper Paste (Red Peppers, Water Salt, Vinegar), Extra Virgin Olive Oil, Dried Onions, Dried Garlic, Dried Herbs, Black Pepper, Spices, Capers (Capers, Water, Salt).  See the jar photo below for complete nutritional info.
Would I buy this product again?
Yes, absolutely! I usually pick up a couple of jars each time I go to Trader Joe's since they are great to have on hand when guests come over or when I'm craving a salty snack. Let us know your thoughts on this Trader Joe's Olive Tapenade below!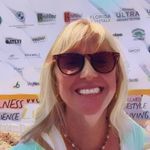 Sue
Sue's a lifelong horse lover living in beautiful South Florida.  She enjoys reading, cooking, shopping, and travel. Check out more from Sue!