Boursin Dairy Free Review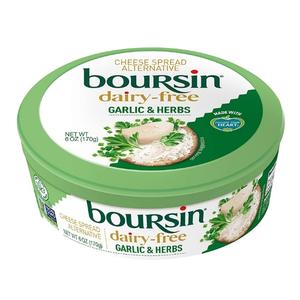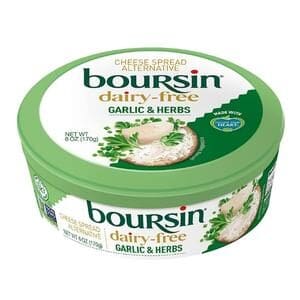 Product Name: Boursin Dairy Free Garlic & Herb Cheese Spread
Product Description: A mixture of fresh garlic, parsley, and chives is blended together with coconut oil to create a dairy-free cheese spread.
Brand: Boursin
Dietary Notes: Non-GMO, Certified Plant-Based, Gluten-Free, Soy-Free, Nut-Free
Summary
Boursin Dairy Free is a vegan, dairy-free version of the famous French cheese spread.  This vegan version is made with Follow Your Heart's cream cheese as the base and is flavored with Boursin's signature garlic and herb blend.  It's perfect for spreading on crackers or bread or using as a dip for vegetables or chips.
Pros
Can't tell it's dairy-free.
Made with Follow Your Heart, which is a high-quality vegan cheese brand.
Soy-free and nut-free, unlike a lot of vegan cheeses, so it's good for people with those allergies.
Cons
Expensive considering you only get 6oz.
High fat with not a lot of nutritional value.
Community Rating:
( reviews)
Boursin Dairy Free Cheese Review
I recently tried Boursin Dairy Free cheese, and I was really impressed!  I honestly don't remember what the dairy-based version of Boursin tastes like, so I can't give it a legit side-by-side comparison.  I have bought it before, but not enough times to remember the exact flavor.  When I used to eat dairy, I would always buy the Alouette spreadable cheese, which was found near the Boursin, so they are kind of alike in my mind.  However, cheese connoisseurs would most likely disagree with me.  Since I'm vegan, cheese connoisseurs would most likely disagree with me, period 😆.
This plant-based version of Boursin has a smooth, creamy texture and a mild garlic flavor.
Unlike the original version of Boursin cheese, this dairy-free version comes in a plastic tub, which from an environmental standpoint is a significant downgrade.  You'd think being a vegan product, it would have a better ecological footprint than the original.  Still, sadly, a lot of work needs to be done on this front because many vegan products are still packaged excessively and use a lot of plastic (I'm looking at you, Trader Joe's).  I imagine this Boursin dairy-free cheese is in a plastic tub because it's coconut oil-based, which could get super messy when hot.
Also, an additional small rant:  It's in the same size plastic tub as all the other dairy-free cream cheese style spreads on the market.  However, you only get 6 ounces worth instead of the usual 8 ounces they could totally fill it with 😡.
Now that I got that off my chest, I admit that this dairy-free Boursin is delicious and addicting.  I'm grateful that a brand famous for its fancy dairy cheeses came out with a vegan option.  I give them major props for partnering with an excellent vegan brand to make the base.  Follow Your Heart knows how to make incredible vegan cheese!
One tip I would have for serving this is that it tastes best if you take it out of the fridge and let it sit on the counter for a few minutes.  Since it's coconut oil-based, I find that the texture gets a little creamier the closer it comes to room temperature.  This plant-based Boursin also melts a little faster than the dairy version, so keep that in mind when spreading it on hot bread or a baked potato.
It's made with coconut oil, but it's most likely refined coconut oil because I personally can't taste the coconut flavor in this cheese.  Also, the package says "suitable for vegans," but it's not certified vegan.  So instead, they went for the "certified plant-based" label, a food-only certification that definitely means it's vegan.
Pro Tip:  If you're new to being vegan, watch out for things labeled "plant-based" that don't have the actual plant-based certification since there could still be animal products in them.  Some brands are just labeling things plant-based if they are made mostly from plants (for marketing purposes, I'd imagine).  In my opinion, it's always good to read through the ingredients of something you're going to eat, even if you don't follow a strict vegan diet or have allergies.  I think having that awareness of what's in the food you're putting into your body is essential.
If you can't find this Boursin Dairy Free spread locally, you could try making a homemade version of vegan Boursin cheese.  This recipe uses cashews as the base, and it may satisfy your Boursin craving!
Serving Ideas
Spread it on fancy soda crackers, multi-grain crackers, or even cheap saltines (my guilty pleasure).
Use it in place of cream cheese on a bagel. If you haven't found a vegan cream cheese you like yet, give this dairy-free Boursin a try on your bagel instead.  Sometimes it can even be easier to find than vegan cream cheese!
Form it into a ball shape and roll it in slivered almonds and fresh herbs to make a gourmet cheese ball for date night or a small get-together with friends.
Really up your mashed potato game by mixing some of this into your potatoes to make a garlic and herb-flavored version.
Mix it into hot pasta with a little bit of plant milk for an indulgent dairy-free cheese sauce.
Serve it on a veggie platter with warm crostini or a sliced baguette.
Make some appetizers by stuffing it into celery or quartered red and yellow bell peppers.
Where to buy Boursin Dairy Free cheese
I usually buy this at my local Hannaford grocery store.  However, they also sell it at many major grocery retailers that carry the Boursin brand.  Sometimes you can also find it in Trader Joe's!  Make sure you look in the deli section, where all the fancy cheeses are usually kept.  That's the only section I've seen it in, right next to the original dairy Boursin cheeses.  Note that the Boursin website's product locator isn't working for this, so don't get disappointed if you're not seeing any results near you.  My advice would be to use the online shopping for each grocery store in your area to see if they carry it.  That's how I find many vegan products near me if the brand's product locator isn't showing results.
How much does Boursin Dairy Free cost?
I found it for $5.99 at my local grocery store in upstate NY.
Boursin Dairy Free Cheese Ingredients and Nutrition Facts
The ingredients are filtered water, organic coconut oil, modified starch (potato and corn), organic expeller-pressed canola oil, inulin (chicory root extract), less than 2% of each: garlic powder, natural flavor, organic vegan cane sugar, sea salt, calcium phosphate, citric acid, sugarcane fiber, spice, sodium citrate, sunflower lecithin, xanthan gum, lactic acid, cellulose gel, parsley, chive, beta carotene (color).  See the photo below for full nutritional details.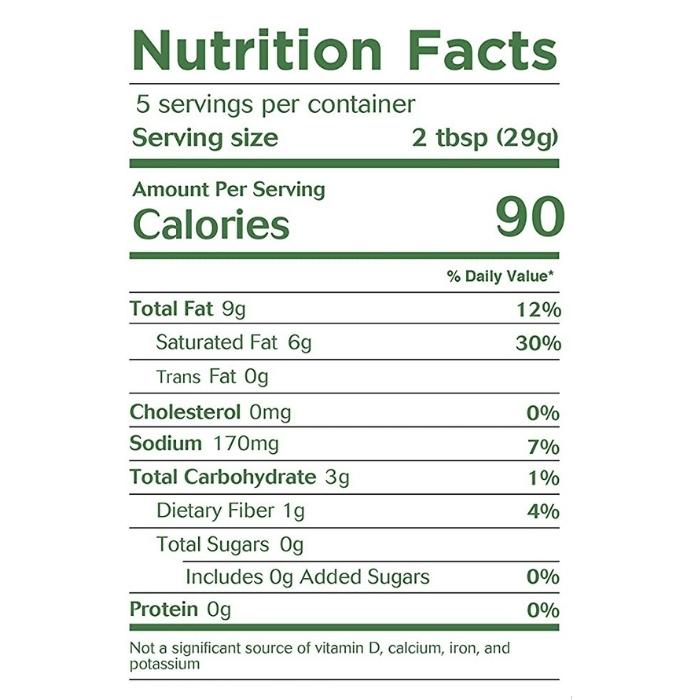 Would I buy this product again?
Yes, I've purchased it many times already, although it's not on my regular rotation because it's pricey.  However, I can polish a tub off by myself quickly since it's so tasty!  Have any of you tried this Boursin Dairy Free cheese spread yet?  If so, let us know what you thought of it below!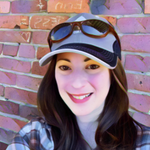 Nicole
Long time vegan living in upstate NY.  Web developer and founder of Vegan ShowOff.  She's addicted to ice cream and loves hiking, snowboarding, gardening, and travel.  Read more from Nicole!