Fall is the perfect time to get cozy with a warm, hearty meal.  With cooler weather on the horizon, now is the time to start thinking about comfort food.  And what could be more comforting than a meal that's both healthy and delicious?  That's where Purple Carrot comes in.  Purple Carrot is a plant-based meal delivery service that makes it easy to cook meals that are good for you and good for the planet.  Purple Carrot may be known for their fresh meal kits, but they also offer nutritious, prepared meals that are ready to eat in 5 minutes!  Best of all, Purple Carrot has a ton of great fall meals to choose from.  Here are three of our favorites:
Italian Pasta Bowl
Transport yourself to an idyllic Tuscan village in five minutes flat with absolutely no jetlag.  This Italian Pasta Bowl with Pesto Cream & Tuscan Braised Kale from Purple Carrot is the perfect fall meal.  The pesto cream sauce is made with basil, pumpkin seeds, almonds, and extra virgin olive oil, and it's absolutely delicious.  The Tuscan braised kale tossed with cannellini beans is the perfect side dish that's full of healthy vitamins and minerals.  
West African Peanut Stew with Sweet Potatoes & Collard Greens
This delicious stew is packed with flavor and nutrients.  Sweet potatoes and collard greens provide a good source of fiber, while peanuts add protein and healthy fats.  Served with a side of white quinoa, this fresh meal will be sure to satisfy any sweet and salty cravings you have going on. 
Tofu Palak Paneer with Carrot Biryani
For those unfamiliar with Indian cuisine, palak paneer is a dish customarily made with spinach and paneer, a soft cheese.  This plant-based version from Purple Carrot swaps baked tofu in place of the cheese, providing an extra protein boost.  The spinach is flavored with Indian spices, tomato, and creamy coconut milk.  The carrot biryani is a tasty side dish made with basmati rice, carrots, and fragrant cilantro chutney.
Purple Carrot has you covered whether you're looking for a quick-and-easy weeknight meal or want to impress your friends and family with a gourmet-level dish.  So what are you waiting for?  Head to Purple Carrot today and check out their entire selection of fall meals! 
*I was compensated for this post. This post also contains affiliate links and I will be compensated if you make a purchase after clicking on my links.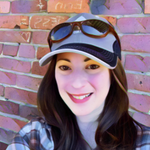 Nicole
Long time vegan living in upstate NY.  Web developer and founder of Vegan ShowOff.  She's addicted to ice cream and loves hiking, snowboarding, gardening, and travel.  Read more from Nicole!