Product

So Delicious Cashew Milk Salted Caramel Cluster Non-Dairy Frozen Dessert

Brand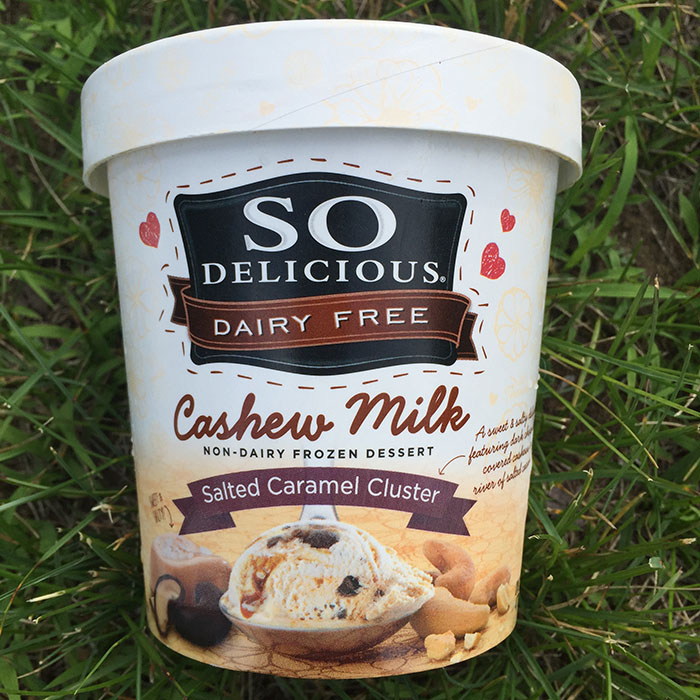 Summary
This So Delicious Salted Caramel Cluster Non-Dairy Ice Cream is everything it's hyped up to be. Decadent salted caramel swirled into a creamy sweet cashew milk base with chocolate-covered cashew clusters churned in. Yum! Find it in your local grocery or natural foods store!
Wow, I've literally been stalking all of the grocery and natural food stores within a 60 mile radius looking for these So Delicious Cashew Milk vegan ice creams since I first heard about them! Everyone on Instagram was raving about them and how they are the best vegan ice creams they've ever had!  I wasn't surprised considering that I've made a ton of different homemade vegan ice cream recipes and the ones using cashew milk as a base are my absolute favorite.
One day when I was calling a bunch of stores seeing if they carried them (yes, I'm that much of an ice cream nut), my boyfriend Jake suggested I try calling Fresh Market.  It just opened up in the next town over from me and I hadn't made a trip there yet since I heard it was really expensive and didn't have a ton of vegan options.  So I scoffed at him at and told him "no way, they wouldn't have it").  I called and when the lady said they carried 2 flavors I got all excited and drove down there.  When I got there I ran to the freezer section and found 2 flavors waiting for me, Dark Chocolate Truffle, and this Salted Caramel Cluster!  Of course I had to hear the "I told you so" from Jake about 20 times, but I don't care, I'm glad he was right for a change!  Hahaha.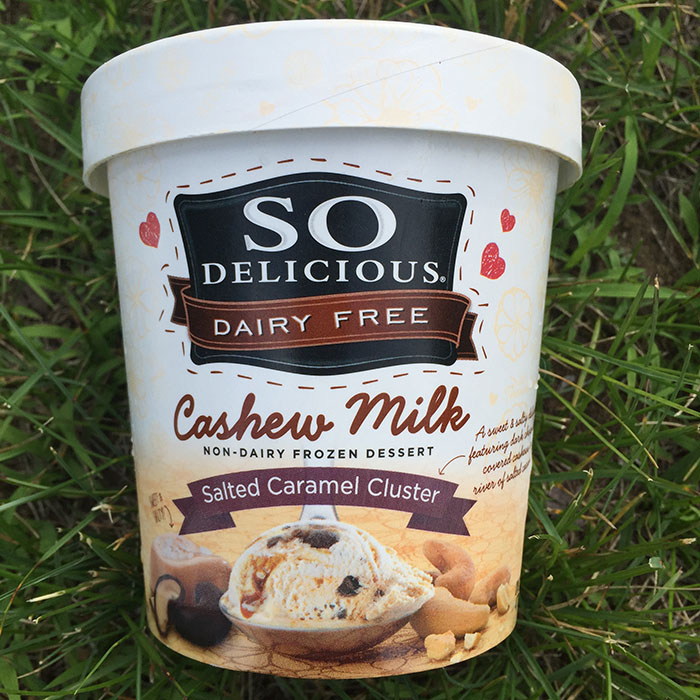 I was with my sister and we were going out to eat after and wouldn't be home for a few hours so I bought some ice and a waterproof bag to store them in so they wouldn't melt since it was so hot out. Let me tell you I love salted caramel anything, but this cashew milk ice cream was amazing from the first bite!  There would be no way to tell that this wasn't a dairy-based ice cream, it's so creamy and divine.  It may be a tad bit on the sweet side for me personally, but the sweetness is definitely complemented by the rivers of salted caramel yumminess distributed throughout the creamy cashew milk base.  Also, the chocolate-covered cashew clusters are amazing and they didn't skimp on them whatsoever!  This salted caramel is my current favorite ice cream flavor right now for sure : )
These are the 5 flavors that So Delicious currently makes in the cashew milk line:  Salted Caramel Cluster, Dark Chocolate Truffle, Cappuccino, Creamy Cashew, & Snickerdoodle!  I am so dying to get my hands on the Snickerdoodle one since that seems to be another well-loved flavor.  Haha, I actually put in an official request at my local grocery store to stock the cashew milk varieties (since they already carry the So Delicious Coconut and Almond Milk kinds).  So we'll see if they pull through for me!  It's right down the road so my waistline could be in serious trouble if they do decide to carry it though : )
If any of you guys have tried this So Delicious Salted Caramel Cluster "non-dairy frozen dessert" let us know what you thought below!