So Delicious Coconut Milk Chocolate Peanut Butter Swirl Ice Cream Review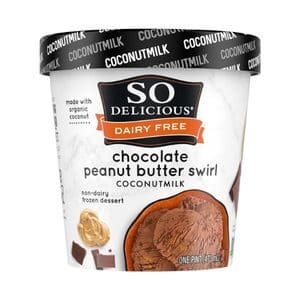 Product Name: So Delicious Non Dairy Coconutmilk Chocolate Peanut Butter Swirl Frozen Dessert
Product Description: A creamy coconut milk frozen dessert made with a rich chocolate base and swirls of decadent peanut butter.
Brand: So Delicious Dairy Free
Dietary Notes: USDA Organic, Soy Free, Gluten Free, Non-GMO
Summary
This So Delicious dairy-free ice cream flavor is creamy, rich, and has a generous amount of peanut butter swirl (very important). Good for satisfying any chocolate/peanut butter cravings that might creep up on you. Find it in your local grocery or natural foods store!
Community Rating:
( reviews)
So Delicious Chocolate Peanut Butter Swirl Ice Cream Review
Since So Delicious is one of the few non-dairy ice cream brands available at my local grocery store, I've had quite a few of their flavors.  This flavor is definitely one of my favorite's because it combines two of my most favorite things in the world: chocolate and peanut butter!  I usually like my chocolate and peanut butter swirled into a vanilla ice cream base but I'll take it in chocolate if I have to!  The problem is that I like to eat my ice cream right before bed and I've found that if I eat chocolate ice cream before bed I have more trouble than usual falling asleep.  So I either have to ration myself when I have the chocolate kind or I just do one scoop of chocolate and the rest whatever other vanilla based flavor I happen to have on hand (yes I do happen to keep multiple ice cream flavors on hand at the same time).  This is totally normal I'm sure.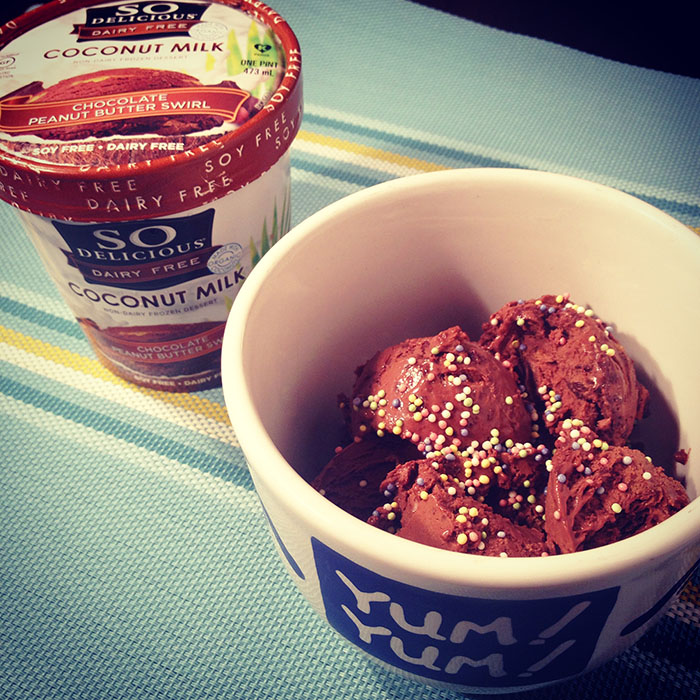 Since I have tried a lot of different vegan ice creams, and I make my own quite frequently, I consider myself a vegan ice cream connoisseur (bahaha).  True story, I bought the domain name "ChurchofIceCream.com" a few years back so I could build an awesome website on it where I taste and rate all different ice creams and ice cream shops around the world.  Then I became a vegan and the idea kind of fell to the back burner (although I still have the domain!).  That info should just make you realize how much I love my ice cream!  The thing that is so cool is that since becoming a vegan, I've tried so many different kinds of vegan ice creams made out of all different ingredients and I can honestly say that many of the new non-dairy ice creams (and especially my homemade ice creams) totally rival any dairy ice creams I've ever had!  I'm not saying every brand tastes better than dairy ice cream at all, but some are legitimately way better and it seems like they keep getting better and better.
So Delicious Dairy Free Chocolate Peanut Butter Swirl Ingredients and Nutrition Facts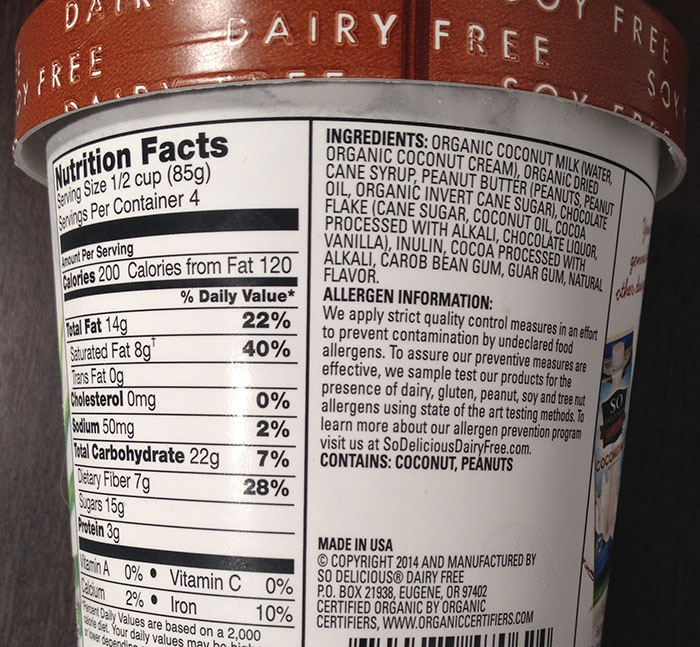 I find that this So Delicious Chocolate Peanut Butter swirl is perfect if you let it sit out about 20 minutes before serving.  It really ups the creaminess factor and brings out the flavors more.  They aren't skimpy on the peanut butter swirl which makes me extra happy (I can't stand when companies are stingy with that kind of stuff!) .  It doesn't have a strong coconut flavor (which, although I love the flavor of coconut, I'm just looking for a rich chocolate flavor here).  So no funny after taste or coconut flavor (to me) and a nice, generous peanut butter swirl!  This is a reliably satisfying flavor to me and it's a huge bonus that it's so widely available where live.  Not one of the best ever vegan ice creams I've had, but very reasonably priced (they can get ridiculously expensive) and pretty darned tasty too!
If you've tried this kind let me know what you thought of it below!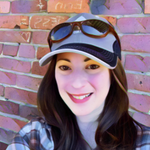 Nicole
Long time vegan living in upstate NY.  Web developer and founder of Vegan ShowOff.  She's addicted to ice cream and loves hiking, snowboarding, gardening, and travel.  Read more from Nicole!