V-Dog Breathbones Vegan Dog Chews Review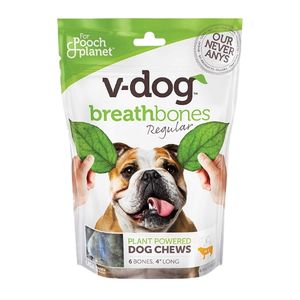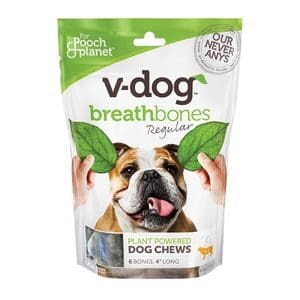 Product Name: V-Dog Breathbones Plant Powered Dog Chews
Product Description: Healthy vegan dog chews packed with sweet potato, cinnamon, and parsley.
Brand: V-Dog
Dietary Notes: Gluten Free, Soy Free, Corn Free, Made in USA
Summary
V-Dog Breathbones are a wholesome, healthier alternative to other brand name dental chews. 100% vegan and easy to digest, these chews smell delicious and taste amazing (this is obvious by the way Archer scarfs them down!). We buy these for our dog regularly and he not only loves them, they definitely seem to help fight his stinky breath as well!
Community Rating:
( reviews)
V-Dog Breathbones Vegan Dog Chews Review
When Archer's breath gets extra stinky (like every other day) I fend off the stink by giving him these V-Dog Breathbones!  He loves to hover over my shoulder as I'm sitting on the couch with my laptop and pant in my face.  It honestly doesn't bother me most of the time but some days he has what Jake and I call "fish stick breath" LOL, and it's a little unbearable.  V-Dog Breathbones to the rescue!
These plant-powered dog treats are super healthy and they are also the best smelling dog treats ever!  I swear, I sniff them first every time I give them to him and of course he looks at me like I'm a weirdo, but I'm used to that.  They are a dental chew type of a treat so they take a little bit longer to eat than a regular dog biscuit, but Archer still seems to scarf them down pretty quickly!
V-Dog's Breathbones are a MUCH healthier alternative to other popular brand name dental chews for sure!  Better for the environment, and better for your pup! Plus, I feel good supporting a family-owned vegan business.  They are also made and packaged in the USA (a major bonus in my book).  No tummy or digestion problems with these dental chews thanks to the sweet potatoes and an absence of nasty fillers.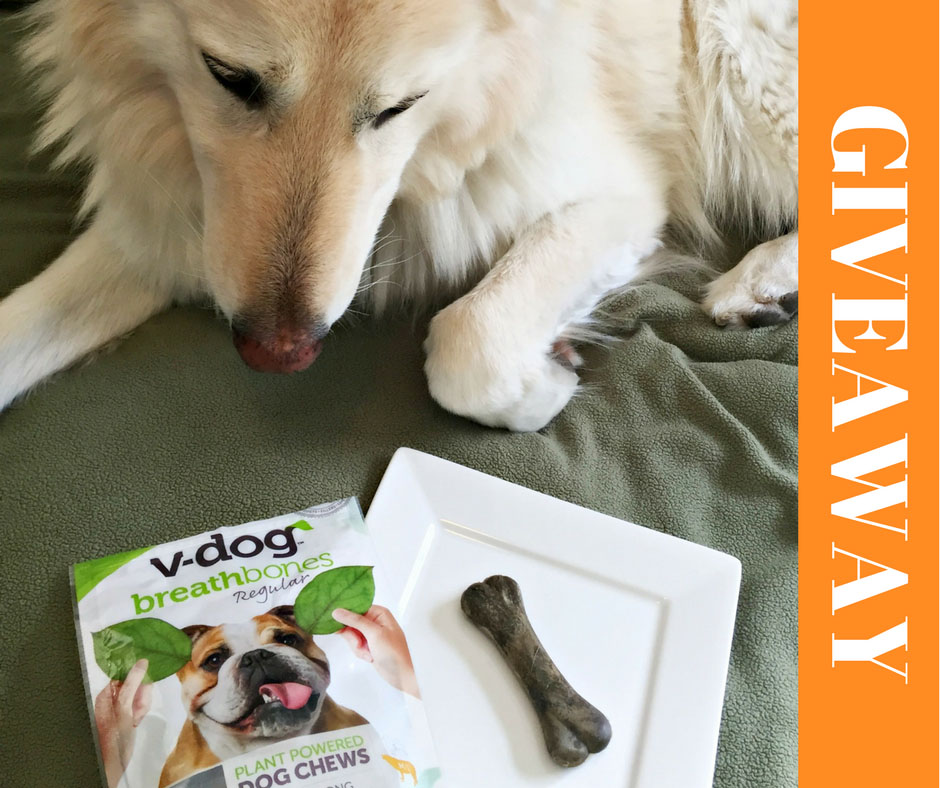 As always with V-Dog, they only use premium ingredients that are are super wholesome and natural!  Cinnamon, Parsley, Sweet Potatoes, Chia Seeds, and Broccoli?!  Those are some of my favorite foods and I would've been tempted to take a bite if Archer wasn't giving me such a dirty look (I think he knew what I was thinking!).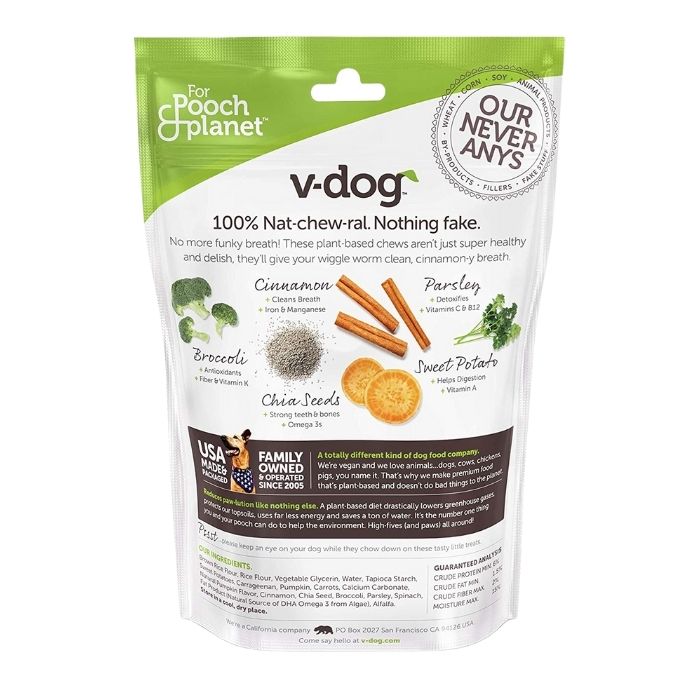 See for yourself and win your dog a package of V-Dog Breathbones by entering the giveaway below (giveaway open to continental US residents only)!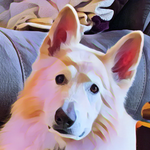 Archer
An expert in plant-based kibble, Archer resides in upstate NY.  He loves frolicking in fields, barking at the UPS truck, long naps, and snuggling with his companions.  Read more from Archer.